Bootcamp participants listen to and give digital feedback on one another's startup pitches. [Photo by Erica Swallow]
Entrepreneurs from six states in the Mississippi River Delta region gathered for the Delta Entrepreneurship Network (DEN) Bootcamp in Little Rock on Friday, December 2nd at The Arkansas Venture Center, an entrepreneurial support organization supporting high-growth startups, located in downtown Little Rock.
This year's DEN Bootcamp is modeled off of The Venture Center's 12-week Pre-Accelerator Program, which puts early-stage entrepreneurs through intensive curriculum aimed at developing a minimum viable product (MVP), building out a scalable business model, and gaining real traction and revenue.
"We created the Delta Entrepreneurship Network to support the hard work, innovation, and drive that are at the heart of the Delta region," says Delta Regional Authority (DRA) Federal Co-Chairman Chris Masingill. The DRA is an economic development agency focused specifically on creating jobs and improving livelihoods in the Mississippi River Delta, which includes the six Delta Challenge states, plus Illinois and Kentucky.
"Our continued partnership with The Venture Center takes that investment to the next level, providing an accelerated bootcamp to guide and develop successful entrepreneurs," says Masingill. "They share our commitment to developing a strong network to support and grow small businesses and entrepreneurs across our region."
A Bootcamp Based on Mentorship
Over the weekend, entrepreneurs will receive mentorship and training from some of Arkansas's top business minds, explains Venture Center President and CEO Lee Watson. "We have about 20 mentors coming in to provide either group coaching or one-on-one training."
"The entrepreneurs are here learning to validate their business model assumptions, crafting their pitches, building out pro formas, and really working to transition a startup idea into what it takes to build a business," says Watson. "One of the exciting things we were able to do was to custom-design a bootcamp for the DRA that's adapted from our Pre-Accelerator Program. It's essentially a three-day, 12-hour-per-day intensive training program."
The DEN Bootcamp marks the first time the DRA has contracted with an entrepreneurial support organization to provide this level of technical assistance and training for their entrepreneurs, says Watson. "While the entrepreneurs are here, they get access to an online portal, a year of membership to the Venture Center, and access to our mentorship program," he says. "We're also offering remote mentorship for the first time, so no matter what state they're from, they can access some of the best minds in the whole state of Arkansas."
20 Entrepreneurs with an Eye on Success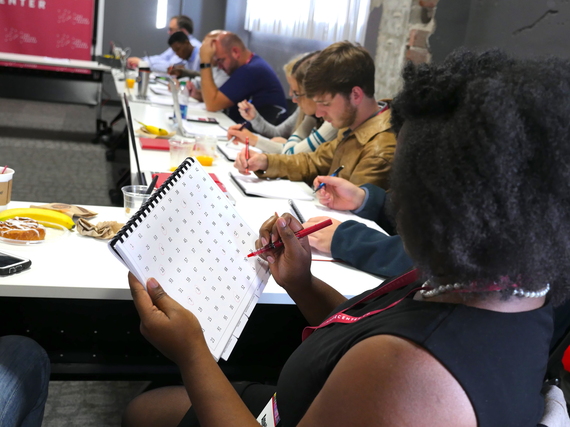 EntreLinc co-founder Amelia Thomas completes a brain exercise at the DEN Bootcamp. [Photo by Erica Swallow]
Speaking with the 20 participating entrepreneurs, it's clear that each has come to the bootcamp with specific goals, some similar, others different. All in all, though, they're seeking startup success.
One participant this weekend is Amelia Thomas, co-founder of EntreLinc, an online platform that enables supply chain diversity for corporations looking to diversify their supply chain by doing business with small, locally-owned supply-side suppliers owned by women and minorities. Her second year as a DEN Fellow, Thomas says her team is looking to learn how to de-risk the startup. Moving from Montgomery to Memphis for greater entrepreneurial support, EntreLinc will soon be seeking financing, so de-risking will be important, she says.
"I'm really looking forward to making connections and getting in front of the people who can assist us," says Thomas. "I'm also looking forward to the pitch deck work we're doing this weekend, which will help us with raising money. We have a pitch deck, but it's not nearly as detailed as what was just presented this morning."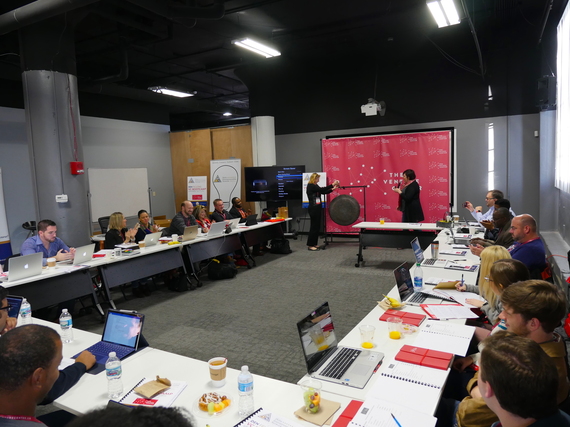 Ann Butler, Edible Education founder and CEO, rings the Venture Center gong for achieving $45,000 in sales in one evening.
Mark Rigdon, another DEN Fellow at the bootcamp, is the co-partner and shipping manager of My Veggie Chef, which delivers and ships affordable, frozen, plant-based meal packages. Since arriving in Little Rock on Thursday evening from Cape Girardeau, Missouri, Rigdon has sold 23 meal subscriptions, earning him the honor of ringing the Venture Center's gong at the opening of the gathering. Two other entrepreneurs also shared success stories from the previous evening's reception and rang the gong, one of which was Ann Butler, founder and CEO Chef of Edible Education, also of Cape Girardeau. She sold $45,000 worth of products since the night before. Not bad for the first day of the bootcamp.
Rigdon shared in an interview that My Veggie Chef has been in business since 2011. "We started with 22 states and now we're in 38 states," he says. With facilities and suppliers in Missouri and Tennessee, the startup's mission is focused on helping customers eat healthily. "Programs like the fellowship help us get things done faster. If we end up getting investment, we can go on a faster time table," Rigdon says. "This weekend at the bootcamp, we want to learn how to do a better pitch for investors and we'll be seeking expert advice in areas that are more difficult these days, such as search engine optimization and how to take advantage of our social media."
The bootcamp continued through Sunday, December 4th, with entrepreneurs learning how to build and deliver great pitches. Participants were challenged to get on stage multiple times to show the greater group at large the progress they had made throughout the weekend.
This article originally appeared on The Arkansas Venture Center blog, where Erica Swallow writes about entrepreneurial programming taking place at the Venture Center and in the greater Arkansas startup community.
Calling all HuffPost superfans!
Sign up for membership to become a founding member and help shape HuffPost's next chapter