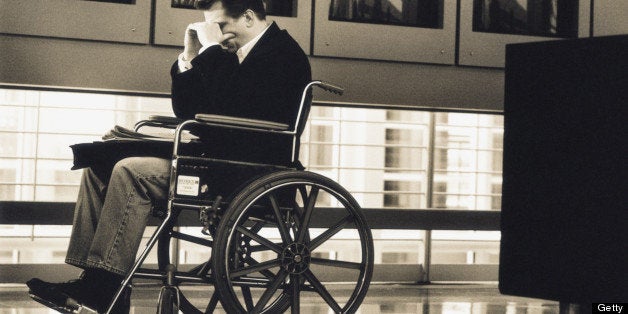 A Hawaii man says Delta Air Lines forced him to crawl down the aisle of its planes and across the tarmac to reach his wheelchair several times during a trip in July 2012, according to a lawsuit filed in federal court Tuesday.
Baraka Kanaan, a nonprofit head and former philosophy professor, says one of the incidents happened last summer when he was en route to Massachusetts from Hawaii via a series of Delta Air Lines flights.
Though a car accident in 2000 left him unable to walk and entirely dependent on a wheelchair, aisle chairs, and lifts, he says Delta representatives assured him weeks before his flight "that he would be received and given reasonable accommodation for his disability."
Yet when Kanaan arrived in Massachusetts, the complaint alleges Delta had none of the equipment needed to help him off the airplane. When he asked what his options were, a flight attendant replied, "I don't know, but we can't get you off the plane," according to a copy of the suit provided to The Huffington Post.
Kanaan, in his best suit, then had to "[crawl] hand over hand through the main cabin and down a narrow flight of stairs and across the tarmac to his wheelchair," an experience he says caused "great physical and emotional suffering," the complaint states.
On his return trip, Kanaan says he had to repeat the same procedure, as the equipment was still unavailable. However, this time the airline offered to place cardboard beneath him "so that his clothes wouldn't get dirty," the document states. In both incidents, he alleges Delta employees made no effort to try and obtain equipment from other airlines to help him deplane properly.
Kanaan's complaints to the airline resulted in a $100 voucher and an offer of 25,000 SkyMiles, which the suit says he declined, fearing his next Delta flight would leave him, again, on his hands and knees.
A Delta representative did not immediately respond to The Huffington Post's request for comment but said the airline was looking into the matter.
In 2008, a woman with muscular dystrophy experienced a similar situation after she said she was forced to crawl off two separate Delta flights. Reached for contact by Gadling, the woman called her deplaning "disgraceful" but was unsure if Delta or the airports were to blame.
According to the Air Carrier Access Act, airports and carriers are required to "provide boarding assistance to individuals with disabilities by using ramps, mechanical lifts, or other suitable devices where level-entry boarding by loading bridge or mobile lounge is not available." The rule applies to any airplane with a seating capacity of 31 or more passengers.
UPDATE: Tuesday, July 30 -- In an emailed statement to The Huffington Post, a Delta representative affirmed the airline's commitment to travelers with disabilities. The spokesperson declined to make any specific statements regarding Kanaan's case, citing the ongoing litigation:
Caring for and accommodating the needs of customers with disabilities to ensure accessibility is a top priority for Delta. Our agents and attendants are always available to help our customers before boarding, in the air and at the destination airport. It is Delta's policy to fully comply with all applicable rules and regulations governing accessibility for customers with disabilities. This includes providing assistance during the boarding and deplaning process, such as providing timely wheelchair assistance, mechanized lifts, and ramps when needed. We take the allegations that this customer has made in his lawsuit very seriously. However, because this matter is now in litigation we cannot comment on the facts of this particular case.