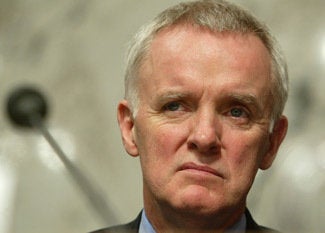 In a Politico article titled "7 Worrisome Signs For Obama," sign #4 is that the bad economy could be good for John McCain. Supporting the argument is a quote from former Democratic Nebraska Senator Bob Kerrey:
"John McCain is a known quantity," says Bob Kerrey, who thinks Obama will ultimately prevail. "You don't look at John and say, 'Who the heck is he?' he's a veteran, he's a guy who got pretty banged up in Vietnam. He can deal with crisis. There's some uncertainty about Senator Obama."
"The fact that he's African-American is a big deal. I do expect and hope that Hillary is the nominee of the party. But I hope he's used in some way. If he happens to be the nominee of the party and ends up being president, I think his capacity to influence in a positive way . . . the behavior of a lot of underperforming black youth today is very important, and he's the only one who can reach them."

Kerrey continued: "It's probably not something that appeals to him, but I like the fact that his name is Barack Hussein Obama, and that his father was a Muslim and that his paternal grandmother is a Muslim. There's a billion people on the planet that are Muslims, and I think that experience is a big deal."