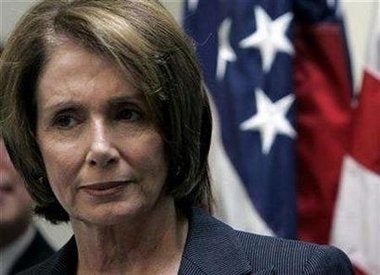 House Democratic leaders are slated to introduce the toughest-worded war funding resolution since taking office, one that would appropriate money only for a drawdown of troops from Iraq, according to a copy obtained by the Huffington Post. As a sign of cohesion within the party, moreover, Senate Democrats are likely to follow suit with virtually identical legislation.
But neither measure is expected to overcome a veto from the President or even a filibuster from the Republican minority. And Congress will more than likely have to resume Iraq legislative battles early next year.
"[Leadership] is committed to pushing this as far as it can go," said one Democratic aide. "But it will get filibustered or vetoed. Regardless, this will be the last funding bill in 2007."
The emergency Defense Department appropriations bill is set to be introduced to the House on Wednesday. A draft obtained by the Huffington Post reads: "Within 30 days after enactment of this Act, the President shall commence an immediate and orderly redeployment of United States Armed Forces from Iraq." Additionally, the draft states, "It is the sense of Congress that the war in Iraq should end as safely and quickly as possible and that our troops should be brought home."
The legislation would also require President Bush to provide Congress with a plan to complete the redeployment by December 15, 2008. It would prohibit deployment of forces to Iraq who are not fully trained, and change the strategy of U.S. forces in Iraq to diplomatic missions, force protection, and counterterrorism operations.
Finally, the supplemental language reaffirms that they won't be considering any additional war funding beyond this bill until early next year
"The amounts appropriated by this Act are sufficient to fully meet the immediate needs of the United States Armed Forces deployed to Iraq," the legislation concludes. "Congressional action on additional funding shall be deferred until [February 1, 2008]."
Calling all HuffPost superfans!
Sign up for membership to become a founding member and help shape HuffPost's next chapter