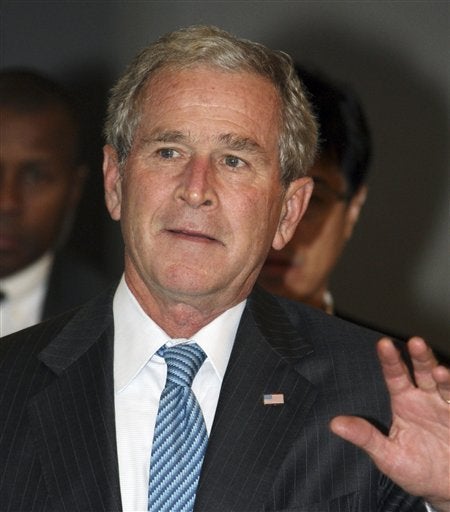 Democrats on the Joint Economic Committee issued a report Wednesday morning blaming George W. Bush for the economic misery detailed in forthcoming Census data, which is expected to show that the U.S. poverty rate jumped to 15 percent during President Obama's first year in office.
"This JEC report shows that the Bush economic policies exacerbated income inequality and led us into a painful, protracted recession, the effects of which we still feel today," said JEC chair Rep. Carolyn Maloney (D-N.Y.) in a statement. "Middle class Americans lost ground under President Bush and so when the Great Recession hit at the end of 2007, they were already vulnerable and were hit particularly hard."
On Thursday, the Census bureau will release its annual Income, Poverty and Health Insurance Coverage report. Last year's report showed that in 2008, the poverty rate rose to its highest level in 11 years -- to 13.2 percent, up from 12.5 percent in 2007. Household income fell 3.6 percent and the number of uninsured rose to 46.3 million from 45.7 million (though the uninsured rate did not see a statistically significant change because of population growth).
Thursday's data, which poverty watchers expect will show the highest poverty rate since the 1960s, will be unhelpful to incumbent congressional Democrats, to say the least. The JEC's report is an attempt to focus voters on the previous administration; it recommends ditching the Bush era tax cuts for the wealthy. "Under President Clinton, the rising tide lifted all boats, not just the yachts."
Among other things, the JEC's report says data suggest that rising income inequality, the result of Republican policies over the past few decades, exacerbated and may have precipitated the Great Recession that started in 2007. "After remaining relatively constant for much of the post‐war era," the report says, "the share of total income accrued by the wealthiest 10 percent of households jumped from 34.6 percent in 1980 to 48.2 percent in 2008."
"Tragically, the Bush economic legacy is greater inequality, a weakened middle class and the worst recession in more than 75 years," said Maloney. "When we get a look at the poverty data tomorrow, we will get fresh evidence of the human cost of the Bush economic policies. And we'll need to see this data for what it is -- a final report card on the Bush years."