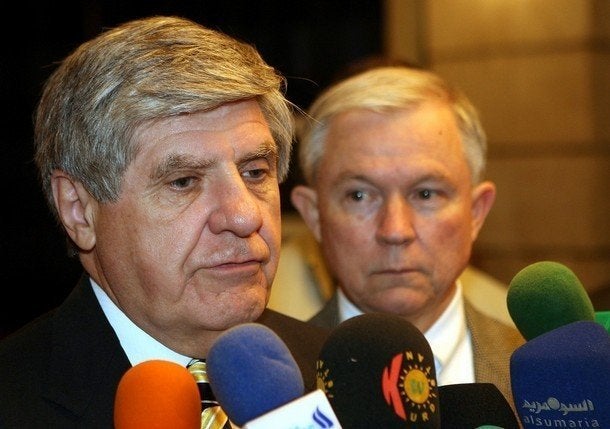 Sen. Ben Nelson, a centrist Democrat from Nebraska, is backing off of cuts he recently proposed to the economic stimulus package.
A House Republican aide provided the Huffington Post with a copy of Nelson's proposed cuts. The draft calls for billions in funding cuts for education, law enforcement and aid to states, among other suggestions. The cuts total nearly $80 billion. See the document here.
Nelson spokesman Jack Thompson called the document irrelevant. "It's several days old and not necessarily reflective of what's in the bill. I don't think it's accurate to cite anything in the list. There isn't a working plan that's before them," he told the Huffington Post.
"There have been changes made to the plan," Thompson emphasized. The negotiations are ongoing, he said, and he wasn't sure what specific changes had been made.
Nelson and Senate Republicans have charged that the current bill is too larded with wasteful spending and he met with Republicans Thursday to talk about slashing it. The moderate group has been dubbed the "job squad" by President Obama.
Nelson's draft is a window into the thinking of moderate and centrist Democrats. It would cut $5.185 billion dedicated to wellness and health care prevention; $15 billion from education, including cuts to Head Start; $150 million from the Violence Against Women Act; $50 million from the Victims of Crime Act; $100 million dedicated to upgrading law-enforcement wireless communications; one billion from energy efficiency and renewable energy programs and $4.5 billion from a loan guarantee program to encourage use of greater energy-efficiency technology.
Two billion dollars for child care and $14 billion for college-tuition grants are listed as "items that were up for discussion that were maintained."
UPDATE: This post has produced a bit of confusion. To clarify: all of the cuts listed on the Nelson document may indeed still be on the chopping block. When asked about the list, however, Nelson's communications director, Jake Thompson, pushed back hard against it. "I don't think it's accurate to cite anything in the list," he said, arguing that it is out of date and irrelevant because the negotiations are ongoing and that "[t]here have been changes made to the plan." He said he didn't know what those changes are. The ongoing negotiations, however, could produce a compromise that proposes cuts along the lines of those listed in this document. Thompson, though, is making the argument that the Nelson document should not be considered a guide to how the negotiations are proceeding. Of course, the contents of the document provide an insight into Nelson's thinking, which is why we posted the document along with Thompson's reservations about its relevance. The conversation between Thompson and the Huffington Post happened before the document had been made public by us or anyone else, so he was not reacting to published reports about it but rather to the prospect of it being made public.