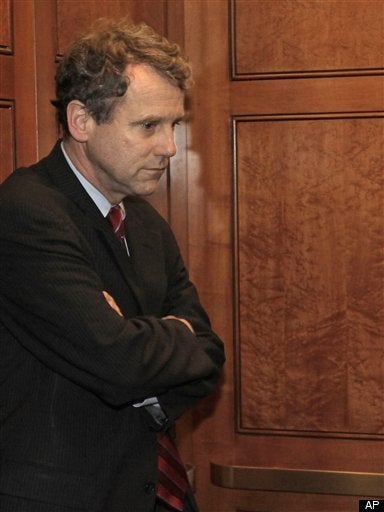 A senior White House aide told Democratic senators Thursday that the administration did not make a deal with the pharmaceutical lobby that would prevent Congress from using the government's clout to negotiate for lower drug prices, according to three Democratic senators who were in the meeting.
The New York Times had reported on Thursday morning that the White House affirmed that a deal barring price negotiations had been struck.
Sen. Sherrod Brown (D-Ohio) asked two top White House aides, David Axelrod and deputy White House chief of staff Jim Messina, if the administration had cut such a deal with PhRMA.
"He says there's no deal. I take him at his word," Brown told the Huffington Post.
The drug makers, according to the Times, had agreed to trim $80 billion in costs over ten years and the White House agreed not to go after deeper cuts by negotiating lower drug prices as part of comprehensive health care reform. The paper reported that Messina confirmed the deal on the record.
Brown said the article inspired his question. Both Messina and Finance Committee Chairman Max Baucus (D-Mont.) answered.
"Baucus said there was no deal and the White House said there was no deal," said Brown, referring to the reported deal to bar the government from negotiating for lower drug prices.
Brown added that the answer didn't necessarily mean the White House was contradicting what it told drug makers.
"It contradicts what Billy Tauzin said [the White House] told the drug makers, but Billy Tauzin has not always been all that straight with the truth," said Brown, referring to PhRMA's president, a former Republican congressman from Louisiana. Tauzin pushed through the original law that barred the government from negotiating for lower prices. Shortly thereafter, he left to lobby for the drug makers.
"It was one of those things that was a well-crafted answer," Sen. Chris Dodd (D-Conn.) told the Huffington Post. "I think they said there was no deal. It was about three paragraphs, at the end of which, [he said] there was no deal. But it took three paragraphs. Maybe there's an answer somewhere in those three paragraphs."
Brown read it as a firm denial. "I take them at their word, but I also know that PhRMA doesn't ever give up and we keep watching them," he said.
Majority Whip Dick Durbin (D-Ill.) said that a White House representative told the caucus that "as far as he is concerned, there is no deal." Durbin made his comments on Bloomberg TV, but said that Axelrod, not Messina, had been the one to say there was no deal. Both Axelrod and Messina met with the Democratic caucus.
Democrats, said Durbin, were therefore free to craft legislation that allowed the government to negotiate for lower drug prices. "He told us there was no agreement, not in that regard," Durbin said of drug-price negotiations.
The White House reached the deal with the pharmaceutical lobby so that the powerful group wouldn't use its clout to crush health care reform. The Times article was a response to a demand from the drug makers that Obama publicly announce that the deal had been reached.
"Who is ever going to go into a deal with the White House again if they don't keep their word? You are just going to duke it out instead," Tauzin told the Times. A PhRMA lobbyist didn't immediately respond to an e-mail.
Tauzin and the drug companies had been surprised that the House bill ordered the Health and Human Services secretary to negotiate with drug companies to get lower prices.
Tauzin told the Times that the White House instructed him to negotiate with Max Baucus (D-Mont.), chairman of the Finance Committee, who it said was a party to the deal. Baucus is leading bipartisan negotiations in his committee.
But those negotiations don't seem to be taking into account whatever deal the White House struck with the drug makers. "As I understand it, the committees weren't in on this negotiation. I mean, I certainly wasn't," said Sen. Kent Conrad (D-N.D.), who has been actively negotiating with Baucus for months and is part of the bipartisan Gang of Six working on a compromise package.
A reporter told Baucus that when the deal had been announced earlier, questions had been deferred to Baucus, who was given credit for cutting the deal. "You know more than I know," said Conrad.
Even if a deal has been made by the White House and the drug makers, several members of Congress said they wouldn't feel bound to it no matter what Axelrod or Messina said.
Congress doesn't take kindly to such intrusions. Even Sen. Olympia Snowe of Maine, a Republican member of the Gang of Six, thought the White House was too lenient in the deal outlined in the Times. "I think we could do more, frankly," she said. Asked if she was surprised by the deal's explicitness, she said, "Yes, I was, and secondly there wasn't enough."
Conrad said the Senate was "not necessarily" bound by any deals the White House cuts.
"I don't think it flies," said Dodd. "I think if you went out on the floor today and said, 'Look, there can be no reimportation.' You've gotta do something with Medicare bulk purchasing and [the White House] said, 'No, you can't do that now.' No, I don't think that would be warmly received. I don't think it would hold up."
Sen. Ron Wyden (D-Oregon) said that "No United States Senator gives up their election certificate," meaning that they would continue to act how they saw fit regardless of a deal.
"It's not up to him," said Sen. Jeanne Shaheen (D-N.H). "It's up to Congress."
Using the government's purchasing power to reduce drug costs is a top priority of most Democrats and House Speaker Nancy Pelosi (D-Calif.) has repeatedly pushed for it, saying the House is not bound by any deals the White House makes.
Brown, too, said that regardless of the White House answer, his branch of Congress isn't obligated to abide by a White House deal. But for now, he's glad there isn't one.
"I take them at their word. They got help from PhRMA, but they didn't make any deal," he said.

Calling all HuffPost superfans!
Sign up for membership to become a founding member and help shape HuffPost's next chapter