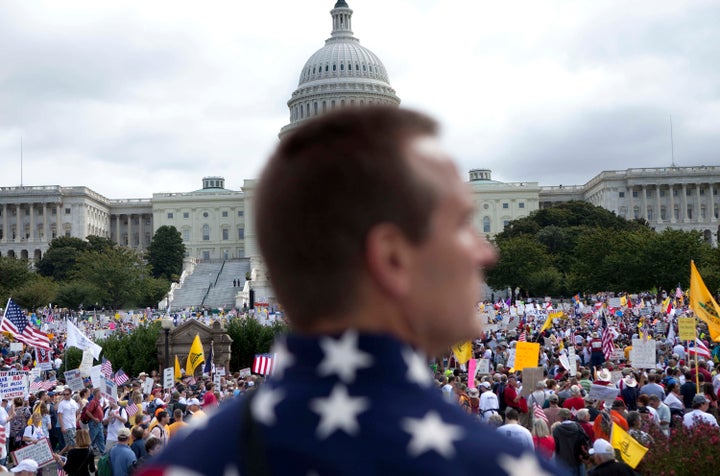 WASHINGTON ― It was the summer of 2009, and Rep. Earl Pomeroy (D-N.D.) was sitting in a restaurant in his home state of North Dakota, eating breakfast, when a waitress came to his table and handed him a bag of tea.
This was peculiar, since Pomeroy hadn't asked for tea. Nor, for that matter, had the waitress brought him a cup in which to drink it ― just the bag.
Pomeroy quickly surmised that this was about politics, and not some ploy to enhance her tip. That summer, tea party protests had erupted at town hall meetings where he and his colleagues met with constituents. Those had been bad, forcing him to nix the in-person meetings in favor of less troublesome dial-in phone calls.
Now, however, he was being targeted while eating his eggs ― a sure sign that even voters, even those with North Dakota nice dispositions, were agitating for change.
"In retrospect, that was the beginning of the end," Pomeroy said of the encounter. "You didn't have to be a genius to know something was up."
After 18 years in Congress, Pomeroy was ousted in the Democratic bloodbath of 2010. But he remains in Washington, D.C. ― emerging in the greener pastures of the firm Alston & Bird LLP.
And as Pomeroy looks over at his old stomping grounds on the Hill, he's starting to see signs of the kind of discord that led his waitress to turn a tea bag into a symbol of protest eight years ago.
"There is no question there is currently a widespread level of engagement that I've not seen in many, many years," he said of his Democratic brethren.
As for the Republicans, he offered advice: "Listen respectfully to what is being said and agree when you can find areas with agreement. Because over the years, the Democratic Party did not do a good enough job of that itself."
Only three weeks into Donald Trump's presidency, Democrats are dreaming of an inverse of the tea party wave of 2010. People who were previously indifferent or foreign to the political process are taking to the streets in millions to march against Trump's inauguration, or going to airports to rally against his ban on refugees and immigrants from seven Muslim-majority countries. They're hitting the phones, overwhelming House and Senate offices with displeasure over Trump's Cabinet choices. Their anger over the potential repeal of former President Barack Obama's health care law has forced several members to literally flee town hall meetings.
For Pomeroy and others, it's provided a dash of optimism just when the party is hitting its modern-day nadir. For Republicans, it hasn't yet caused panic. But it's forced them to begin contemplating the need for inoculation.
"I think there's no question that the Democrats are synchronized, coordinated and animated. And the use of misinformation ... leading to false conclusions has empowered their side and brought the public almost to a frenzy," said Sen. Tim Scott (R-S.C.).
"There is a lathering effect that's happened on the left that will have possible powerful implications going forward," he added. "It will be our responsibility to defuse it with truth and good information."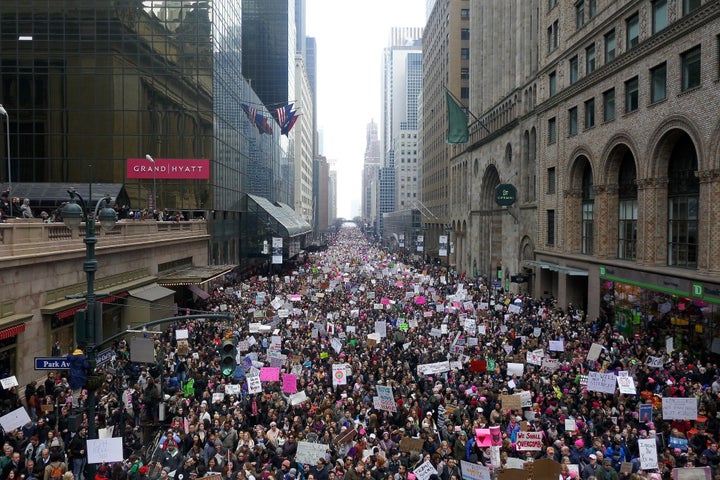 On Tuesday, the House GOP held a strategy session to discuss how demonstrators have disrupted their town hall events. Republican leaders told members to be gracious and not create a scene, according to aides.
But some lawmakers at the session had quirkier remedies. Along with basics like developing a safety plan and keeping an open line of communication with local law enforcement, former sheriff Rep. Dave Reichert (R-Wash.) said he tries to offer protesters donuts.
"I have 33 years of law enforcement experience, so House leadership asked me to share some security recommendations for other members of the conference to consider implementing in their district offices," Reichert told The Huffington Post.
Republicans didn't expect they'd be in this position so soon after Trump's election. But their need to quickly shift gears from celebrating an election triumph to addressing heated protests is not without precedent.
The Obama White House was first besieged by questions over the Tea Party protests in mid-February 2009. And its initial response, like the Trump administration's after it, was to dismiss them. Then-Press Secretary Robert Gibbs famously mocked CNBC's Rick Santelli as over-caffeinated and inauthentic. Later, he called the tea party movement "astroturf."
"It was probably the biggest mistake we made as a White House: not taking seriously that we had to engage that fight," a former Obama administration official conceded. "On the inside, it wasn't clear that this was the spark for a fundamental shift in politics."
The next few months will show whether the current protests represent a fundamental shift or something less tectonic. But their intensity is unmistakable (the town hall eruptions in 2009 didn't really start until the summer) and they've left Republicans struggling to anticipate the fallout.
"Any time that you have a group that is willing to get out and spend their Saturday for a cause, [it] shouldn't be ignored," House Freedom Caucus Chairman Mark Meadows (R-N.C.) said of recent protests."You have to take any grassroots movement serious," he added.
And for some Republicans, including those intimately involved in the 2010 wave, faint echoes are apparent.
"Oh my gosh, yes, there are a lot of parallels [between 2010 and now]," said Michael Steele, the Republican National Committee chairman during the 2010 elections. "Put it this way: The parallels are potentially there. The question is, will the Democrats, in some respects, try to force it? Because that just won't work."
But not everyone is convinced that 2018 will be a 2010 redux. Liberal populist movements have sprouted up before, only to dissipate over time. Some observers, including members of the Trump administration, argue that the current discord has the distinct flavor of orchestrated chicanery.
"They're trying to put huge political pressure on us," said Rep. Dave Brat (R-Va.), indicating that he and other Republicans believe demonstrators are being funded by Democratic interest groups. "They're busting into our offices. Our staffs across the nation are having to call security agencies," he said.
Brat called Democratic backers' efforts to organize people "the biggest news story probably in the country right now," but one that "no one's reporting on it because it comes from the left."
For now, the GOP is pressing ahead with its agenda, hoping that protests simply dissipate. Repealing Obamacare remains a priority. And rarely, if ever, do members publicly rebuke Trump ― at least, not in harsh terms.
"We all have pressure on us to deliver an agenda that gets more people back to work, that is fairer for people ― literally to make America great again," he said.
Mike McAuliff contributed reporting.
Popular in the Community