The impact of last Friday's tragedy in Newtown, Conn., on gun control reform remains to be seen, but gun control advocates say the shooting at Sandy Hook Elementary School is spurring a broad push for change.
Demand a Plan, the online campaign to reform gun laws that was founded in July after "The Dark Knight Rises" theater shooting in Aurora, Colo., has seen its support swell by 100,000 people in the last week alone, according to Mark Glaze, executive director of the campaign's partner organization, Mayors Against Ilegal Guns.
This push for reform comes with the help of several venture capital leaders from the tech world, including Kenneth Lerer, a partner with Lerer Ventures and a co-founder of The Huffington Post. The Demand a Plan campaign released a full-page advertisement in Wednesday's New York Times featuring signatures from other prominent people, including entertainers such as Lady Gaga and John Cusack, and media titans like Martha Stewart. The Huffington Post's President and Editor-in-Chief Arianna Huffington, and AOL's Chief Executive Officer Tim Armstrong, signed on as well.
The primary goals of Demand a Plan are to make sure that every gun buyer faces a background check, and that assault weapons and high capacity ammunition clips are banned. The campaign is also pushing for stricter penalties against people who purchase guns on behalf of others who might not be able to obtain them otherwise.
Lerer said that a team of people have been working around the clock to draw attention to the Demand a Plan campaign, both by releasing the Times advertisement and through a broader Internet initiative.
"We had a conference call two days ago with about 130 participants from dozens of online companies," Lerer told The Huffington Post. "Over day by day, and week by week, you'll see things all over the web."
Glaze said the ad campaign builds on the grass-roots momentum already spreading around the country.
"There's no comparison," Glaze said. "Support from celebrities, technology leaders, lawyers, everything has been coming in. Everyone has been coming in the door asking to help. We just shot a PSA with 50 celebrities in Los Angeles and New York."
To see how politicians have handled gun control legislation in the past, review The Huffington Post's Gun Control Scorecard below:
Source: Project Vote Smart, Graphic by: Chris Spurlock
Ron Conway, another angel investor working with Lerer, has asked people to take a moment of digital silence this coming Friday at 9:30 a.m. Conway recently hosted a holiday party, which his friend and former Arizona Rep. Gabrielle Giffords attended, and the time he spent with her prompted him to get involved with Demand a Plan.
Mayor Michael Bloomberg, co-chair of the Mayors Against Ilegal Guns coalition, has been vocal this past week, criticizing lawmakers for not taking more action after previous mass shootings in places like Tucson and Aurora.
"Somehow or another, we've come to think getting reelected is more important than saving lives," he said at a news conference earlier this week, CBS reported.
It remains to be seen how long the Internet campaign to support the petition will continue. As Lerer put it, "I'm completely convinced there will be legislation and maybe that'll be not an end date but an end, and a new beginning."
View The New York Times' advertisement below, and click here for a larger version: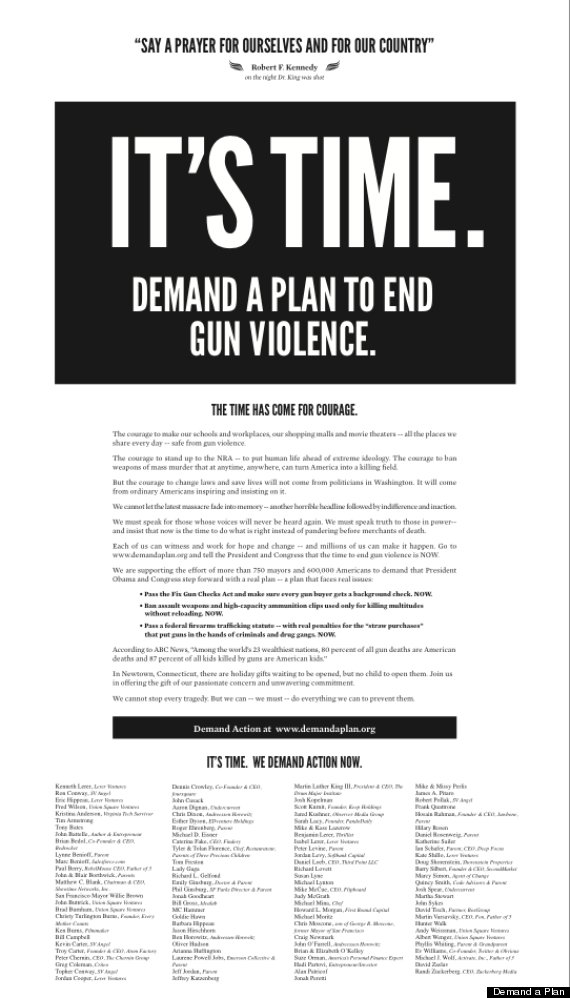 Calling all HuffPost superfans!
Sign up for membership to become a founding member and help shape HuffPost's next chapter
BEFORE YOU GO
PHOTO GALLERY
Obama Speaks At Sandy Hook Vigil