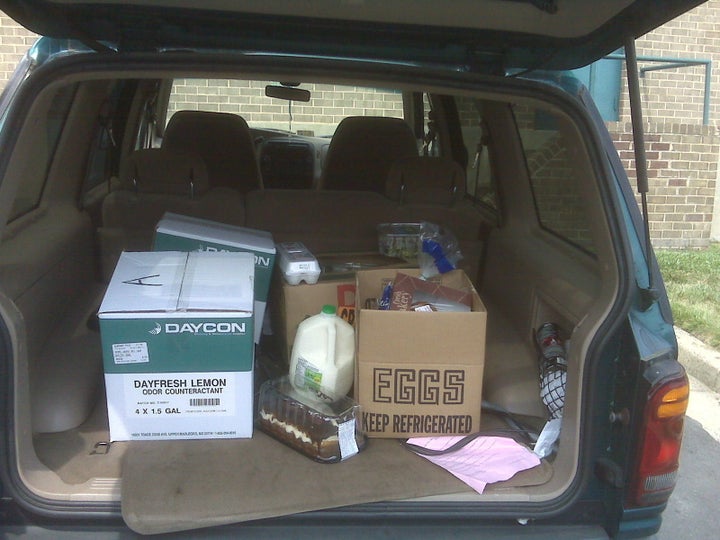 Mezmure Dawit, 22, showed up at the food bank in Fairfax, Va., looking for help. He said he'd lost his job as a maintenance man at an apartment building last month and he needed food for his 14-year-old brother and 18-year-old sister.
He said their father had left them five months ago. "He just left. No money, nothing," said Dawit, wearing crisp blue jeans and a striped shirt. "It's been hard, man."
As the national unemployment rate nears 10 percent, more and more people are turning to food banks for help keeping food on their plates. Feeding America, the nation's largest domestic hunger-relief charity, reports that demand at food banks across the United States is up 30 percent from last year.
Feeding America spokeswoman Maura Daly told the Huffington Post that as recently as May of last year, 90 percent of Feeding America's clients cited food and fuel costs as their reasons for needing assistance. By December 90 percent were citing unemployment as the primary reason.

"Over a six-month period we saw a really dramatic shift," Daly said.
The greater Washington, D.C. area has the second-lowest unemployment rate -- 6.6 percent -- of any metropolitan area in the country, according to the latest data from the Department of Labor. Nevertheless, local food banks and distributors report surging demand from scores of new clients.
Roxanne Rice, executive director of Food for Others, the distribution center and food bank Dawit visited, said the number of families coming to Food for Others increased 51 percent from last June to this June. Food for Others is a partner agency with the Capital Area Food Bank, a member of Feeding America's network.
"We have been seeing a lot more people," said Rice. "We see a lot of mothers with kids, a lot of men, a lot of people who are working but just aren't earning enough." While the food bank used to see 50 families a day, over 100 families started showing up in the early months of this year, leveling off to about 95 a day more recently.
Eighty-five families were served at Food for Others on Tuesday. Some were there for the first time. Many had a referral from a social worker, church, or hospital attesting to the fact that the person needed food help. The Huffington Post interviewed a dozen. Many said the same thing: there's less and less work.
Maher Iskander, 43, visited to pick up bread for his four- and five-year-old children. He said he'd immigrated to the United States from Eqypt in 2007 and had been working full-time at Dulles International Airport, checking identification of people boarding planes, but that his hours had diminished. He heard about the food center from a friend.
"I like hard work," he said. He shrugged. But there's not enough.
Roofers, carpenters, and landscapers interviewed by the Huffington Post said they were unable to find more than a few hours of work per week.
The amount of food given out depends on the size of the family. A family of six with an emergency referral via Fairfax County social services received 158 pounds of food in the form of milk, eggs, bags of bread, carrots, oranges, and three boxes of non-perishable canned goods -- enough to last the family for about a week.
The canned goods in the boxes are paid for by the U.S. Department of Agriculture, which received $100 million in stimulus funds to buy food for food banks and another $50 million for food storage over the next two years, according to Daly. The stimulus money is a big boost to the USDA's $250 million a year food bank program.
Mezmure Dawit was given four boxes of food along with with a gallon of milk, a dozen eggs, and a chocolate pastry. He loaded them into the back of his car.
Charles Dailey, 60, said he'd done two hours of work giving estimates for landscaping work for his landlord's business before arriving at Food for Others. He said he barely had enough money to cover his rent and utility bills and that he can't even make minimum payments on his maxed-out credit cards.
Dailey got some bread, bananas, and a box of canned food.
"I think I'm gonna find something," he said. "When things get bad, something always happens and things get better."
HuffPost readers: Are you feeding your family with help from a food bank? Tell me about it. Why not? Email arthur@huffingtonpost.com.
Related
Popular in the Community