The fossil fuel industry has been at the center of the climate change debate, for good reason. We urgently need to transition from fossil fuels to clean, renewable energy sources in order to stave off catastrophic climate disaster.
There's also another urgent reason to make the shift from fossil fuels: the industry's toxic operations pose unacceptable health threats to our children and families.
Researcher Frederica Perera at the Columbia University Mailman School of Public Health and the Columbia Center for Children's Environmental Health recently noted that fossil fuel emissions pose grave dangers to children's health, both from pollution and from the health effects from climate change. Her review concludes that:
"(B)y sharply reducing our dependence on fossil fuels we would achieve highly significant health and economic benefits for our children and their future. These benefits would occur immediately and also play out over the life-course and potentially across generations."
In addition, a review by the California Climate Change Center found that fossil fuels and climate change pose more health problems to low-income people of color, communities that already shoulder an unequal burden of pollution-related health issues. Their report notes that in California "...(F)ive of the smoggiest cities are also the locations with the highest projections of ambient ozone increases as well as the highest densities of people of color and low-income residents." The study concludes that public policies that do not take these pollution disparities into account could reinforce or worsen current health inequities.
Now, across the country, communities of color are taking a stand for environmental justice in their neighborhoods. These activists are demanding an end to the fossil fuel pollution that has put their health at risk for too long.
For example, in Brandywine, Maryland, residents and environmental groups have filed a federal civil rights complaint to stop two new natural gas plants in a community that is 70% African American. The area is already home to three polluting plants, with the attendant effects on air quality and health. Speaking on behalf of the neighborhood community, resident Kamita Gray called the plant "...(E)nvironmental racism, environmental slavery, environmental terrorism. This isn't just an environmental issue. This is a health issue...we've become (a) sacrifice zone."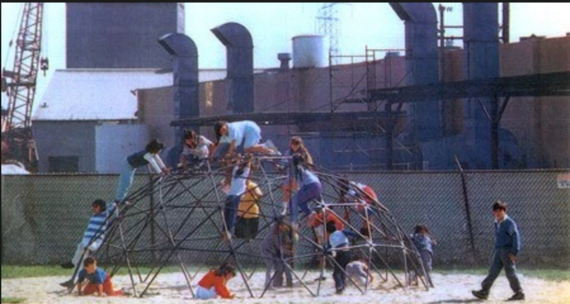 In Los Angeles, the fossil fuel industry's pollution threatens numerous low-income communities of color. Most people don't think of LA as an oil town, but in fact the county is the largest urban oil field in the country, with 70% of its active oil wells located within 1500 feet of a home or school or hospital. The wells are predominantly located in low-income Latino and African American neighborhoods, with residents reporting health issues, lack of information about toxic threats, and a failure of regulatory protections. Affected communities there have formed Stand Together Against Neighborhood Drilling (STAND-LA), an environmental justice coalition of community groups working to end neighborhood drilling and protect the health and safety of those on the front lines of urban oil extraction.
In North Carolina, local groups in the predominantly Africa American areas around Duke Energy's coal ash waste pits are fighting the company's drinking water pollution. Local NAACP President Malcolm told the Greensboro News & Record that the community objects to corporations that always seem to target lower-income, minority neighborhoods for their toxic waste-disposal projects. Even worse than turning a blind eye to the health risk posed by Duke's toxic waste, state officials may have illegally covered up the bad news. Just this month, a state toxicologist testified that the state health director knew about high levels of a cancer-causing chemical in drinking water when he falsely told residents that their water was safe to drink.
Indeed, it is nothing new for companies to target such communities for their toxic facilities. As Dr. Robert Bullard, one of the country's leading historians of environmental justice told us on the CEH podcast, across the country, research over decades shows that low-income communities of color are more likely to be chosen for polluting operations and toxic waste disposal. "Zip code is the best predictor of health and well-being, " he said, "and some communities have the wrong complexion for protection."
Ending the health and climate threats from fossil fuels should be the key policy issue for the next President. Let's hold the candidates accountable for our children's and families' health this election season.
Popular in the Community