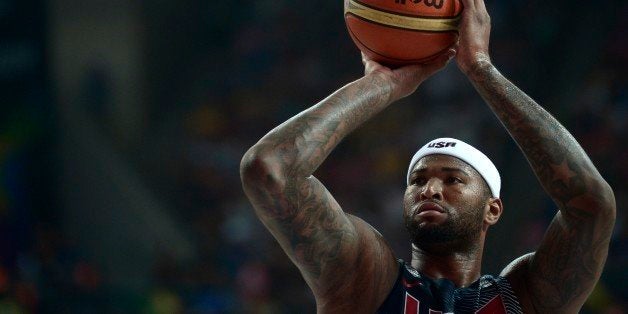 New York Knicks forward Carmelo Anthony made the claim to ESPN this week that he is the most underrated NBA star in the league. In fact, here's the entire quote verbatim: "I think I'm the most underrated superstar that's out there, but that doesn't matter to me."
That just makes you cringe, doesn't it?
As if it isn't sickening enough that he is personally titling himself a superstar, he then tried to paint himself as some sort of victim, as if it's the public's fault that he doesn't receive the same respect as LeBron James and Kevin Durant. This criticism comes, in part, because Anthony's teams have made the playoffs in 10 of his 11 years in the league, but have advanced past the second round just one time. Considered an elite scorer, Anthony has been the primary option on all of his teams, and has consistently been towards the top of the league in shooting volume, as well -- that is, the number of shots per game that he attempts. NBA superstars are indeed judged in part on their team's success, and Anthony hasn't led any of his teams to the promised land yet.
In the above quote, Anthony was dead-on when he said "it doesn't matter to me." Signing a five-year, $124 million contract to stay with the Knicks this offseason, he passed up opportunities to join the Los Angeles Lakers, Houston Rockets, Dallas Mavericks, and Chicago Bulls, all of which would have given him a better shot at contending for a title than the Knicks. But, like he claims above, "that just doesn't matter" to him. What does matter? Putting up points, not playing defense, and collecting as much money as he can in the process seems to be pretty important to him.
Over the course of his 11-year career, he has averaged 24.8 points per game... but has attempted 19.7 field goals per game, which is an astounding number of attempts. Last season, Anthony put up 21.3 shots per game and averaged 27.4 points per game. Shooting at such a high volume, doesn't that put a damper on his "superstardom", especially if he struggles to make an impact in any other aspect of the game?
He has averaged an embarrassing 3.1 assists per game in his career, considering the number of times per game he touches the ball. He has never once recorded a season with more than 3.8 assists per game.
A player that very few even consider a superstar is Sacramento Kings center DeMarcus Cousins, who performs at an elite level in seemingly every aspect of the game. Last season, he averaged 22.7 points, 11.7 rebounds, 2.9 assists, 1.3 blocks, and 1.5 steals per game. He attempted an average of 16.8 shots per game, and shot 49.6 percent from the field.
His 2.9 assists per game as a center were just 0.2 less than Anthony, who is one of the primary ball-handlers for the Knicks.
He was a force on the low block on both sides of the ball, and has quietly become one of the best players in the NBA. In his first four NBA seasons, the big man has averaged 17.9 points and 10.2 rebounds per game, progressively improving each season.
But, he's not Hollywood. He hustles on both sides of the ball and plays with extreme passion. He doesn't play victim. He doesn't have a max contract. He also doesn't have a famous wife or girlfriend or play in a sexy market. He's no Carmelo in those respects.
Per 100 possessions last season, Anthony averaged 29.3 field goal attempts, 37.7 points, 11.1 rebounds, and 4.3 assists. Cousins averaged 26.4 field goal attempts, 35.7 points, 18.4 rebounds, and 4.6 assists.
Not to imply that they are the same type of player, but those numbers show the output and added value that Cousins had when on the court last season.
The real reason why Carmelo will never be mentioned in the same breath as the LeBrons and Durants of the league is because they are more than just a high-volume shooter who is looking to just put the ball in the basket. The NBA is full of talented players who can do just that. The LeBrons and Durants are dynamic... they do everything their team needs them to do on a given night in order to win, even if that means distributing the ball or expending physical energy on the defensive side of the ball.
In 790 career games played, Carmelo's career-high in assists in a single game is eight. Yes, eight. His career high in field goals attempted? Thirty-five.
So, Carmelo isn't the most underrated superstar in the NBA... Cousins is. Since Anthony seems to want to put a label on himself, here's one: "Greatest Ball Hog Who Has Been Surrounded By Mediocre Teammates Throughout His Career And Thus Given Free Reign To Do Whatever He Wants." Kind of a long title, but that's one that Anthony actually deserves.
We have seen time and time again that when NBA players get an opportunity to shoot at a high volume, they can and will put up big numbers. For example, if you go back a few years to the "Linsanity" craze, Jeremy Lin was able to put up big-time numbers... but only because he was given the freedom to shoot as much as he wanted. NBA players are some of the most supremely-talented athletes in the world. It makes sense... the more shots you take, the more that are bound to go in. Doesn't take a rocket scientist to figure that out.
It's the elite players who develop their game into a multi-faceted attack that are considered superstars, and for that reason, Carmelo will never be a superstar in my eyes, unless he decides to pass the ball once in a while and get a hand in someone's face on defense.
The NBA season is right around the corner. Trade NBA games like stocks very soon on Tradesports.com! In the meantime, check out our NFL, College Football, and MLB playoff contests that are currently open! CLICK HERE to check it out!
REAL LIFE. REAL NEWS. REAL VOICES.
Help us tell more of the stories that matter from voices that too often remain unheard.