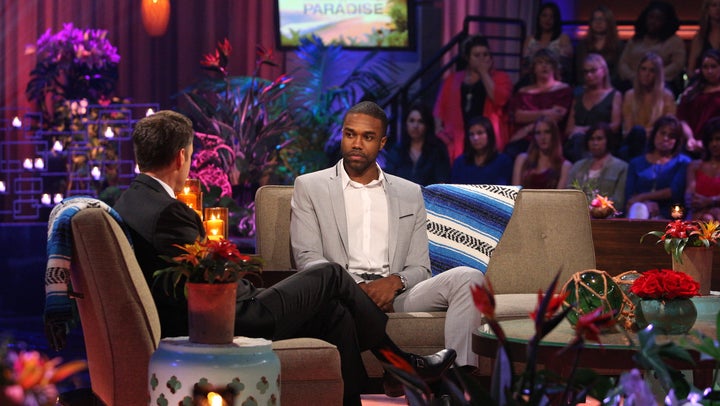 Months after a nasty scandal erupted during taping, "Bachelor in Paradise" returned to the air last week. On Tuesday night, DeMario Jackson, one of two cast members caught up in the controversy, opened up about the incident and its aftermath, and he had kind words for Corinne Olympios, the other contestant involved.
"It just hurt me just knowing that she was probably going through the same thing I was, but a little more, a little bit more aggressive and intense," said Jackson, speaking of the media scrutiny and the backlash from the public. In late June, he told E News, "I'm here for her. She's experiencing the same thing that I am." 
Jackson and Olympios became targets of social media harassment and rampant speculation after reports emerged June 11 that an encounter between the pair had led a third party to file a report of misconduct on the set. Later reports said that two producers on the show filed complaints about an alleged sexual encounter.
In the midst of the controversy, both contestants were careful not to accuse anyone directly of any wrongdoing, though Olympios put out a statement on June 14, shortly after news of the shutdown emerged, describing herself as "a victim." An investigation conducted by an outside firm ultimately found no misconduct by the cast.
While the franchise has yet to clarify exactly what took place during the first night of filming or to show the footage of the encounter in question, media outlets initially reported a number of claims from sources close to the show, including allegations that the two had engaged in a sexual encounter while Olympios was blacked out from drinking. One particularly salacious article in the tabloid The Daily Mail claimed that, according to an anonymous crew member, Jackson assaulted her while she was unconscious in the pool. Both cast members faced sexist and racist vitriol, with slut-shaming and racist comments flooding Olympios' Instagram account. Jackson shut off comments on his Instagram account. 
Jackson opened up to Harrison about how the news reports and online commentary affected him. "I know I'm not that monster they're trying to portray on TV," he said, getting emotional as he recalled some of the accusations he'd read. He was also hounded by reporters: "TMZ, Insider, they followed me from the gym. I was exhausted, mentally, physically."
He teared up while speaking of how his family coped with the media firestorm. "I love my mom more than anything in this world, and seeing her cry every single day... it was difficult."
In all this, Jackson said, he found solace in three things: "Family, friends and Kanye West." Other cast members on the show, including Raven Gates, Alexis Waters and Taylor Nolan, stayed in close touch and offered support, he said.
He said he had wanted to offered similar support to Olympios. "My main thing for her," Jackson told Harrison, "is that I wish we could have spoken.... I felt bad for her because she was being slut-shamed." 
Olympios will get her opportunity to speak out during next week's installments of "Bachelor in Paradise," in another studio interview with Chris Harrison.
Do people love "The Bachelor," "The Bachelorette" and "Bachelor in Paradise," or do they love to hate these shows? It's unclear. But here at "Here to Make Friends," we both love and love to hate them — and we love to snarkily dissect each episode in vivid detail. Podcast edited by Nick Offenberg.
Want more "Bachelor in Paradise" stories in your life? Sign up for HuffPost's Entertainment email! The newsletter will also serve you up some juicy celeb news, hilarious late-night bits, awards coverage and more. Sign up for the newsletter here.
REAL LIFE. REAL NEWS. REAL VOICES.
Help us tell more of the stories that matter from voices that too often remain unheard.
BEFORE YOU GO
PHOTO GALLERY
Tweets About "Bachelor In Paradise" Season 4, Episodes 3 & 4