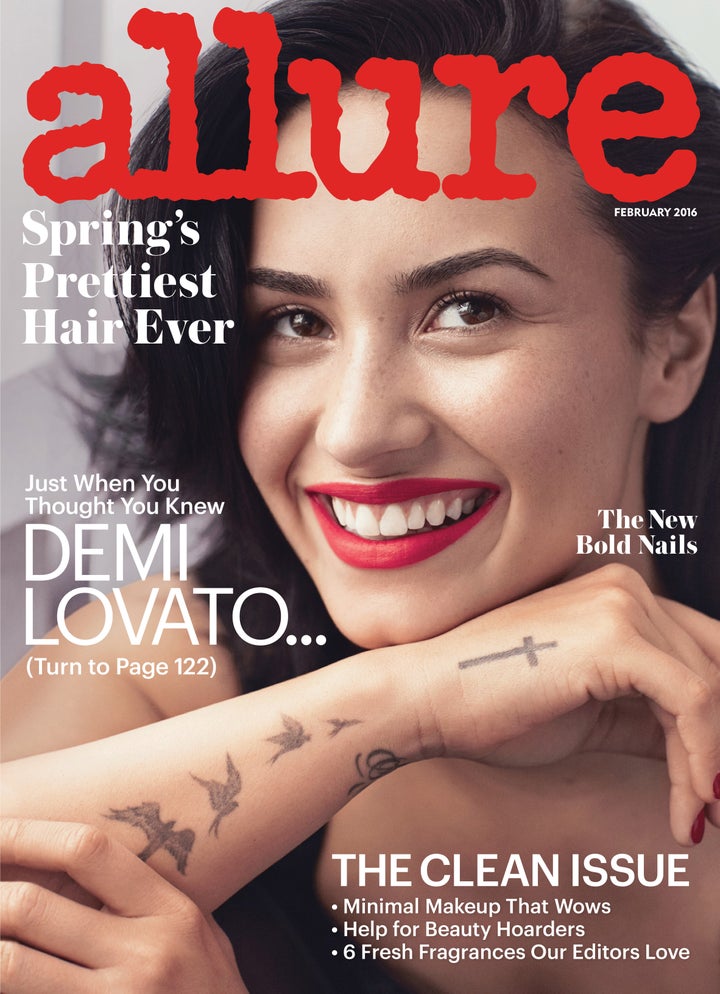 Demi Lovato confidently covers Allure's February issue with her big, bright smile front and center. In her first cover story for the mag, the "Cool for the Summer" singer opens up about her Disney Channel days, battling insecurities and how she's never felt more comfortable in her own skin. 
Lovato's path to self-acceptance has not been without its hardships, however. In 2010, she sought treatment for "emotional and physical issues," which included an eating disorder. One source of the 23-year-old's pain can be traced all the way back to where she got her start: Disney. 
"I signed with Disney Channel when I got 'Camp Rock,' and I had a gap between my two front teeth," she explained. "They were like, 'Would you be willing to fix it?'; I wish today that I hadn't, because my gap was really cute."
Lovato decided to speak out about her struggles with self-image, becoming a fierce advocate for body positivity in an industry that endorses damaging beauty standards. 
"I realized I could help people" she told Allure. "It creates a conversation -- there's an opening for children themselves to actually come forward and say, 'This is what I'm dealing with.' Or 'I have a problem. I need help.'"
And for those expecting Lovato to just get over it, don't hold your breath. 
"I'll have people who are like, 'Stop talking about eating disorders. Like, we get it. You struggled. Now shut up,'" she remarked. "I started wearing sexier stuff, and I got some hate for that -- like, 'You've changed.'"
"It's like, What's wrong with being confident enough to wear this?" she added. 
Absolutely nothing, Demi. 
Despite the haters, she's never been more on top of her game. After releasing a killer fifth album "Confident" in October and preparing for her Future Now Tour, which launches this summer, Lovato is ready to take over the world. 
"I've never felt as confident in my skin as I do today," she told Allure. "A year ago, on tour, almost every inch of my body was covered by clothing ... Once I started feeling better about myself, I felt better about showing more skin."
"It's also a statement, like, 'Hey, watch out. You're no longer getting the insecure Demi that you've been getting for the past couple of years," she continued. "I mean business now."
You can pick up Demi's Allure cover on newsstands now.
PHOTO GALLERY
Demi Lovato
Calling all HuffPost superfans!
Sign up for membership to become a founding member and help shape HuffPost's next chapter