Humor might be subjective, but this Demi Lovato prank just isn't funny. 
During a Q&A on social media Sunday night, the pop star fielded fan questions about everything from her relationship status (she's ready to settle down) to whether she likes pasta (shockingly, no). 
But her response to one follower asking about "funniest prank" she's ever pulled sparked immediate backlash against the "Tell Me You Love Me" singer for trivializing sexual assault. 
In a now-deleted tweet, the former Disney star explained that she once hired a "lady of the night" while staying in Vegas to surprise her bodyguard Max.
"She walked into his room without permission and grabbed him in his 'area' and he freaked the fuck out hahahaha," Lovato wrote.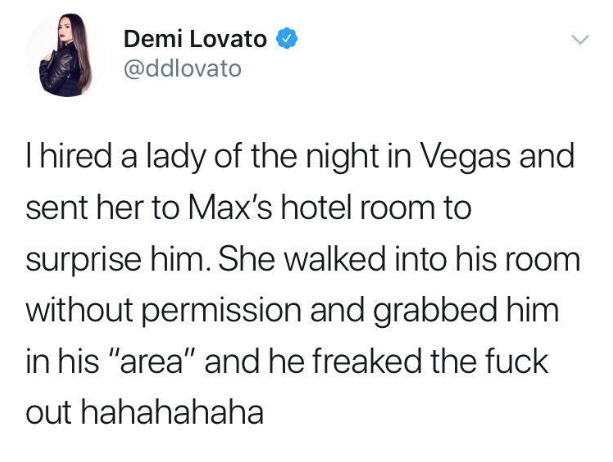 Some fans were quick to accuse Lovato of orchestrating sexual harassment and assault, not to mention disrespecting her employee, labelling the so-called prank a "legitimately a shitty thing to do."
"So she hired someone to walk into someone's room and sexually assault him. Okay girl," one person wrote.
"CAN WE ALL UNDERSTAND IN 2018 THAT A SEXUAL ASSAULT AGAINST A MAN IS NOT A NORMAL THING AND WE SHOULDN'T LAUGHT ABOUT IT??" another added.
At first, Lovato was reluctant to admit any wrongdoing, chalking the backlash up to faux Twitter outrage over a non-controversy. She even directed those in her mentions to the power ballad "Warrior," which some fans have interpreted as a song about the singer's own sexual assault. 
"I've got shame, I've got scars / That I'll never show / I'm a survivor / In more ways than you know," she sings on the track.
Eventually, Lovato dropped the #SorryNotSorry approach and apologized for the insensitive tweet writing, "So sorry if anyone was offended." 
After a fan came to her defense by assuring the singer that "we know you and your story," the former Disney star hinted that she still has much to share. 
"That's just the thing... people DON'T know my full story," she added. 
Perhaps Lovato will open up on her next album, as she's been teasing that new music is coming this month.
Before the Q&A took a turn for the worse, she revealed that her next single is the "most heartbreaking song" she's released yet. 
REAL LIFE. REAL NEWS. REAL VOICES.
Help us tell more of the stories that matter from voices that too often remain unheard.
BEFORE YOU GO
PHOTO GALLERY
Demi Lovato