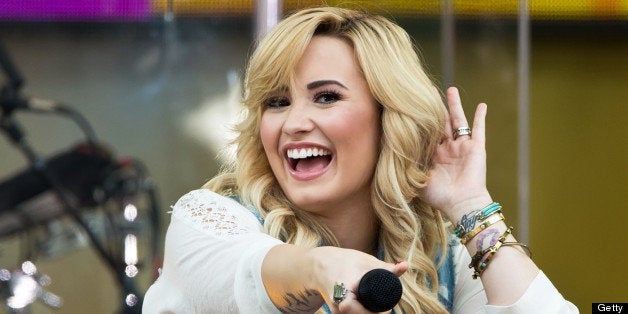 Demi Lovato, 20, collaborated with Buzzfeed yesterday to write "16 Signs You're Becoming Demi Lovato." Most of the signs are cute/obvious/endearing and they include more than one Disney heroine, but then there's this: Lovato apparently believes in ghosts, and more particularly believes her house in Texas is haunted.
I go ghost hunting. My house in Texas is so ridiculously haunted. Not by a bad spirit, but a little girl. I think her name is Emily. I've had a medium come over and ghost hunters, and they both told me the same name, Emily. There were so many times that I saw her when I was growing up. I saw her in my closet one time. When I was 3 years old my mom caught me talking to something by myself. She asked, "Who are you talking to?" and I said, "My best friend Emily." She's playful. She'd probably be around 11 or 12 years old, maybe younger. [Buzzfeed]
Weirdly, Lovato is in good company. Both Ke$ha and Miley Cyrus have spoken in the past about their belief in/fear of ghosts.
In September 2012, Ke$ha revealed to Ryan Seacrest that her song "Supernatural" stems from her experience of having sex with a ghost. "It's about experiences with the supernatural... but in a sexy way," the risque singer told Seacrest. "I had a couple of experiences with the supernatural. I don't know his name! He was a ghost! I'm very open to it."
In May 2013, Cyrus told ELLE U.K. of her brush with the paranormal. "I thought I had seen a little boy sitting on the sink watching me take a shower so I felt really freaked out," she said of the London apartment she had to leave after these experiences. "I was sitting there the next night and maybe I'm crazy, but I could have sworn I could see this little boy sitting there on the sink, kicking his feet."
Yeah ... To each his own, or something.
Calling all HuffPost superfans!
Sign up for membership to become a founding member and help shape HuffPost's next chapter
BEFORE YOU GO
PHOTO GALLERY
Demi Lovato