IOWA CITY, Iowa -- Hillary Clinton brought star power to the campaign trail Thursday night, aiming to woo young Iowa voters with a live performance from singer-songwriter Demi Lovato.
The 23-year-old musician joined Clinton at an organizing event on the University of Iowa campus, performing a set of three songs before nearly 2,000 adoring fans.
"I don't think there's a woman more confident than Hillary Clinton," Lovato said, as the crowd erupted in cheers and applause. "Now it's time that we celebrate the real super star that's here today."
With the Feb. 1 Iowa caucuses nearing, Clinton has enlisted the help of many celebrities, athletes and elected officials to deliver her message to voters. Earlier this month, "Girls" star Lena Dunham campaigned for Clinton in the state. Singer-songwriter, Katy Perry shared the stage with Clinton and former President Bill Clinton in October. Soccer star Abby Wambach also stumped for Clinton during a campaign event this cycle. Clinton taped an appearance on the Comedy Central show "Broad City," which will air this year.
"I couldn't be more thrilled to be here in support of her," Lovato said Thursday, introducing the Democratic presidential hopeful. "The person that is about to walk on this stage, not only am I voting for because of her beliefs, her strength and the fact that she completely embodies the concept of women empowerment. Last, but not least, I am voting for her because I truly believe that there is nobody more qualified to run this country, our country, than our secretary of state."
Clinton thanked the pop star on stage, noting her "extraordinary talent" and her courage.
"I want to thank her for how brave she is," Clinton said. "How confident she is. Because she is using her voice, not only to sing and inspire us through that, she is using her voice to reach out to so many people who need a little of help themselves, who have some challenges. She is determined to help people find their way through and I appreciate that.
"Demi, you have been just an extraordinary example for so many in the way that you have talked about issues that people find sometimes hard to talk about," Clinton added. "You've given hope and positive reinforcement to so many. I'm thrilled you're here, lending your voice and your example to our efforts to get people to get out and caucus."
Dispatching surrogates to key early voting states isn't new. But it's an area where Clinton has an edge over her rival, Sen. Bernie Sanders (I-Vt.)
Despite all of the celebrities in her corner, Clinton is having trouble getting the millennials on board. A CNN/ORC poll of Iowa voters released on Thursday shows Clinton trailing Sen. Sanders by 8 percentage points. A Harvard Institute of Politics survey of 18- to 29-year-olds found 41 percent of Democratic primary voters preferred Sanders, while 35 percent preferred Clinton.
A Fox News poll in New Hampshire released earlier this month showed the Vermont senator winning 55 percent of voters under 45, with Clinton winning 31 percent of that age group. A Des Moines Register/ Bloomberg Politics poll released at the end of December found similar results, with Clinton supported by 64 percent of Iowa Democrats 65 and older, and Sanders backed by 58 percent of voters under 45.
Winning the support of this key demographic has proved to be a problem for Clinton, 68. In 2008, Clinton's campaign lost the youth vote to then-Sen. Barack Obama.
The demographic disparity shows in campaign events in early states. Clinton generally attracts a middle-aged crowd, while Sanders' supporters are generally younger, first-time voters.
See more pictures of Demi Lovato's appearance with Hillary Clinton below: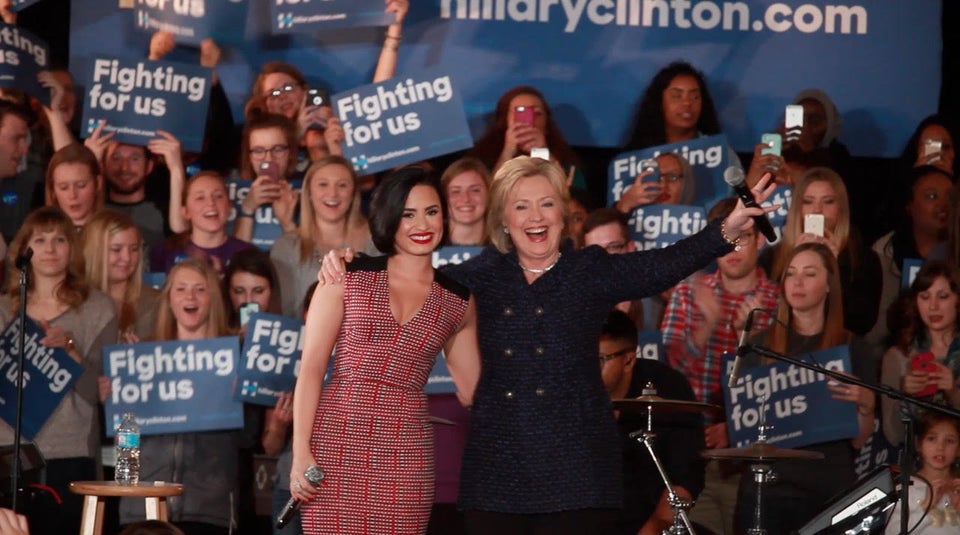 Demi Lovato Joins Hillary Clinton in Iowa
Popular in the Community