Over the weekend, Lovato took aim at The Bigg Chill for its marketing of sugar-free options. She called the products "triggering and awful," as she is in recovery from an eating disorder.
"Finding it extremely hard to order froyo from @thebiggchillofficial when you have to walk past tons of sugar free cookies/other diet foods before you get to the counter," she wrote in an Instagram Story. "Do better please."
Lovato also posted her direct messages with the shop, an exchange that ultimately went viral.
On Monday, Jamil weighed in on the ongoing drama, sharing her thoughts on her own Instagram Story.
"Ok, I want to try to avoid making the story bigger than it already is," she wrote. "But if an eating disorder advocate says she sees products that are positioned as guilt free, and it is potentially triggering, that doesn't mean she's too stupid to remember that diabetics exist. It just means that we need to change the marketing of products that are for people's medical needs."
The "Good Place" star insisted that Lovato wasn't attempting to disregard "people's illnesses," calling her "one of few celebrities reminding us to look out for mental illness."
"Guilt free is diet culture terminology. We need to stop using that fucking term. We are so lucky to even have food. What in the name of shit and hell is there to feel guilty about. That's a term of shame," Jamil wrote, emphasizing that it's "good to keep raising awareness on this matter until eating disorder rhetoric is OUT of our normalized mainstream culture."
Jamil went on to explain that using words like "cheat, guilty, naughty, bad, [and] unhealthy" creates the impression that food is either virtuous or sinful. It's "problematic terminology," she wrote.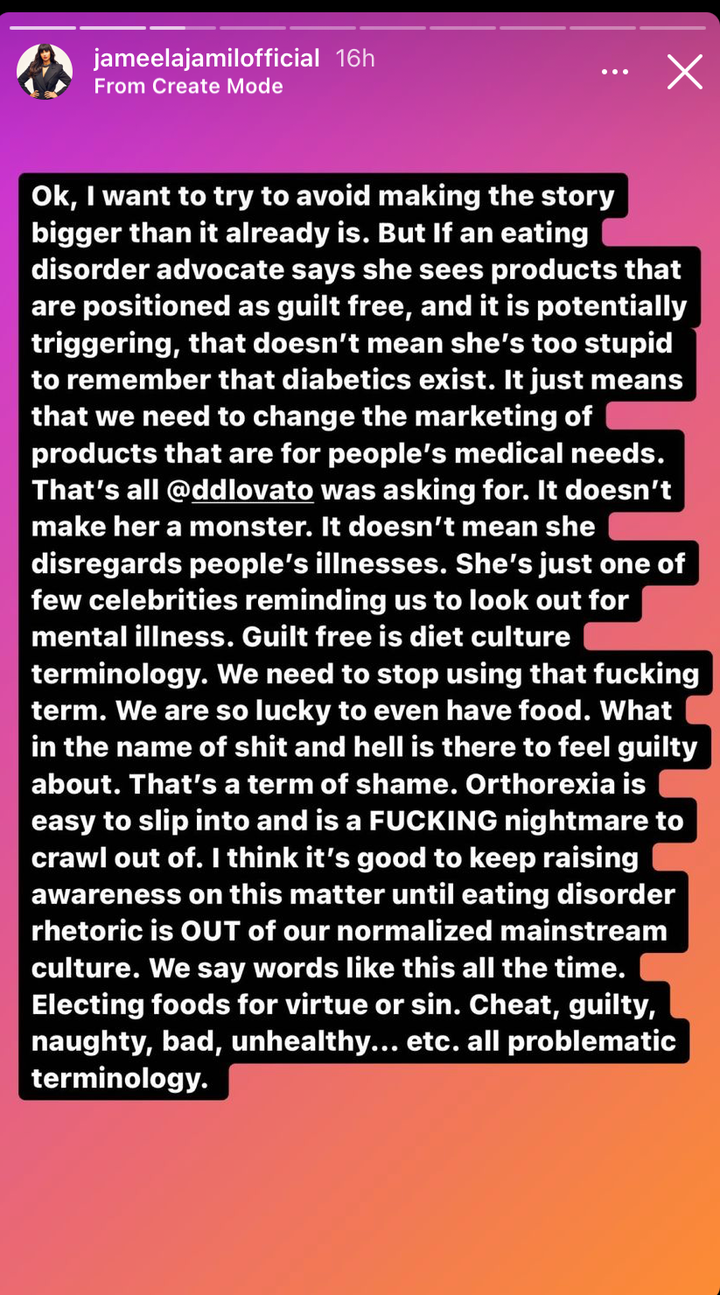 In a second post on her Story, Jamil accused critics of rushing to "deliberately misunderstand [Lovato's] intention and stance, and frame her as ignorant and careless, and inherently bad."
The 35-year-old stressed that "pile ons of mockery" aren't helpful and only discourage people from making themselves vulnerable. She added that "unless you are also constantly trying to help and advocate for other people, I don't think it's a great move of character to pile onto those who do."
The actor also pointed out that Lovato's comments on the froyo shop were trending on Twitter all day, rather than tweets about "lawmakers taking away trans rights, healthcare...rather than talking about gun laws."
"Just please think about the bigger picture. It's absolutely important to push for accountability from those in power who make mistakes, but what I'm seeing online is mostly not that," Jamil concluded. "It's just mockery and cruelty, and maligning of a woman's character who is navigating unchartered [sic] territory of being super famous, super young, super outspoken, super honest and vulnerable and super fragile and strong at the same time."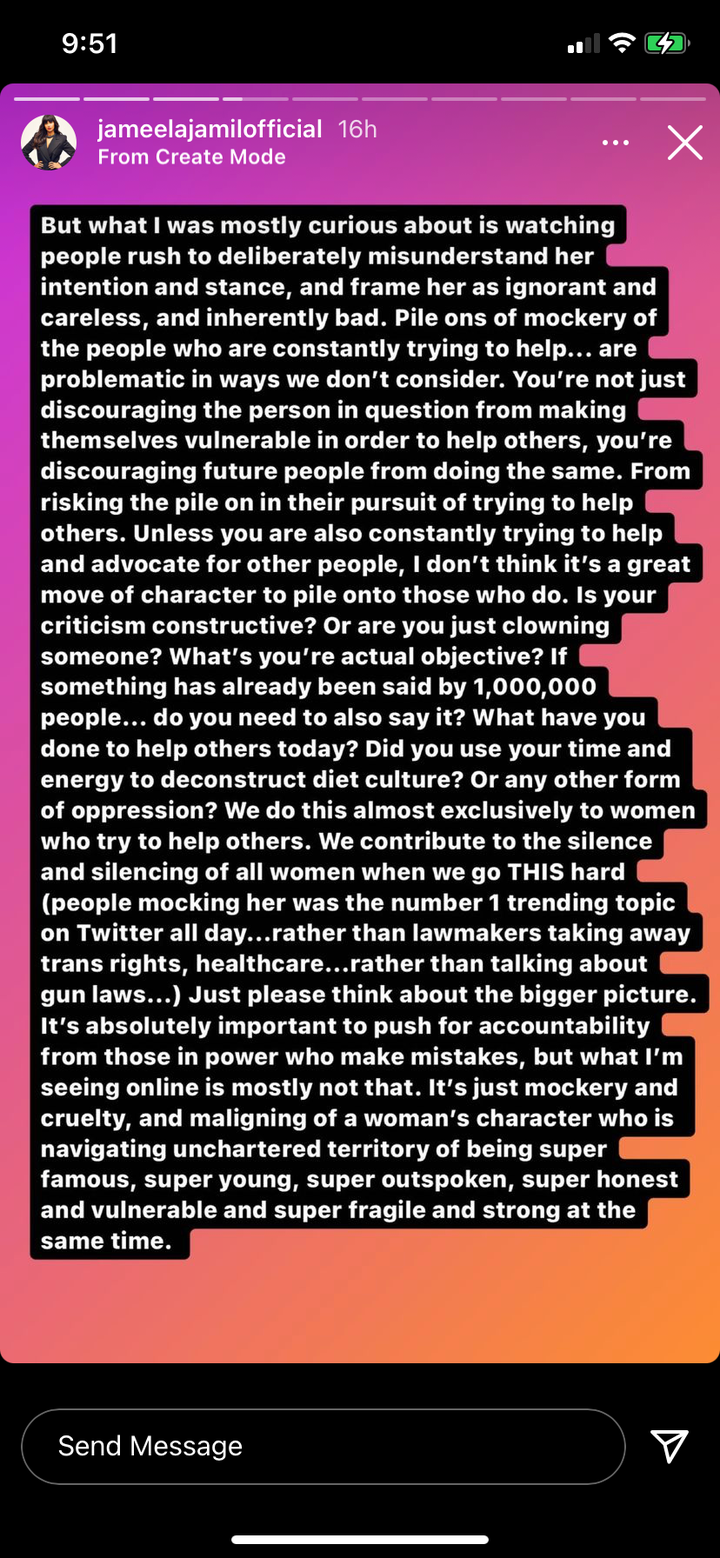 Lovato reposted Jamil's notes on her own Story, adding: "THANK YOU QUEEN. LITERALLY SO GRATEFUL YOU GET ME AND THAT I CAN CALL YOU A CLOSE FRIEND. I LOVE YOU."
Popular in the Community