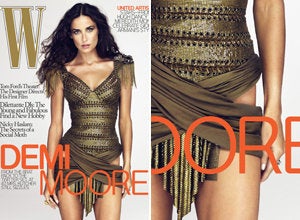 **SCROLL DOWN for a big picture of the cover and vote on whether Demi's hip was removed**
Photoshopping is a part of creating any magazine cover, but usually it doesn't render the subject an anatomical wonder. Demi Moore, 47, covers the December W in a gold Balmain leotard. Yes she appears impossibly thin, but moreover, there seems to be a chunk missing from her left hip where you'd expect a more contiguous line would connect hip to thigh beneath that pelvic drapery.
A W spokesperson tells Jezebel.com the magazine "did not do anything unusual or out of the ordinary on Demi Moore for the photo on the cover of W. Demi is an extraordinary beautiful woman and we feel our cover reflects that." She doesn't say whether Photoshopping women within an inch of their life is unusual.
Demi also denies she fell victim to a botched Photoshop job.
"Here is the original image people my hips were not touched don't let these people bullshit you!" she tweeted Thursday afternoon, along with an "original image" that matches the cover image. She followed up with several tweets talking about her skinniness and how flattering the shoot was: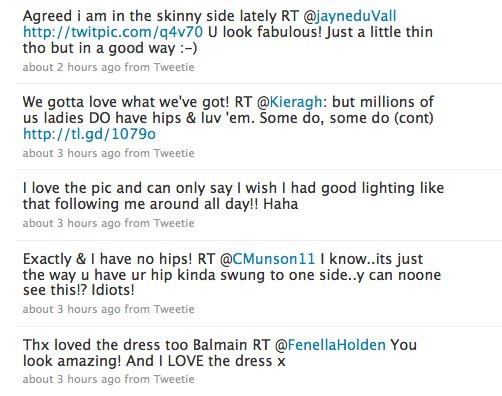 "Demi shouldn't be on the defensive over someone else's mistakes. She's a beautiful woman who needs no help from Photoshop," said fashion photographer Anthony Citrano, who posted a commentary and high-res image here. "It's too bad W or the photogs won't step up and take some responsibility."
PHOTO: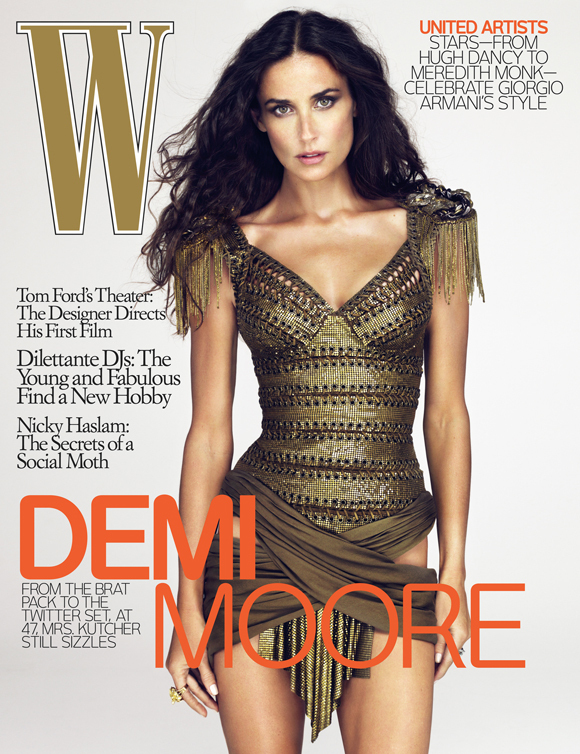 Popular in the Community