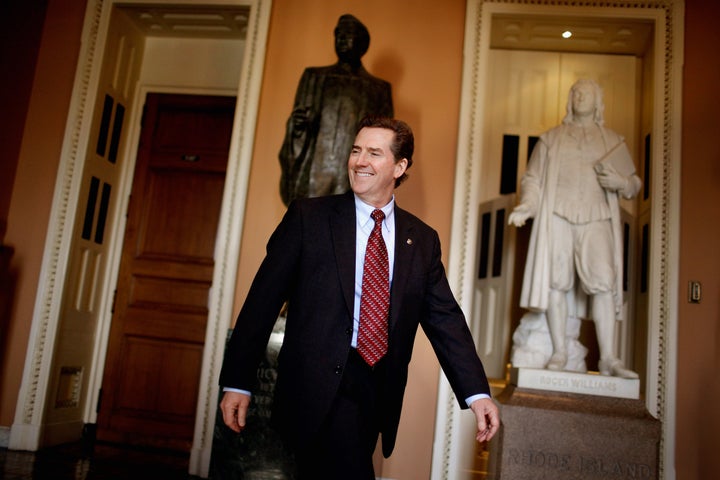 WASHINGTON - The 2012 election may be taking its time to heat up, but Sen. Jim DeMint says that's no excuse for Republican presidential hopefuls who have so far shied away from taking positions in the spending fight debate in Congress.
The South Carolina Republican's message to the 2012 field of Mitt Romney, Tim Pawlenty, Haley Barbour and the rest is simple: it's no time to be bashful.
"I hope they speak up about this critical budget debate in Washington," DeMint told The Huffington Post Thursday after speaking to a crowd of roughly 200 Tea Party activists outside the Capitol.
"We need forceful encouragement for Republicans in Congress to stand up against the big spending status quo," he said. "We can't be so scared of Democrat threats to shut down the government that we give up on the fight to save our country."
Nonetheless, the GOP presidential hopefuls declined Thursday to take positions on whether House Speaker John Boehner (R-Ohio) should settle for anything less than the $61 billion in cuts from the current fiscal year budget that the House passed in February. Of all the candidates and potential candidates, only an aide to Pawlenty responded to inquiries, and even then simply pointed to remarks Pawlenty made on TV earlier in the week.
Pawlenty has earlier this year said that congressional Republicans should not shy away from a confrontation with Democrats and President Obama if a government shutdown is at risk.
Former House Speaker Newt Gingrich was on Capitol Hill Thursday to meet with GOP freshmen, in a meeting scheduled some time ago by Rep. Austin Scott, the Georgia Republican who serves as freshmen class president. He told reporters afterwards that his message to lawmakers was that their "goal should be to avoid a shutdown, while not giving in on their core principles."
The thrust of Gingrich's remarks appeared to be that Boehner and the House leadership would be justified in ending up somewhere between the $33 billion in cuts that the White House is proposing, and the $61 billion that House Republicans passed in February. House GOP leadership aides told HuffPost Thursday that the final number would be higher than $33 billion, but they were not sure how much higher.
DeMint is looking for the 2012 contenders to put more pressure on the House GOP leadership to drive as hard a line as possible, and to not be cowed by the threat of a government shut down.
DeMint's voice has become an influential one in the GOP because of his willingness in last year's elections to buck party leaders and support Tea Party, non-establishment candidates, as well as because of his fundraising prowess. His political action committee, the Senate Conservatives Fund, raised $9 million in the 2010 election cycle, and has set a goal of raising $15 million in the 2012 cycle.
The Republican has spoken of the 2012 election in dire terms, saying that it "may be our last chance as Americans" to move the nation toward a more limited government based on conservative principles. Yet even though his name has been floated as a possible presidential candidate, DeMint has repeatedly said he does not have interest in running.
But he has been advising grassroots conservatives to watch the 2012 field closely for how they conduct themselves as the spending fights on Capitol Hill heat up.
"Watch what they do with the debates in Congress," DeMint said, speaking to a few hundred conservatives in Des Moines on Saturday night.
"As we're talking about how much to cut in this continuing resolution for the balance of this year, and some propose that we cut more, see what these candidates say," he added. "Are they taking a bold stand to challenge Republicans to keep their promises from the election? When we talk about a balanced budget amendment, what are they advocating? Or are they sitting on the sidelines?"
"When we're debating whether or not to raise the debt ceiling, where do these candidates stand?"
Not every Tea Party lawmaker felt the need to see 2012 candidates weighing in immediately. Sen. Rand Paul (R-Ky.) praised the grassroots movement for driving the debate, and said that the primary's sluggish pace has allowed the focus to stay where it needs to be: on Capitol Hill.
"The Tea Party is driving the debate and making an impact on fiscal issues and Sen. Paul is proud to be a part of that movement," said Paul spokeswoman Moira Bagley. "Any viable 2012 candidate will need to listen to the American people and answer their calls to rein in out-of-control spending and limit the size and scope of government."

Popular in the Community