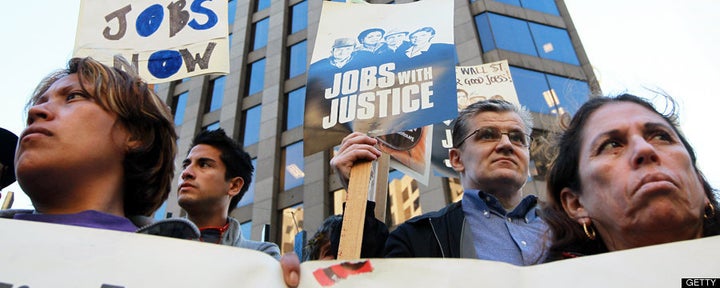 Jaquayla Burton's job will end this week unless the Senate does an about-face and decides to preserve a welfare-to-work program that created more than 240,000 jobs as part of the stimulus bill.
"I wish they would because on Friday I'll have to sign up for unemployment. I don't feel good about that," said Burton, 20, in an interview with HuffPost. "It's hard because I have two kids to take care of. I've been working here nine months and it's kind of stable at home, and then on Friday I'll be unemployed."
Burton is one of six moms doing community outreach work for for the San Francisco Living Wage Coalition whose subsidized jobs will disappear on Sept. 30, said campaign co-director Karl Kramer. "We do community outreach to educate people about what their rights are under San Francisco's wage and benefit laws."
The 2009 stimulus bill created an "Emergency Fund" that allowed states to subsidize jobs via the Temporary Assistance for Needy Families program (TANF), formerly known as welfare. The Senate voted against reauthorizing the program in March. Last week Sen. Orrin Hatch (R-Utah) blocked a request to bring up a bill that contained a $1.5 billion reauthorization. Advocates of the program are not optimistic that a change of heart is afoot in the U.S. Senate.
The Center on Budget and Policy Priorities estimates that the program put more than 240,000 otherwise unemployed people to work in 37 states, including 45,000 people in California. The program even has the approval of the American Enterprise Institute's Kevin Hassett, who calls it "a pretty cost-effective way to create jobs."
Burton said her job as a community organizer with the San Francisco Living Wage Coalition, which she's held for the past nine months, is the first she's ever had. Kramer said Burton and the five other moms at his nonprofit earn $11.03 per hour and work 32 hours a week. They will all be let go come Friday.
"I can honestly say they're dependable, committed, motivated in providing valuable services to the community," Kramer said. "I haven't been getting a lot of sleep lately. It's really demoralizing."

Popular in the Community