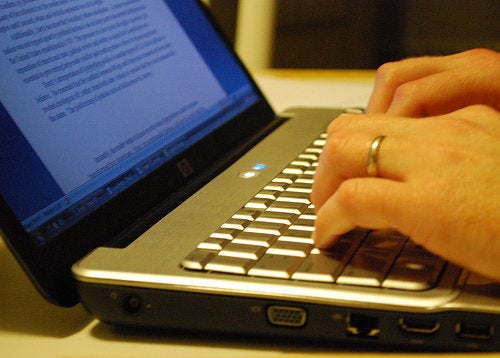 As a woman, mother and activist, to me, one week in American life and politics is like seven dog years. Women don't need to worry about keeping up with the Joneses. Keeping up with the news alone is a daunting task.
Here are a few stories that have stirred my inner activist. The star-studded Hope for Haiti Now broke telethon records and raised $57 million. China's attacks on Google highlight problems with cyberspace freedom, censorship, and intellectual property. All three hang in the balance as governments bustle to catch up with technology. And finally, the Supreme Court overturned limits on corporate campaign finance and, in the words of President Obama, sealed a "major victory for big oil, wall street banks, health insurance companies and other powerful interests that...drown out the voices of everyday Americans."
Don't be overwhelmed by the news. Learn to take part in it.
Women's voices now, more than ever, are needed in the public arena. Whether it's a glass or an e-ceiling, we have a social responsibility to add our voices to the debate. According to Catherine Orenstein, Founder of The Op-ed Project, 85 percent of opinion pieces in the nation's top newspapers are written by men.
Women are underrepresented in other forms of media as well. The White House Project reports, only 16 percent of Sunday morning talk show guests are women. Only 15 percent of authors on the New York Times best-selling non-fiction book list are women. The same is true for radio producers. To top that off, 100 percent of Publisher's Weekly Top 10 Books of 2009 were written by our Y chromosome carrying counterparts. If we hold up half the sky, shouldn't we hold up half of the debate? As an aside, the winner of the Washington Post's recent pundit contest was a wry, middle-aged white guy -- hmm?
The skills needed to become an advocate and weigh in on the issues that you're passionate about aren't God-given or gender-based as the media would have you believe. They are attainable. For the past 10 years, the Woodhull Institute for Ethical Leadership has been training women in leadership and in the practical skill sets that they need to succeed. (Full disclosure: I'm a Woodhull Alumna.)
From February 18 - 21, Woodhull will host a "Democracy 911" co-ed retreat at their 100-acre Ancramdale, NY retreat center. Presenters include, author and activist Naomi Wolf; Bill of Rights Defense Committee Executive Director, Shahid Buttar; Social Justice Educator, Matthis Chiroux; and Catherine Orenstein, among others.
The workshop offers more than learning to write op-eds. Democracy 911 promises to teach you to: draft a bill; run a protest; set up, run and deliver pubic forums, town-hall meetings, and speeches; start a citizens' campaign or movement; lobby and petition for issues; and craft an initiative or referendum.
Much of my work in abuse prevention involves empowering women and children. I believe all women have a unique voice that should resound within the public sphere. The skills I learned from Woodhull not only helped me become a woman in media; they helped me become a woman with a voice--and Oh! How empowering it is!

Popular in the Community