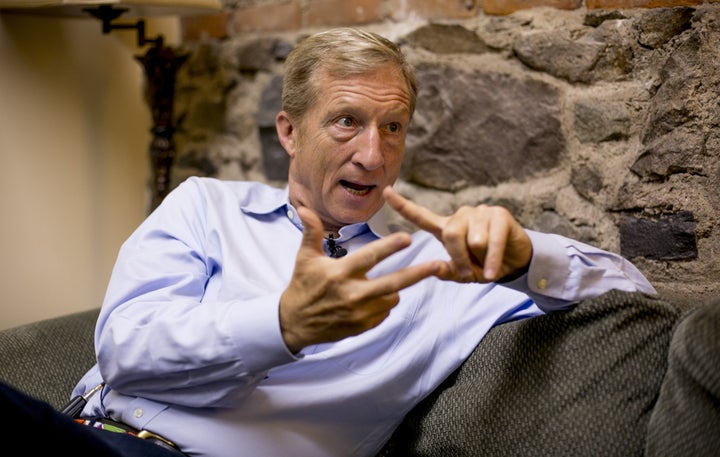 WASHINGTON ― The nation's biggest liberal donors are gathering in Washington for a postelection briefing where they'll focus on turning out more voters of color, flipping red states to blue, and combating GOP attacks on voting rights, according to a schedule obtained by HuffPost.
Democracy Alliance, a group of more than 100 liberal donors who pledge to give at least $200,000 a year to a list of recommended progressive organizations, is holding a postelection briefing Thursday and Friday. Members of the alliance include bold-faced liberal names like Tom Steyer, George Soros and Susan Sandler. Reporters are not allowed into the event.
Gara LaMarche, the group's president, told HuffPost the donors would look intensely at the 2020 map but not focus on which candidates would be best to combat President Donald Trump. Just a single potential 2020 presidential candidate is speaking at the event.
"Everyone recognizes that despite Trump's numerous vulnerabilities, and despite being a minority president, that it's possible for him to replicate what he did," LaMarche said of the group's donors.
But he said they were encouraged by the progress made by Florida's Andrew Gillum, Georgia's Stacey Abrams and Beto O'Rourke in Texas. "We're trying to take a deep look at some red states that have become more competitive," LaMarche said.
He also said donors want to develop an agenda to expand voting rights and battle Republican gerrymandering.
"When Republicans get into the office, they're focused on protecting their power and attacking Democratic power," he said. "So folks want us to focus on ways to expand access to the ballot."
Sessions at the conference this week include:
The Midterms: What Happened and What's Next

The Progressive Governing Agenda

2020 Vision: Expanding the Progressive Roadmap

Expanding the Electorate and Building Long-Term Power

Building Progressive Power in Red States

Threats to Our Democracy

Librarians and Moms on the Battlefield: The Promise and Pitfalls of the New Activists Fighting for Our Democracy

Fixing the Electoral College

Education: Leading the Way to the Presidency and a Senate Super Majority

How to Make our Elections Secure by 2020

After Kavanaugh

Innovation in Political Messaging

Exercising Progressive Power in Congress

Activism Under Siege: How Do We Protect Protest and Safeguard the Right to Free Speech?

Facing Forward: Democracy, Climate Change, and Race

The Power of Donor Collectives

The Youth Vote in 2018 and Beyond

Unrigging Our Democracy

Inequality and the Future of Progressive Politics

Rational Organizing: Empowering Our Communities, Getting to Scale, and Winning

The Next Generation of Progressive Leadership
Democracy Alliance formed with the idea of building up the long-term infrastructure of the progressive movement, rather than sending money to campaigns and candidates. Over the years, the network has steered millions of dollars to organizations like the Center for American Progress and Media Matters. But in recent years, it has also been looking more toward local and grassroots groups.
Scoring a speaking spot at the Democracy Alliance conference is a big win for a progressive organization, which then has a shot to pitch itself to the donors.
Relatively few elected officials are on the agenda. Rep. Pramila Jayapal (Wash.) will speak on the progressive governing agenda, as will New York City Councilmember Brad Lander. Former Virginia Gov. Terry McAuliffe, a potential 2020 presidential nominee, will speak on using education as an issue to win in red states and develop a Senate supermajority. (The event McAuliffe is speaking at was organized by an individual donor; no 2020 candidate is being given the chance to speak on the main stage at the event.) On Friday, incoming House intelligence committee Chairman Adam Schiff (Calif.) will speak to the donors. And freshly elected Reps.-elect Lucy McBath of Georgia and Deb Haaland and Xochitl Torres Small of New Mexico will be at the conference's closing dinner on Friday night. 
While Steyer won't be speaking, a staffer from his youth organizing group NextGen America, will be talking about getting more young people to the polls in 2020.
This story has been updated with more details about the schedule.
Calling all HuffPost superfans!
Sign up for membership to become a founding member and help shape HuffPost's next chapter