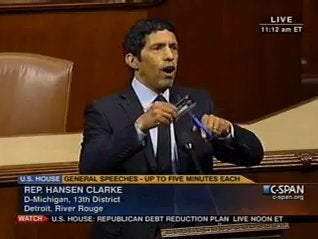 "Taxation without representation."
It's an idea our nation was founded to oppose.
Yet, right here in Detroit in 2012, it's a threat that's all too real. If the City of Detroit falls into state receivership under the 2011 Emergency Manager law, the city's taxpayers -- who were not responsible for the loss of population and investment that provoked the current crisis -- will pay the terrible price of losing their most fundamentally American right.
I believe we must pursue a solution that meets three core criteria: First, to safeguard Detroiters' rights to choose their own leaders; second, to ensure that Detroiters deal with the difficult fiscal realities we all face; and third, to ensure that Detroiters have the tools they need to restore competitiveness and growth. This is why I have proposed the Detroit Growth and Stability Act in the United States Congress.
The bill, which authorizes up to $500 million in financing from the U.S. Treasury to an agent authorized by state law, would meet all three criteria. While preserving the people's democratic rights, this legislation would make the city responsible for repaying its loans to the federal government with interest.
A consent agreement between the state and the city might also meet some of the criteria I outlined. Yet this bill, much like federal legislation adopted under Republican President Gerald Ford in the 1970s for New York -- a now-thriving city which many people at the time said was unsavable -- provides the opportunity for Detroit voters and their elected officials to take real responsibility for cutting government waste and ensuring long-term solvency.
Crucially, this legislation would enable the city to act on a fundamental truth: That growth -- not reckless budget slashing -- is the key to overcoming a fiscal crisis. If the city is forced to address the current crisis by cutting police officers and vital infrastructure projects, crime will rise and more businesses will flee. If the city guts basic services and eliminates jobs, population will decline further. All this would further exacerbate our fiscal crisis by shrinking our tax base. It's simple economics.
We need confidence and investment to grow out of this crisis and into prosperity. The Detroit Growth and Stability Act provides just that. Ultimately, it's about believing in the people of Detroit--both to choose their leaders and to rebuild their community.
This issue is personal as an African American born, raised, and living in the City of Detroit. It's also personal because my father fled British-ruled India to come to America in the 1930s because he couldn't stand living under the tyranny of taxation without representation.
Let's keep our ideals alive.
Calling all HuffPost superfans!
Sign up for membership to become a founding member and help shape HuffPost's next chapter