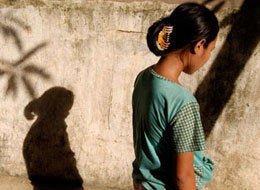 KOMPONG CHAM -- As voting came to a close in Cambodia's national elections Sunday, I stood outside makeshift polling station 1660, waiting to watch the ballots counted. Just over 500 Cambodians had voted at this rural outpost -- the downstairs of a wooden stilt house -- in the country's fourth parliamentary election since a massive UN intervention in the early 1990s.
Shortly after I arrived at the house, a woman rode up on a bicycle, her index finger stained purple indicating that she had already voted. She said she had been registered at more than one polling station and was wondering if she should vote again. Looking nervously at the gathered observers, the election officials sent her away. Then another woman approached the house from the nearby dirt road. Her hair hanging in limp strands from the intermittent rain, she explained she had been wandering around the village all day, trying to find the polling station where she was registered. Voting ended ten minutes ago, she was told. Disheartened, she left.
The ruling Cambodian People's Party has claimed over two-thirds of the vote in Sunday's election, a win that will tighten the party's grip on political power. Though an official tally is yet to be released, opposition parties are already contesting the CPP's victory. They argue that voter roll inconsistencies -- like those I witnessed on election day -- were in fact widespread and deliberate. Sam Rainsy, who heads the leading opposition party, claims that thousands of voters' names mysteriously disappeared from registration lists. He has called for a revote in the capital city of Phnom Penh, where he says irregularities were particularly glaring, and threatens to lead protests in the next few days if this does not happen.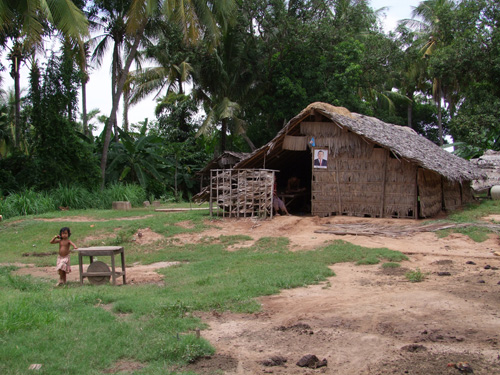 Several days before Sunday's election I followed the newly-formed opposition "Human Rights Party" on the campaign trail in Kompong Cham province. Tacked to the front of the house is a picture of Prime Minister Hun Sen.
I would not be surprised if there was some truth in these claims. However, during my time in Cambodia, I've learned that the CPP's sweeping victories cannot be explained by election day fraud alone. A culture of tangible and psychological intimidation is a year-round fact of life for many Cambodians; so is fear of change in a country clinging to stability.
CPP Prime Minister Hun Sen first came to power in 1985, while the wounds from the Killing Fields were still fresh in Cambodian society. His political career outlived the end of Vietnamese occupation, as well as the lingering Khmer Rouge insurgency. A self-described "strongman," he says he will remain in power until he is 90 years old.
Hun Sen's regime, especially in recent years, has been characterized by lopsided progress. Fighting has ended and the economy is booming. But these improvements have come at the expense of human rights and a truly competitive democracy. Under Hun Sen's administration, land grabbing, resulting in mass evictions of the powerless, is rampant. The country's natural resources are being traded, at discount prices, for profit. The gulf between the rich and poor grows ever wider, with countless Cambodians living in poverty while a tiny, unaccountable elite cashes in on their misery.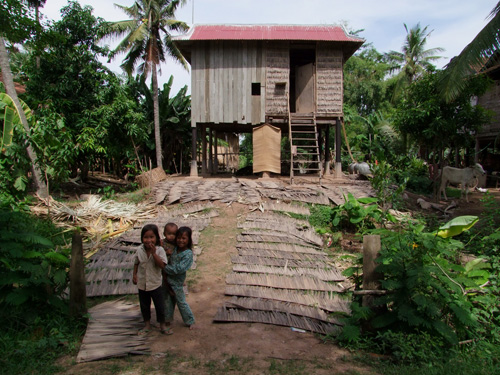 Children came out from their homes to watch the campaign activity.
Given this backdrop, many outsiders may wonder, why does the CPP keep winning? It's a question I have grappled with since I first came to this country on a yearlong journalism fellowship in 2004. The answer, I believe, is complicated and increasingly nuanced. While voter fraud may explain a percentage of the party's success, there are other endemic forces that, at this point in history, make the CPP unbeatable.
To begin with, there are people who genuinely support the CPP, who for now are willing to sacrifice democracy for political and economic stability. After a three-year absence, I returned to Cambodia in April and was struck by how much it had changed. Phnom Penh is thriving. The city's first skyscrapers are under construction and a plethora of new shops, coffeehouses and fast food joints -- including a KFC -- cater to the burgeoning middle class. Public parks previously frequented by sex workers are now crammed with young families and students every evening. To a lesser extent, the development has spread to the countryside, where new roads and other infrastructure projects give citizens hope for a better future.
Even those who don't fully support the CPP may vote for the party because they feel its victory is inevitable. A graduate student in Siem Reap told me: "Hun Sen is like a tree whose roots have grown deep throughout the country. No other party can compete right now." Since the CPP has the financial resources to offer gifts to potential voters, disillusioned citizens feel they might as well, "take their free bag of rice and vote for the CPP," as one opposition activist told me.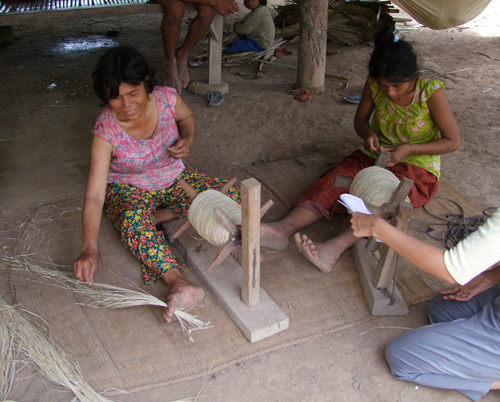 Party advocates went door-to-door, explaining the HRP platform to potential voters. These woman listened while weaving straw mats.
Then there is the intimidation, big and small, blatant and subtle, that underpins political life in Cambodia -- reaching to every thatched roof home and rice farm. Although there have been a handful of allegedly politically motivated crimes, including the murder of an opposition journalist and his adult son, in the lead-up to Sunday's election, violence is down from past years. Still, the legacy of turbulence surrounding previous elections haunts Cambodians. It seems many believe that the CPP has "eyes like a pineapple," an expression that was used during the Khmer Rouge period to describe the government's all-knowing nature. As campaigning kicked off around a month ago, I was told more than once to "be careful" because "things happen before the election." Many people, whether rightly or wrongly, credited an overarching CPP plot for everything from an increase in street crime to the border dispute with Thailand over Preah Vihear temple. The aim is to undermine citizens' sense of security, they said; scared people don't vote for change. Some Cambodians I spoke with began stockpiling food, fearing that if the CPP did not gain a decisive majority there would be unrest and possibly war.
Even if Cambodians make it to election day with the intent of supporting an opposition party, the voting process itself is subject to subtle intimidation. While ostensibly a secret ballot, the polling stations often do not feel anonymous. Elections are highly decentralized, with some stations hosting no more than 200 voters.

At polling station 1660, voters were to mark their ballots behind flimsy folding screens, just feet away from various party representatives and election observers. The whole process was a little too intimate, I thought, and wondered if I would have the courage to vote against the CPP if I were in their position.
Once voting was complete, election committee members opened the sealed metal ballot box and began counting the votes, keeping tally on a posted sheet of paper. Each party had a different identifying number -- from one to 11 -- and one claimed far more votes than any of the others.
"Number four," the head counter announced in Khmer, racking up another vote for the CPP. "Number four, number four, number four." It became almost robotic.
There was no doubt who had triumphed at polling station 1660. How they had gotten there was the real question.
REAL LIFE. REAL NEWS. REAL VOICES.
Help us tell more of the stories that matter from voices that too often remain unheard.