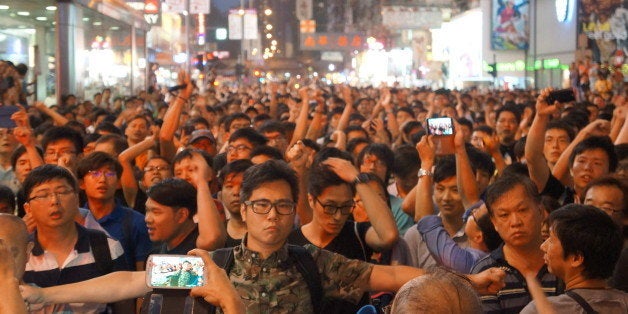 HONG KONG -- Depending on whom you ask, the ongoing pro-democracy occupation of Hong Kong streets is either a beautiful expression of the deepest wishes of the people, or an unmitigated catastrophe for the city.
"They're destroying Hong Kong," Allison Allan, a British national who has spent all 55 years of her life in Hong Kong, told The WorldPost after signing a petition demanding an end to the protests. "The government should step in and say enough is enough. The reality is if we had a democracy and everyone voted, I think everybody would want these people off the streets. We're fed up, all of us."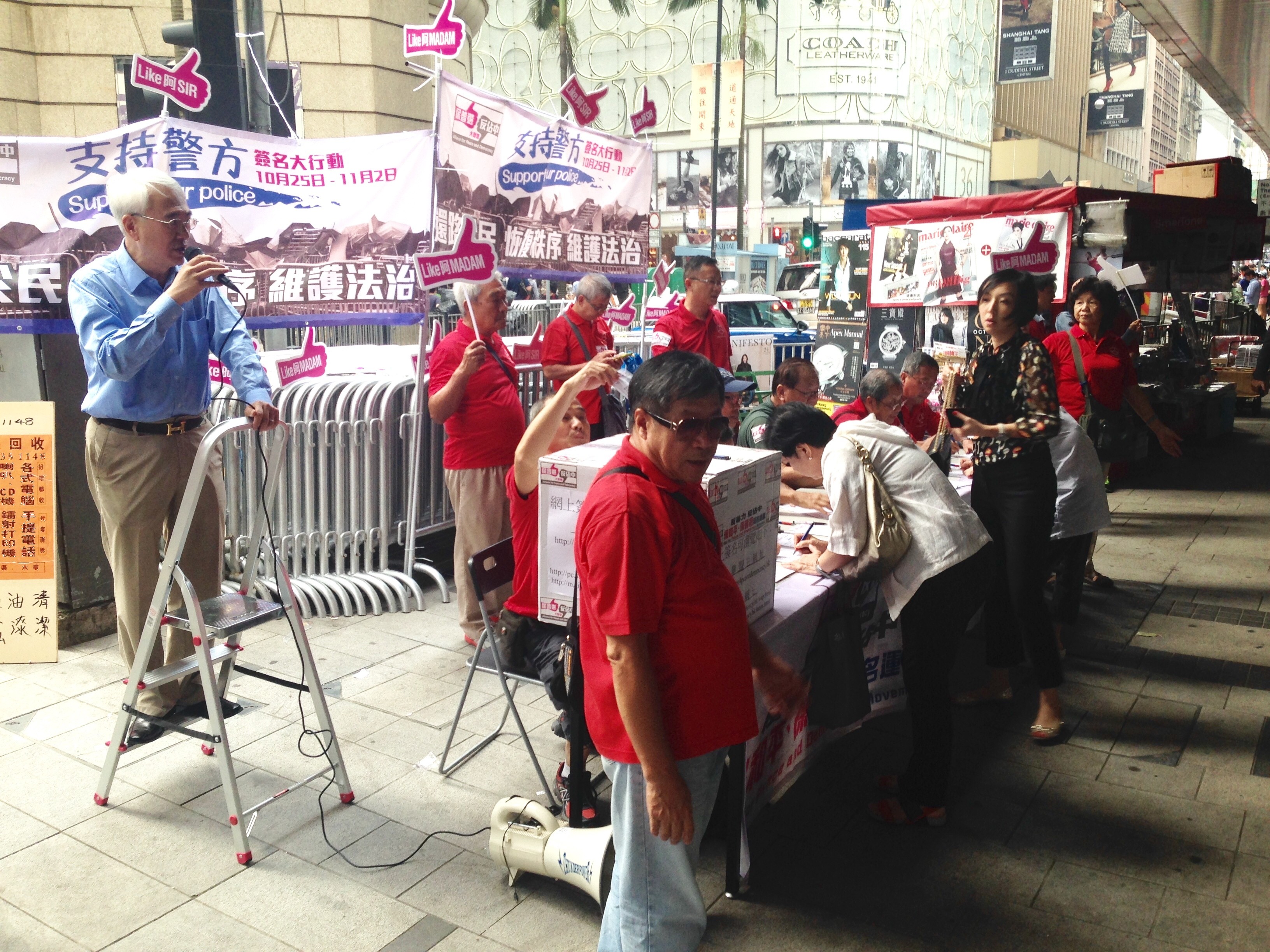 Taxi and bus drivers gather signatures as part of a petition drive against the protests. (Matt Sheehan/The WorldPost)
Recent polling data suggests a more complicated picture, with Hong Kong residents almost evenly split over the protests. An October poll from the Chinese University of Hong Kong (CUHK) showed 37.8 percent of respondents supporting the protests and 35.5 percent opposing them, a gap that falls within the survey's margin of error. One-quarter of respondents said they felt "so-so" or had no opinion.
Behind those numbers are deep generational and educational divides: While 62 percent of those age 15 to 24 support the protests, that number is cut by more than half among those over age 60. The CUHK poll also found that support for the movement is highest among those who attended college (46.7 percent), but less than a third of those who didn't finish high school say they support the month-long occupation.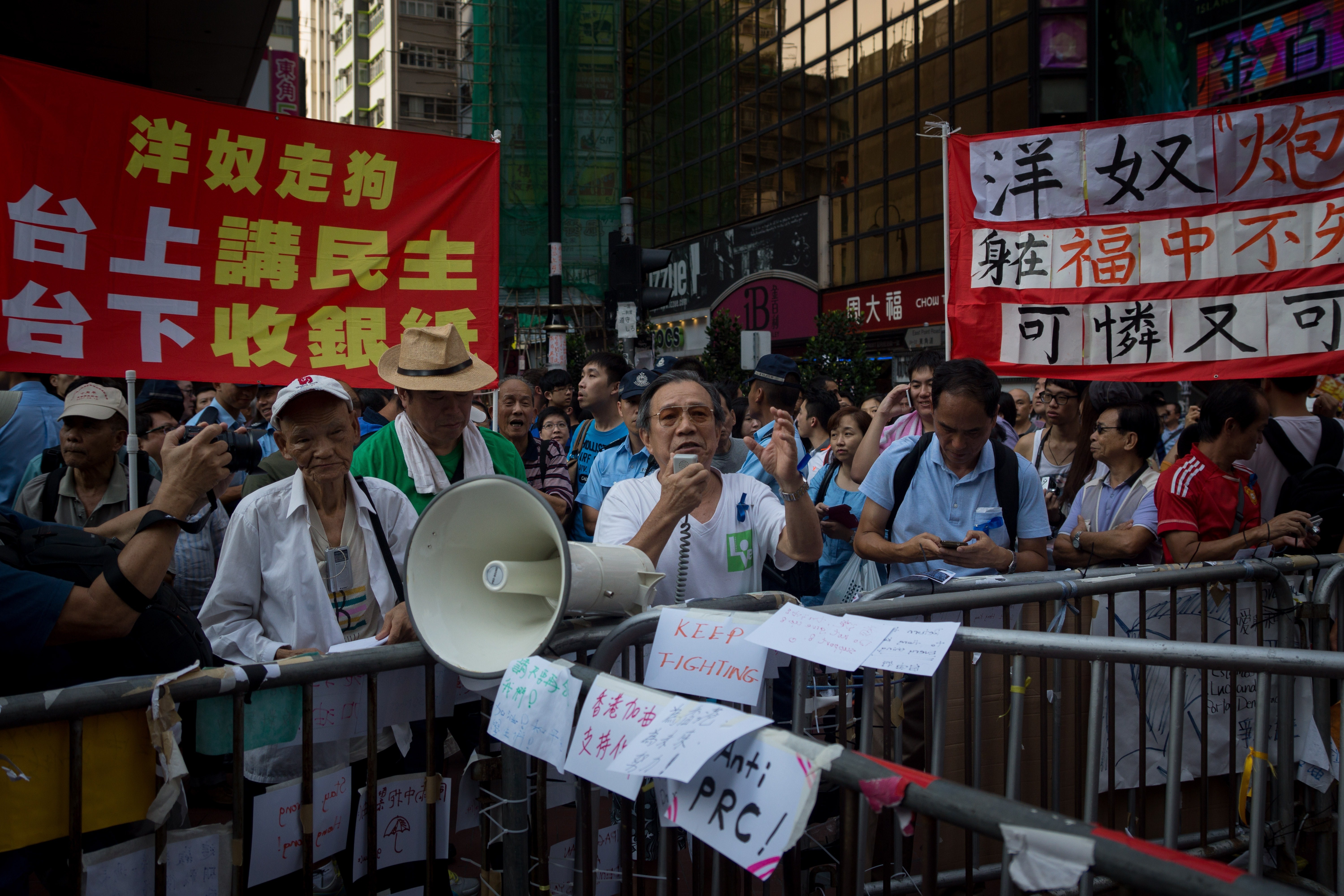 Elderly Hong Kong residents denounce pro-democracy protesters at an occupation site. (Matt Sheehan/The WorldPost)
Demonstrators are calling for open nomination of candidates in Hong Kong's 2017 elections for chief executive, the first-ever general elections for the city's highest post. In 1997, Hong Kong was returned to China after 150 years of British colonial rule, and the Chinese government promised the city a high degree of autonomy as it moved toward a goal of democratic elections.
After China's central government laid out an election plan that requires all candidates for chief executive to be approved by a pro-Beijing committee, students took to the streets. Images of young protesters battling police tear gas galvanized strong support for the movement, and students built on those gains with nonviolent demonstrations and dazzling displays of protest art.
"At the beginning, [my family] were opposed, but later they were moved by the students' performance," said Eric Ma, a civil servant who has been coming out to the protests. "The students have avoided violence and radical actions for so long, and that moved some older people from opposition to being neutral or even supporting the students."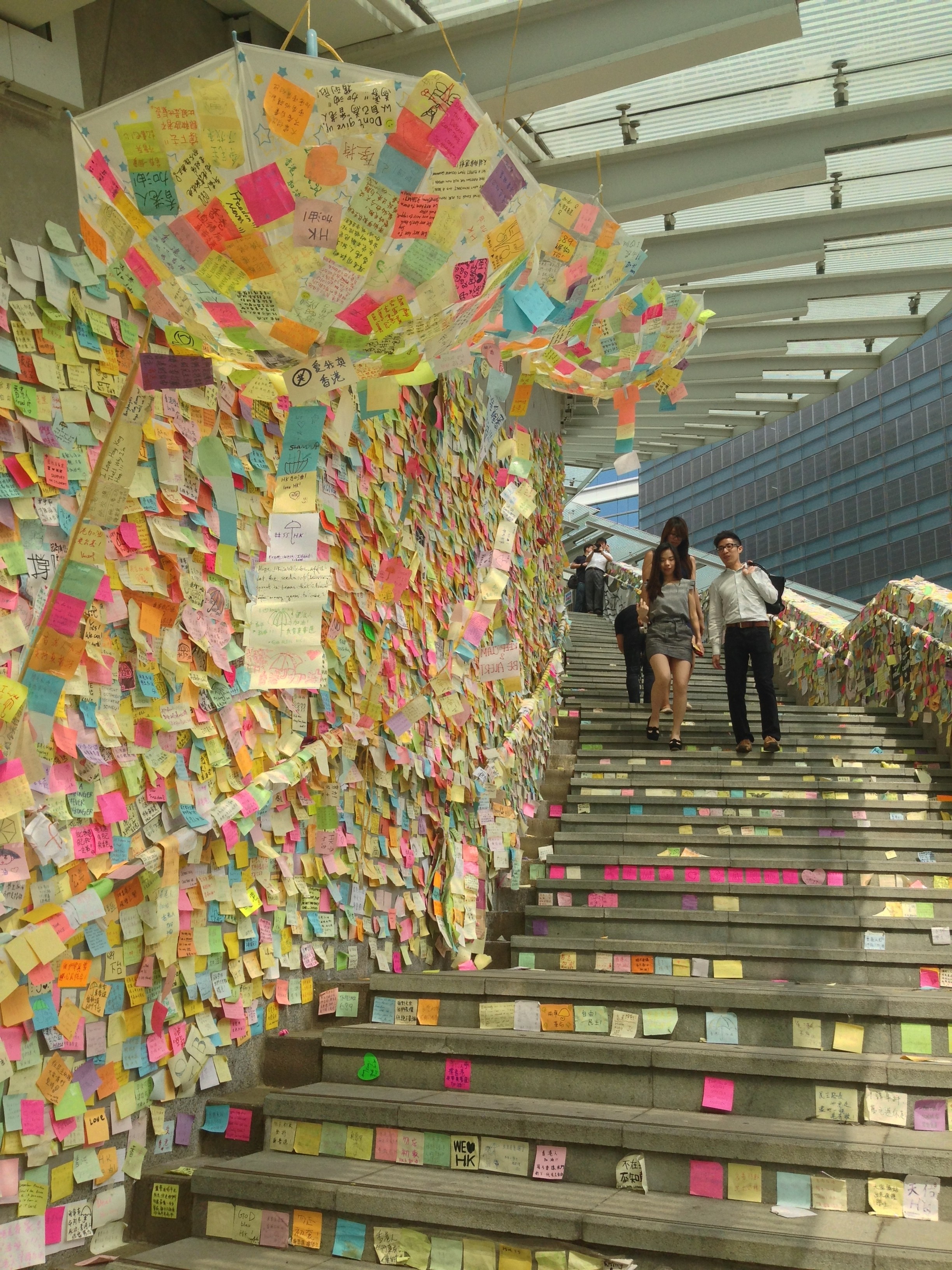 Named for the Beatles legend and protest icon, the Lennon Wall is a colorful collage of sticky notes with handwritten messages from democracy demonstrators. (Matt Sheehan/The WorldPost)
But while the predominantly young protesters have captured imaginations around the globe, substantial portions of the city's population remain unenthusiastic about the movement, and even often downright hostile toward the demonstrations. Blocked roads have forced many local residents to reroute their commutes and local businesses to reconfigure their business plans.
"Of course holding up a yellow umbrella in the mists of tear gas is very romantic, and the world has bought into this romanticism, so they're ignoring the fact that people are suffering," said Robert Chow, spokesman for the Alliance for Peace and Democracy, a group running a signature-gathering campaign against the protests.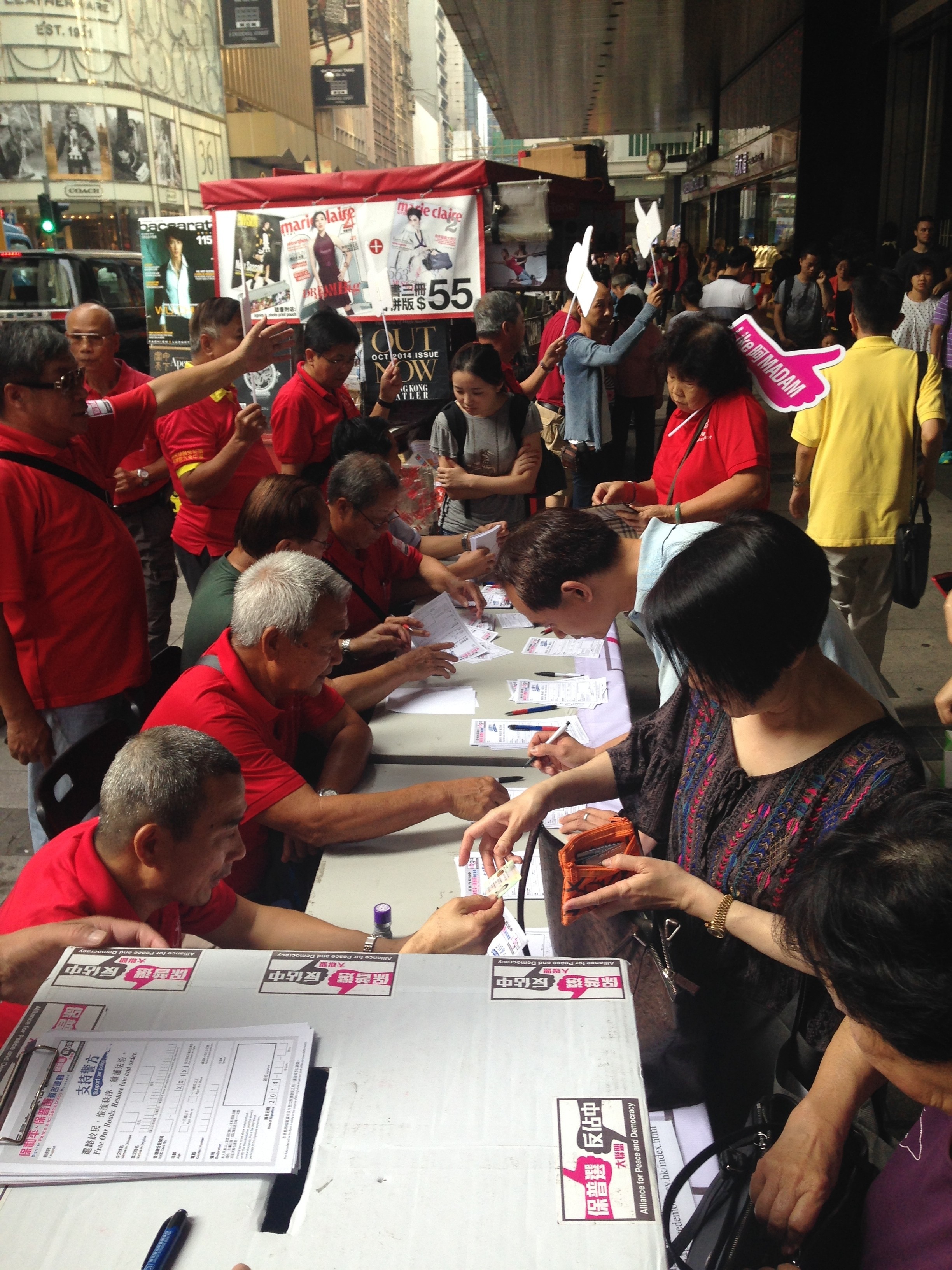 Taxi and bus drivers volunteer to collect signatures as part of an anti-occupy petition campaign. (Matt Sheehan/The WorldPost)
Chow maintains that a "silent majority" vehemently opposes the protests, and his group's signature campaign demands that the city "free our roads, restore law and order." Chow told The WorldPost that the Alliance has gathered 980,000 signatures in four days, a number that would represent 14% of the entire population.
"The fundamental rule of democracy is majority rules," said Chow. "We're just ordinary people. Maybe we're not sexy, maybe we don't have the imagery, but we're genuine."
Signatories are asked to show a Hong Kong ID card, though there are no methods to prevent repeat signatures, and protesters have criticized the Alliance's campaign as unreliable and susceptible to fraud.
Crucial to executing the signature campaign has been the support of many city unions. Taxi and bus drivers, many in their 60s and 70s, have been running one of the busiest signature-gathering stations in downtown Hong Kong. Drivers report falling incomes for part of October, and appear baffled by student demands for greater political freedom.
"Nowadays in Hong Kong you can eat whatever you want, go out wherever you want. If you don't like your wife you can just go out and get another," Norman Yeung, a bus driver of 40 years, told The WorldPost. "What do they mean there's no freedom? What democracy are they fighting for?"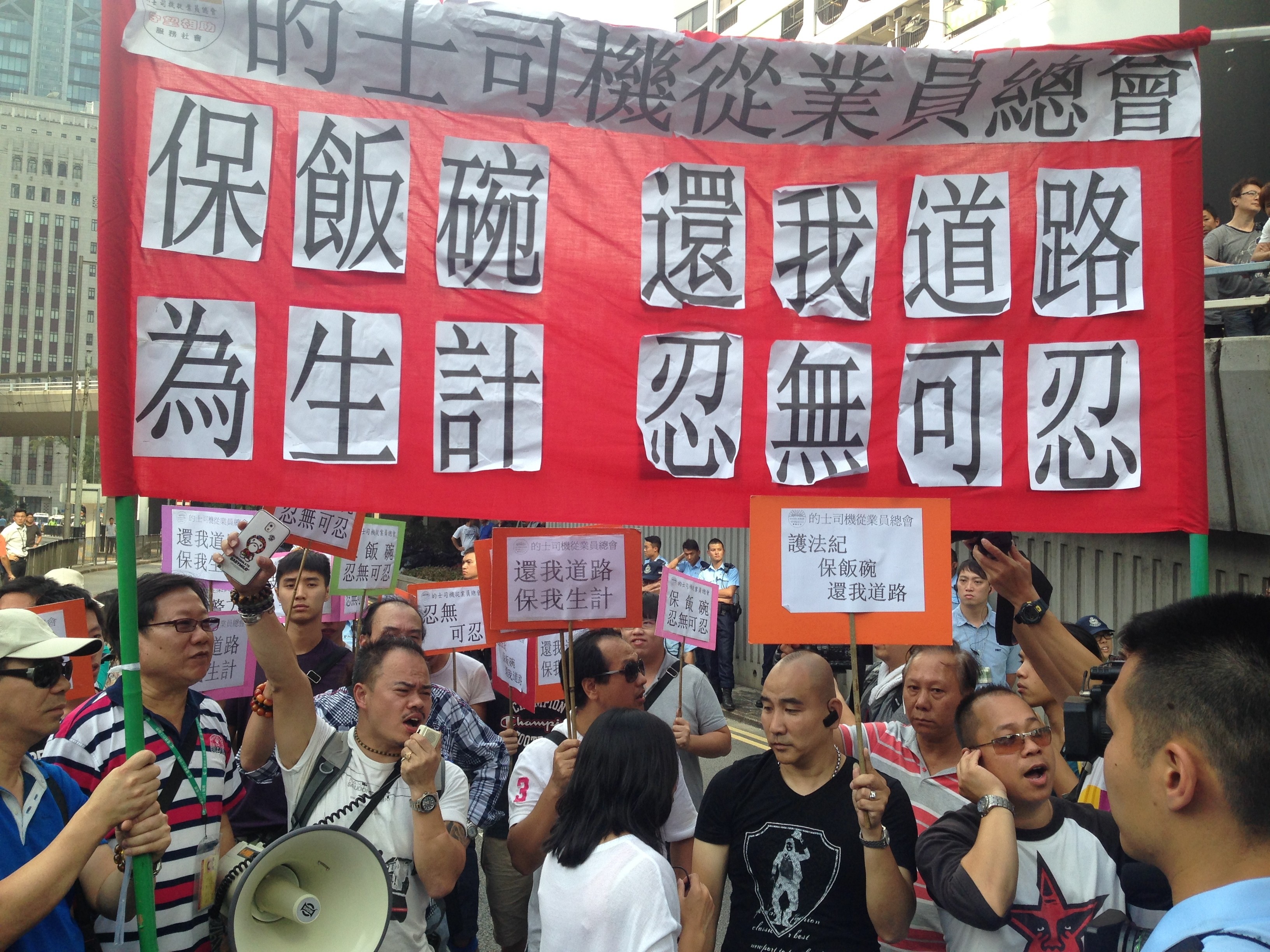 Taxi drivers have rallied against protests that they say have made a serious dent in their income. (Matt Sheehan/The WorldPost)
The Occupy Central movement has been years in the making, but many predicted that a successful occupation would prove its own undoing: As traffic snarls multiplied and income from tourism declined, small business owners and politically neutral residents would turn on the protesters.
There have been signs of a strong anti-occupy backlash in certain sectors, but the feared citywide revolt against the protesters has yet to materialize. Polling data from September and October shows a 7% boost in support for the occupy movement, and experts suggest that is partly due to local government missteps that have stoked public sympathy for the protesters.
"The government did everything possible to support the movement," said Surya Deva, a local columnist and professor at City University of Hong Kong's law school. "They did everything wrong from their perspective and everything right from the perspective of the movement, providing energy boosts to it."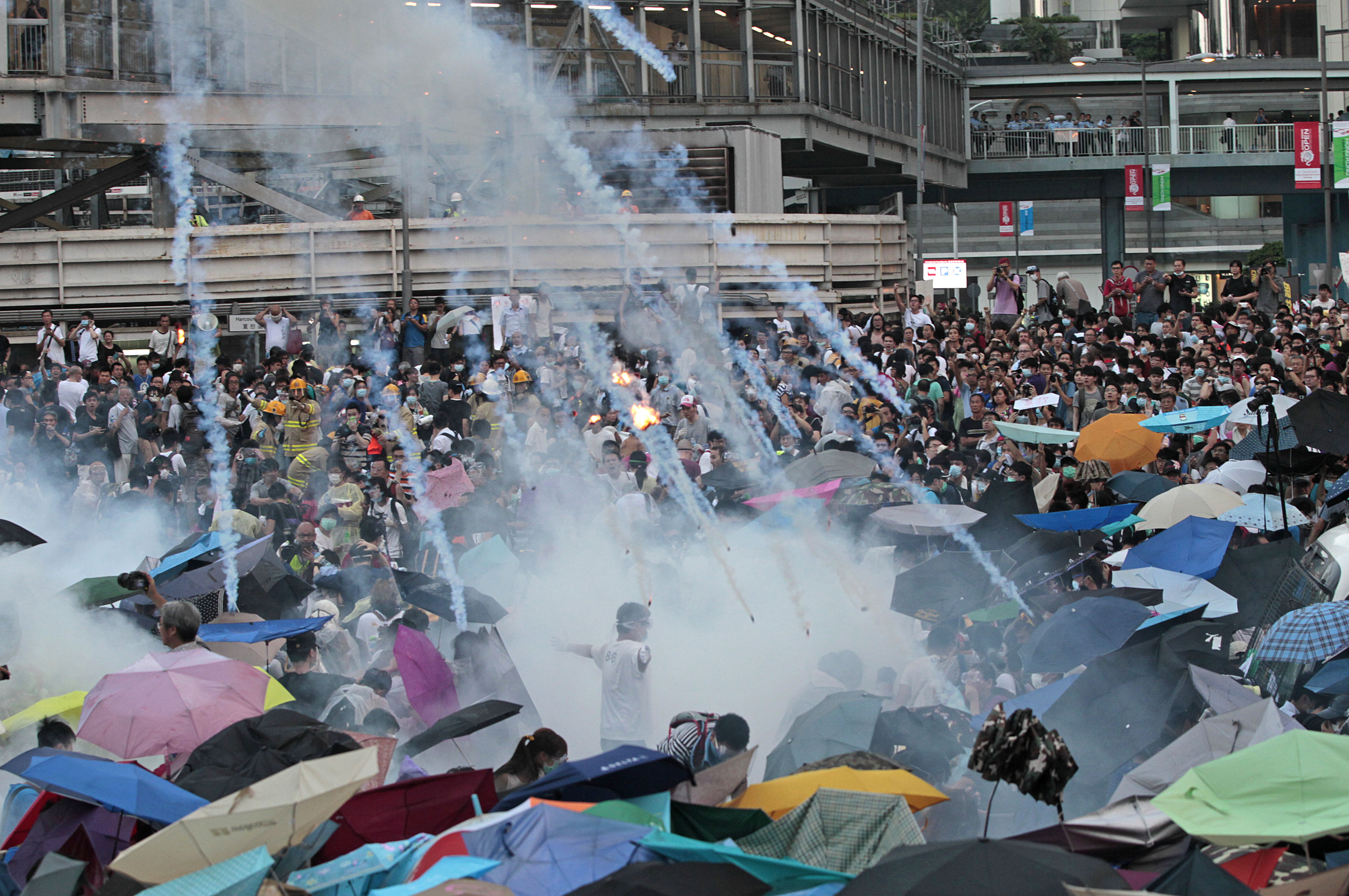 Riot police launched 87 rounds of tear gas at protesters on Sept. 28, stoking sympathy for the student-led demonstrations. (Matt Sheehan/The WorldPost)
Deva cited the initial tear-gassing of protesters, long-delayed talks between the government and protest leaders, the videotaped beating of one demonstrator by police, and comments by the city's leader that direct elections would give too much voice to Hong Kong's low-income residents.
The bungled government response and the festive environment at many protest sites have contributed to contradictory trends in public opinion: The CUHK survey found that while support for the demonstrators has gone up over the past month, support for the protesters' main demand has dipped slightly. Protesters are calling for a rejection of Beijing's election plan, but the number of people rejecting the plan has fallen by 5 percent to 48.5 percent, and those willing to accept the plan climbed by almost 7 percent to 36.1 percent, CUHK found.
Those conflicting trends suggest that while October's occupation strengthened sympathies for the demonstrators, many Hong Kongers are increasingly resigned to a reality that scholars and even many protesters agree on: Beijing will not yield to demands for greater democracy.
"In a commercial society like Hong Kong, we don't sacrifice without some benefit," said Helen Lee, a 51-year-old former journalist who immigrated from the mainland to Hong Kong in the 1980s. Lee supports the students, but believes that Hong Kong's middle class will be pragmatic if faced with an ultimatum from Beijing.
"Of course it would be good if something can change," Lee said. "But if it's not going to happen, if it's either take it or leave it, then OK, we'll take it. That's how the middle class acts."
Additional reporting by Jill Mao.
REAL LIFE. REAL NEWS. REAL VOICES.
Help us tell more of the stories that matter from voices that too often remain unheard.