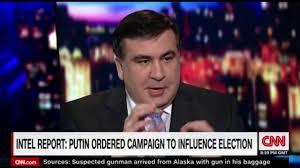 Hours after Ukrainian President Petro Poroshenko stripped Mikheil Saakashvili of his citizenship to silence him, the former president of Georgia was on CNN in New York City badmouthing the oligarchy.
Poroshenko's latest attack on the anti-corruption movement will backfire as Saakashvili becomes a megaphone to the world. He already is a media darling—and speaks five languages—and now is the poster boy for the victims of corruption as well as of Vladimir Putin.
"By stripping me of my citizenship—absolutely illegally under the Ukrainian constitution and international human rights laws—Poroshenko was trying to get rid of one of his major opponents," said Saakashvili. "Ukraine took the same path as what exists in the region—oligarchs, corruption, taking away resources from the people, cracking down on democracy—and I became one of his main opponents."
Saakashvili said he will legally fight to regain his passport, but added he is not a refugee or "stateless."
"I don't need help," he said. "I'm with my family here and they are US citizens and have lived here for forty years."
Saakashvili may not be able to return to Ukraine before the 2019 elections, but he will broadcast the country's struggles effectively, particularly in light of the enormous interest about Putin and corruption.
He should be snapped up by universities, conferences, Congressional hearings, and think tanks. He has a network in the United States, where he lived for years and met President Donald Trump, and is famous: After becoming president of Georgia in his thirties and turning the country around, he was nearly assassinated with his good friend George W. Bush and then stared down Vladimir Putin.
Saakashvili has "dirt" about Russia, its partners in crime in Ukraine and elsewhere, its election meddling, oligarchs and notorious people in the United States, such as former Trump Chairman Paul Manafort, or Ukraine kingpin Dmytro Firtash wanted by a Chicago grand jury concerning bribery.
Poroshenko's treatment of Saakashvili has been widely reviled. It was based on the excuse that he failed to mention on his registration reform for citizenship in 2015 that he faced charges in Georgia. (The presidential administration did not respond to a request for comment by deadline.) Not only was that common knowledge at the time, but since then on two occasions Poroshenko's government rejected extradition requests for Saakashvili by Georgia on the grounds that the charges were strictly political. Similarly, the European Union and the United States has refused Georgia's requests to arrest Saakashvili when travelling there.
Reactions by fellow reformers in Ukraine were swift. Former Minister of Economy and Trade Aivaras Abromavicius, who also left the Poroshenko government after frustration about corruption, wrote to me in an email that "I think it's a very sad move. Both for Mikho, knowing how close to his heart Ukraine is, but more so for President Poroshenko as it shows that his mind is fixed on the wrong issues."
Parliamentarian Mustafa Nayyem posted on Facebook that "taking Saakashvili's citizenship is the dumbest thing Poroshenko could do...only Yanukovych imprisoning Tymoshenko was dumber."
However, the maneuver will keep Saakashvili outside Ukraine, said Parliamentarian Sergii Leshchenko. "Saakashvili cannot return to Ukraine even physically, as he will be detained at Boryspil [Airport] upon arrival and will be extradited to Georgia.
Poroshenko's decision, he said, was designed to force Saakashvili "to take an asylum in America and forget about Ukrainian politics" and that "this is far from over." The next target will be the National Anti-Corruption Bureau head then others.
"Last year, it was me and Mustafa Nayyem then it has been Vitaliy Shabunin [head of the Anti-Corruption Action Center], then Lviv Mayor Andriy Sadovyi with the garbage mess and now this," he explained in a recent interview.
Last month, Mayor Sadovyi told me in an interview that harassment against reform-minded officials and organizations was on its way and presciently named Saakashvili as a target, along with the mayor of Mykolaiv.
Others have been stripped of citizenship or seats in parliament in a nasty campaign aimed at crippling opposition in the next elections and there has been foot-dragging on reforms, notably the creation of an anti-corruption court.
Hopefully, Ukraine's civil society, the EU, IMF, and now the United States, France, and Germany will keep pushing the anti-corruption agenda. And an exiled Saakashvili must amplify Ukraine's internal fight against corruption and its external one against Russia to these nations and institutions.
Saakashvili's forced exile may prove to be more of a uniting force in Ukraine than his own intensive efforts on the ground, just as did the attacks on students at the Maidan in 2013.
A powerful editorial this week in Ukrainiska Pravda illustrated this: "The purpose of this editorial is not the protection of Mikheil Saakashvili's policy...it is about the future of Ukrainian democracy."
First Published Atlantic Council July 28, 2017
Popular in the Community