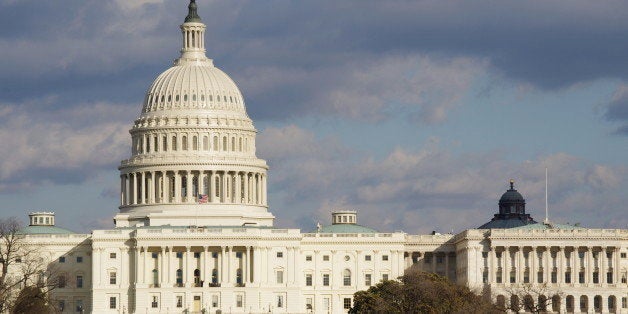 Whether your support was for Bernie Sanders or Hillary Clinton, or Marco Rubio or Donald Trump, on Super Tuesday, we can all agree on one thing: there is something deeply broken about a political system that's working great for insiders and wealthy special interests, but not for the rest of us -- and especially not for the working people of this country.
The billionaires and the super PAC backers who profit off our pay-to-play political system aren't going to fix this. Something this broken will require a movement of movements; Americans putting aside our differences and coming together to ensure a government that is truly of, by, and for the people.
That's why this April I'm joining thousands of others from across the country for Democracy Spring, a powerful, peaceful, and massive sit-in at our nation's Capitol. In what will be one of the largest civil disobedience actions in a generation, we will demand a Congress that will take immediate action to end the corruption of big money in our politics and ensure free and fair elections in which every American has an equal voice.
Democracy works best when every voice is heard and every vote counted. But the mind boggling cost of political campaigns and restrictive voting laws are shutting more and more Americans out of the process and hindering our democracy from working at its best.
Right now it's more expensive than ever to run for office. In 2014, winning candidates for the U.S. House of Representatives had to raise $1.6 million on average; winning Senate candidates had to raise $10.3 million on average. Presidential candidates have already raised more than $1 billion and we're still nine months from Election Day. To make matters worse, politicians are manipulating election rules to make it harder for some Americans -- especially people of color, students, the elderly, and low-income workers -- to vote. Since 2010, twenty-one states have passed restrictive voting laws and researchers have documented persistent modern-day voter discrimination across the country.
This out-of-balance system produces outcomes that don't reflect the needs and concerns of everyday Americans. It means wages stagnate, trade deals that harm workers are fast-tracked through Congress, and wallets on Wall Street bulge.
The bottom line is that wealthy special interests have far too much power in deciding who can run and what policies they'll consider when they are elected.
As the president of the Retail, Wholesale and Department Store Union I am intimately aware of how big box retailers and other corporate interests use campaign contributions and super PACs to block living wage increases, family leave, and paid-sick time for hard-working Americans. Many of the members of our union are young people, people of color and women, and it is their voices and votes that our pay-to-play campaign finance system shuts out.
Solutions to restore balance to the system are in our grasp and have begun to be implemented in cities and states, like Seattle and Maine. The moment is ripe to bring solutions like citizen-funded elections and automatic voter registration to the federal level.
From Selma to Occupy Wall Street, the Fight for 15 to Black Lives Matter, everyday people have proven the power of mass, escalating nonviolent action to rapidly shift the political weather and open the door to reforms previously considered impossible. We can and we must do the same now for democracy itself.
Beginning on April 2, a pioneering group will gather at Philadelphia's Liberty Bell before embarking on an historic march to the U.S. Capitol in D.C. Thousands more will join the marchers when they arrive in D.C. If Congress continues to protect the rigged system, we will have no choice, but to reclaim the people's house in mass nonviolent sit-ins like this country has not experienced in decades.
Day after day, Congress will have to choose between putting hundreds of peaceful democracy defenders in handcuffs, or simply doing their jobs and working to fix this broken system.
At a time when the barriers to economic mobility are greater than ever, when workers and immigrants are increasingly under fire in legislatures across America and in the halls of Congress, and when low-wage workers in car washes, fast food restaurants, airports and retail stores are feeling the squeeze like never before, the status quo cannot continue.
Democracy Spring is the bold intervention workers and our supporters must embrace to challenge not only the economic policies denying us justice, but also the rules of the game which keep those bad policies in place.
**Stuart Appelbaum is president of the Retail, Wholesale and Department Store Union and executive vice president of the 1.3 million-member UFCW.
Calling all HuffPost superfans!
Sign up for membership to become a founding member and help shape HuffPost's next chapter