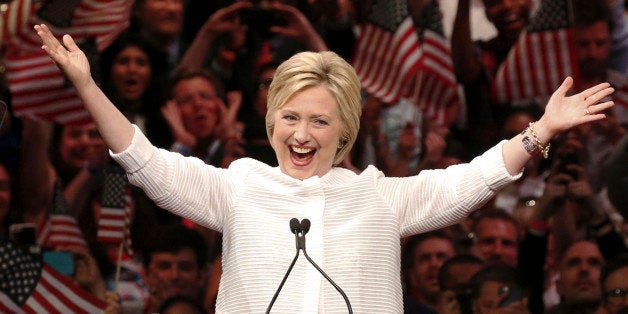 As the 2016 Democratic National Convention draws to a close tonight in Philadelphia, the Democracy Movement--a new fusion of campaign finance reformers, voting rights defenders, and advocates of good government and transparency--finally have real reasons to celebrate.
Since April, when more than 150 Democracy Spring marchers made a 140-mile trek from Philadelphia to Washington DC where they were joined by thousands more in record-setting mass arrests and demonstrations at the US Capitol, there has been a sea change in the chances of passing meaningful democracy reforms.
The shift started when just over 100 members of Congress responded to Democracy Spring's actions and called for hearings on a modest set of reform bills proposed by the movement. At the time, the Democracy Movement saw this as a huge win in and of itself.
Over just a few short months, these issues jumped from the back bench into prime time. Now Democratic presidential nominee Hillary Clinton, and other leading Democrats finally put these reforms front and center--even reaching across the aisle to reform-minded Republicans and Independents.
"Because as Bernie has said: This isn't a progressive issue. It's not a conservative issue. It's an American issue," Clinton remarked as she accepted the endorsement of her rival for the Democratic nomination, Bernie Sanders.
Moreover, Clinton--with the support of the Democratic House leadership--has now pledged to take up a robust package of reforms in her first days in office. This legislative package would not only create a real small-donor-fueled public financing system and start the process to overturn Citizens United but it would also restore the Voting Rights Act and enact automatic voter registration. She has also pledged to sign an executive order shedding light on dark money--something for which reformers have been pushing Obama for years.
These are unprecedented commitments from a candidate running for the presidency.
If this wasn't enough, shortly after Clinton's announcement, the Democratic Party followed suit, including a comprehensive democracy reform plan in its official platform. The section, entitled "Protect Voting Rights, Fix Our Campaign Finance System, and Restore Our Democracy," features voting rights and money in politics commitments that will make even the most cynical activist smile and represents the cherry on top of what is by far the most progressive Democratic Platform ever proposed.
But, wait there's more: in a stunning show of commitment to further intra-party improvements, the Clinton and Bernie Sanders camps agreed just days ago to form a Unity Reform Commission made up of a co-chair from each campaign--nine reps from the Clinton camp, seven reps from the Sanders camp and three people appointed by the DNC. This commission will be tasked with the abolition of up to two-thirds of superdelegates in the Democratic primary process and an overhaul of the caucus system, both democratic reforms insisted upon by Sanders' supporters.
Many younger activists may not remember that anger over superdelegates is nothing new; it played a major role in the 2008 primaries, but went nowhere. So this year's action on reforming the superdelegate system should truly be cause for celebration.
Although these are only steps in a longer journey to free our elections from big money's grip, they nonetheless advance the movement for a better and more representational democracy, putting our country ever closer to finally achieving political equality. And they prove that if we make our voices heard, politicians will listen (and this is without even taking into account the recent resignation of DNC Chair Congresswoman Debbie Wasserman Schultz).
Because this is an election season, however, voters need to do more than just protest. Even if the choices may not be perfect, in November we must cast votes. And in this election--especially after taking into account the developments of the last three months--the choice is strikingly clear.
Given the public commitment of the Democratic Party and its candidate for president to a true reform agenda, the entire Democracy Movement--from the most hardcore Berner to the most centrist technocrat, from the Democracy Spring purists to the many reform-minded Republicans and conservative Independents--must now throw its weight behind Clinton in the 2016 election.
For voters committed to addressing the roots of a rigged system, supporting Trump, directly or indirectly, should be out of the question. Indeed, he decries special interests in politics, but Trump has never once presented a plan to fight big money. The GOP candidate appears much more concerned with race-baiting and fear mongering than citizen equality.
Furthermore, Trump's reasoning that self financing proves he "can't be bought" has huge logical holes. For one, the GOP candidate has already reneged on his commitment to avoid big money, actively soliciting funds from billionaire donors. And, funny enough, his relationship with billionaire Sheldon Adelson--the man for whose relationship he called Marco Rubio "a perfect little puppet"--seems to have mended, at least now that Adelson's pocketbook has opened up.
Plus, self-financing does nothing to erase apparent conflicts of interest. How can Trump act for the American people when his financial self interest lies in the well being of his own financial empire? Half the problem with the current way we fund campaigns is the so-called "Money Primary," which makes the barriers to running so high that it keeps most average Americans from being able to even contemplate running for office. Trump has never been in a position where he could understand this.
Some might point to Clinton's large war chest of campaign money as worrisome. But given the current rules of the game, our standard cannot be for her to stop accepting large money, thereby risking defeat, but rather to publicly pledge to change the system immediately upon taking office--which she has done.
We understand why many Sanders supporters on the streets of Philadelphia are making their grievances heard. However, at this stage, our biggest hope is to unite, get Clinton elected and hold her feet to the fire, pushing her on her campaign commitment to act immediately on wide-ranging democracy reforms.
We celebrate all those who have worked so hard to get us this far. Now we must defeat Donald Trump in November, elect those to Congress who commit to reform, and then get to work to make it happen. For the sake of our democracy itself, there is no other choice.
Peter James Callahan is a journalist and media consultant. He is the former Communications Director for Democracy Spring and has also worked as a producer for The Huffington Post. You can find him on Twitter @PJC_dc.
Adam Eichen is a member of the Democracy Matters Board of Directors and a Maguire Fellow at the French research institute Sciences Po, doing research on comparative campaign finance policy. He is also a Democracy Fellow at the Small Planet Institute, where he is working on a book on democracy with founder Frances Moore Lappé. He served as the Deputy Communications Director for Democracy Spring. Follow him on Twitter: @eichendoit.
Popular in the Community