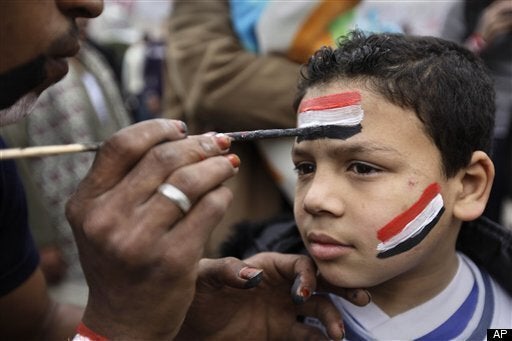 While finishing a 2-week stint here in Egypt, I can't help but reflect on the current and future state of Egyptian democracy. Egypt has gone through great changes in a short period of time. It shocked the world when the protests, known here as the 25 January Revolution, overthrew the Mubarak regime. Now Egyptians and foreigners alike are eagerly anticipating the next steps.
The current military-ruling government is scheduled to hand over power on June 30th. Presidential elections are scheduled on May 24th and 25th and the field is quite crowded. There are 13 candidates, though the billboards and posters in Cairo speak of only 4 candidates: Mubarak-era foreign minister and former Arab League secretary-general Amr Moussa, Mubarak's last Prime Minister Ahmed Shafik, Muslim Brotherhood candidate Mohamed Mursi and Muslim Brotherhood dissident Abdel-Moneim Abul-Fotouch. Polls vary widely in their predictions. The Al-Ahram Centre for Political and Strategic Studies poll indicates that Moussa will receive about 40% of the vote while polls released by the IDSC and independent pollster Nazra show Moussa and Shafik leading but with only 16% each. One thing the polls all agree on is that there will likely be two rounds of elections since no single candidate will receive a majority.
I wasn't in Egypt to work on the elections and didn't study the details of the polls, but merely talked to people. My impression from these discussions was very consistent: people are excited and fearful. They are excited for the opportunity to choice their leader, a privilege that many of us Americans take for granted. They were fearful for different reasons. The Egyptians I spoke with seemed to fall in only a few camps. Many lamented that Mohamed ElBaradei was not running as they felt he had the intelligence, strength of character, and international legitimacy that Egypt needs. Supporters of the Muslim Brotherhood fear a return to a Mubarak-like regime while those against the Muslim Brotherhood fear that Egypt may vote itself into an Iran-like theocracy.
With the polls all over the place, I don't venture to guess how the election will turn out, but I will share with you an observation. As I drove along the Corniche, the road that runs along the Nile in Cairo, I saw supporters of Mohamed Mursi lining the road. Each supporter stood about 5 feet apart from the next one and held the same poster. They lined the road on both sides and campaigned continuously during rush hour, one part of an impressive human chain that apparently stretched across a large part of Egypt. And then the entire demonstration disbanded quickly without a trace.
So what you might ask? After all, in a country with about 50 million eligible voters the number of demonstrators was a drop in the bucket. I agree that from a voter count standpoint their demonstration of support wasn't important, but from the point of view of displaying an organization with both passion and discipline I found it poignant. Perhaps the polls are underestimating the Muslim Brotherhood? We will find out in a few days.
Egyptians were inspirational last year in their peaceful striving for democracy and we will now get to witness the next phase in Egypt's history. As my friend said to me when I left to the airport, "Let's hope for the best and be thankful that we are living in exciting times."
Calling all HuffPost superfans!
Sign up for membership to become a founding member and help shape HuffPost's next chapter