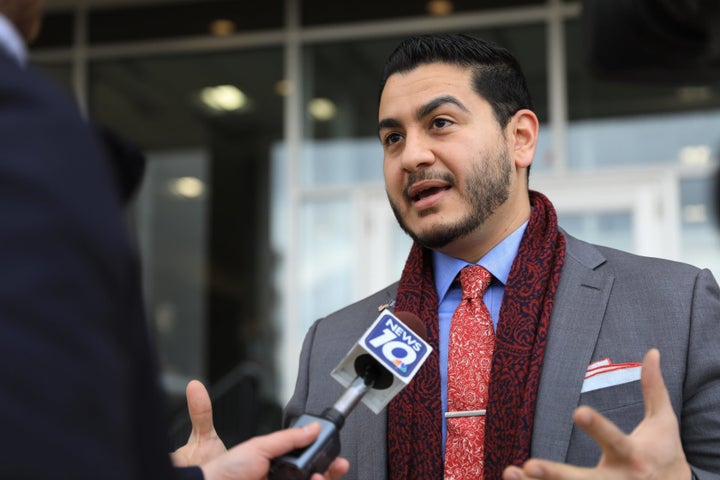 The Michigan gubernatorial race took an ugly turn last week, when a Republican contender accused a Democratic candidate of being part of a "civilizational jihad" to take over America.
The Republican, state Sen. Patrick Colbeck, stands by his accusation that former Detroit health director Abdul El-Sayed has ties to the Muslim Brotherhood. Just one of Colbeck's Republican rivals condemned the remarks; Sen. Ted Cruz (R-Texas), a Colbeck backer, did not respond to multiple requests for comment.
What El-Sayed is going through happens to nearly every Muslim-American in public life: They face baseless questions about their patriotism and then are left in a no-win situation. If they deny the charges, they risk giving them credence. But if they ignore them, they might get even more traction.
"We have to spend the bulk of our time disproving negatives: 'Prove that you're not a radical Islamist. Prove that you're not a member of the Muslim Brotherhood. Prove that you're not trying to implement Sharia,'" said Wajahat Ali, a Muslim-American writer and co-author of "Fear Inc.," a 2011 study of networks of anti-Muslim bigotry.
It's a phenomenon that Dawud Walid, executive director of the Michigan chapter of the Council on American-Islamic Relations, a Muslim-American civil rights group, calls a "type of neo-McCarthyism."
If elected, El-Sayed, a 33-year-old physician, would be the country's first Muslim governor. And there is no evidence that he has ties to the Muslim Brotherhood. But thanks to Colbeck and the amplification he received on conservative talk radio, the allegations already show signs of staying power.
El-Sayed graduated with honors from the University of Michigan, where his classmates and teachers picked him to deliver the 2007 commencement speech. The remarks, peppered with inside-campus jokes, showcased an early flair for public speaking.
He was also vice president of the Muslim Students Association, which Colbeck believes shows El-Sayed has sympathy for the Muslim Brotherhood. Of course, just because they both have the word "Muslim" in them doesn't mean they're the same.
The MSA, as it is commonly known, functions as a gathering place for campus Muslims ― not unlike the Hillel chapters that serve as hubs for Jewish students.
The Muslim Brotherhood, on the other hand, is an international Islamist group that varies by country, but generally seeks to enact public policies based on a strict interpretation of Islamic law (often through the democratic process).
Although it is true that the Muslim immigrants who founded the first MSA chapter in 1963 were sympathetic to the Muslim Brotherhood, today's MSA chapters are not associated with the group or its philosophy.
Colbeck has also pointed to El-Sayed's support for other things and people that happen to have ties to the Islamic faith, including progressive Muslim activist Linda Sarsour, and the fact that El-Sayed's father-in-law once led the Michigan chapter of the Council for American-Islamic Relations. In Colbeck's book, these ties are more proof that he has "strong connections to individuals and groups that are not loyal to the United States."  
Michiganders are less concerned about how I pray. They care more about what I pray for ― my family, my community, my state, and my country (and, of course, University of Michigan football).

Abdul El-Sayed
El-Sayed's gubernatorial campaign has refused to dignify Colbeck's line of inquiry with a direct denial on every occasion it arises. Instead, it has referred reporters to an August profile of El-Sayed in The Guardian, in which El-Sayed flatly denies that he is part of a Muslim Brotherhood plot or other conspiracies to implement Sharia law. He also declared himself a firm believer in the separation of church and state ― a worldview already apparent in his support for abortion rights and LGBTQ protections.
Still, Colbeck's conspiracy theory has spread thanks to media figures like conservative drive-time radio host Frank Beckmann, who interviewed Colbeck and demanded a response to his claims from the El-Sayed campaign, as if they were simply on two different sides of a subjective policy debate.
El-Sayed campaign spokesman Adam Joseph declined an immediate request for El-Sayed to be interviewed by Beckmann, who has a history of racially insensitive comments. In response, Beckmann accused Joseph of supporting the Muslim Brotherhood as well.
"If you support the Muslim Brotherhood, just come right out and say so, Adam," Beckmann said during his Friday morning broadcast. "Your candidate supports the Muslim Brotherhood, come right out and say it, we're happy to put that on the air too, OK?"   
The recurring insinuation is potentially harmful because it appears to bolster many Michigan Democrats' privately-held views that El-Sayed's Islamic faith makes him unelectable this November. Those fears prompted Democrats to start a whisper campaign in late January questioning his ballot eligibility, according to El-Sayed and his allies.
El-Sayed has sought to disprove skeptics with a laser focus on progressive policy priorities like enacting state-level single-payer health care, legalizing marijuana and launching a green transformation of the state's infrastructure.
"Michiganders are less concerned about how I pray. They care more about what I pray for ― my family, my community, my state, and my country (and, of course, University of Michigan football)," El-Sayed said in a statement.
Michigan is home to one of the country's largest and most influential Muslim communities. But even here, anti-Muslim bigotry makes its way into campaigns.
In 2012, Syed Taj, a Democratic candidate for Michigan's 11th Congressional District, was the target of ads claiming that he would use his power in Congress to impose Islamic law on Americans. Taj went on to lose his race to Republican Kerry Bentivolio by 6 percentage points.
State Rep. Abdullah Hammoud, a Democrat from Dearborn and the only Muslim in Michigan's state legislature, recalled receiving campaign mailers torn up by their recipients and returned to his campaign offices with threats about Muslims.
Hammoud claims that he has since won over some skeptical white residents of his majority-Arab-American district through his focus on constituent services and championing causes with universal appeal.
However, the election of President Donald Trump makes the job of candidates like El-Sayed and elected officials like Hammoud that much harder.
"It has become mainstreamed because this type of popular anti-Muslim bigotry and talking points are not being spouted off from the gutter margins of the internet but from the White House itself," Ali concluded.
Calling all HuffPost superfans!
Sign up for membership to become a founding member and help shape HuffPost's next chapter
BEFORE YOU GO
PHOTO GALLERY
Muslims Of America