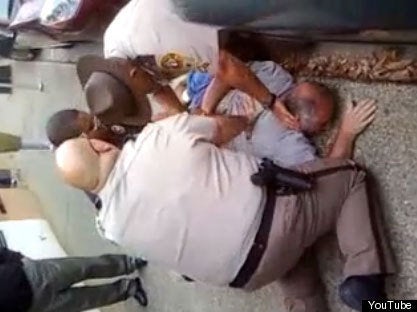 WASHINGTON -- A Democrat was arrested by local police at a public meet-and-greet event for Rep. Eric Cantor (R-Va.) on Monday, with three men pulling him out of the building and pushing him to the ground for allegedly causing a disturbance in the coffee shop.
Jon Taylor, the man at the center of the controversy, said he was "manhandled" by police from Louisa, Va. He and three other Democrats -- including his wife, who held a sign promoting Cantor's Democratic opponent Rick Waugh -- went to the event with the intent to ask Cantor questions since he has refused to debate Waugh.
When Ray Minter, the owner of the coffee house, asked the Taylors to leave, they refused, and local authorities intervened. Minter said they were being disorderly, but the group of Democrats said they were simply drinking coffee and waiting for Cantor to arrive.
"I don't mind people being here that don't agree with the Congressman or want to ask questions," Minter said. "[But] they were acting up and speaking, and indicating that they were not going to sit quietly during the event."

According to the Louisa Central Virginian, approximately a dozen officers from the police office came to the scene. The department is saying there was no excessive force used in subduing Taylor.
"This is a pattern with Rick Waugh of disruptive and frankly thuggish behavior," said Cantor spokesman Ray Allen, Jr. "And frankly, he needs to get control of his campaign." The Waugh campaign said it had nothing to do with the incident.
"The Louisa County police department was basically used by Eric Cantor's campaign to make a political statement," said Taylor. The police have denied the charge and said that two other people left without having to be restrained.
Local blogger Peter Galuszka was sharply critical of the scuffle, writing, "Events like these raise questions about the decorum of the man who would be in such a powerful position on Capitol Hill. Violence at campaign stops, regardless of who may be at fault, is not something commonplace in Virginia politics."
Taylor's son Bradley captured the arrest on video. WATCH:
Monday's incident is the latest in which questions of excessive force by campaigns or campaign supporters have popped up. Alaska Senate candidate Joe Miller had a private security force at a recent event which handcuffed and detained a reporter who was trying to ask the candidate questions, and an activist with MoveOn.org had her head stomped on by a supporter of Kentucky GOP Senate candidate Rand Paul.
Popular in the Community