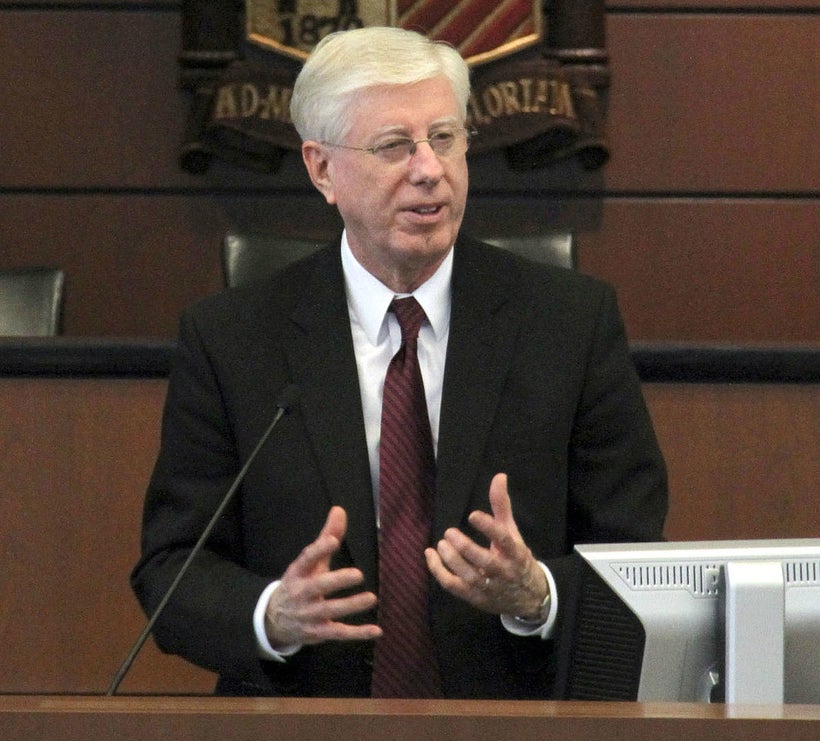 Iowa's Attorney General Tom Miller is no friend of big tobacco. The 9-term Democrat was one of the Attorneys General that led the charge suing big tobacco companies that ultimately culminated in the Tobacco Master Settlement Agreement (MSA) where cigarette manufacturers were forced to pay the states billions of dollars.
That's why it comes as surprise to some that the immediate past Chairman of the anti-smoking Truth Initiative and the former head of the National Association of Attorneys General has embarked on a new mission – to educate public health professionals and policy makers about the public health gains that might be realized through vapor products and encourage regulators toward an approach that would encourage those who can't quit smoking or won't quit smoking to switch to e-cigarettes.
Miller has taken his message across the globe. In a speech in London last year, Miller thanked British leaders for understanding the health benefits of transitioning smokers away from combustible cigarettes to much safer vapor products that contain no tobacco and produce no smoke. Miller expressed concerns about misleading messages coming from tobacco control groups and government agencies with whom he's worked side by side for decades. He harshly criticized a misleading ad from the Centers for Disease Control.
Miller believes that the government approach to e-cigarettes is one of the of the most important public health and public policy issues in the world today. "There are 40 million adult smokers in America today. If every one of them switched to an e-cigarette, we would save 10-15 million lives of the 20 million lives that would be lost" Miller explained.
In a speech to the Food and Drug Law Institute, Miller lamented the fact that Americans are being misled about the dangers associated with e-cigarettes. "What troubles me and bothers me a lot is that the American public does not realize that e-cigarettes are dramatically less harmful. The misconceptions are amazing and extremely troublesome."
Most recently, Miller authored a letter with twelve other U.S. and world public health leaders that encourages new FDA Commissioner Scott Gottlieb to immediately "reconsider and improve the regulatory framework" for vapor products. Miller and the experts from top universities and public health organizations wrote "It is clear beyond reasonable doubt that vapor products present lower risks to nicotine users than smoking" and encouraged Gottlieb to consider changes to FDA e-cigarette regulations that might ban thousands of products and ultimately drive vapers back to smoking.
E-cigarettes and vapor products usually contain nicotine, but the products contain no tobacco and produce no smoke. It's been long-established what renowned tobacco researcher Michael Russell proclaimed decades ago – that people smoke for the nicotine, but die from the tar. It's not nicotine but toxic smoke from burning tobacco that causes the lung cancer, COPD, heart disease and stroke that kills millions of smokers.
Miller summarized the situation in a speech before the Food and Drug Law Institute. "We have the situation where millions of lives could be saved but people don't know that e-cigarettes are significantly, dramatically less harmful. What do we do about that?" asked Miller. "Well the best thing to start with would be for us to be like England, where not only public health, English Public Health, but also ASH (Action on Smoking and Health), the tobacco control community, and the physicians, the Royal College of Physicians have all in a united way, taken the position that e-cigarettes are dramatically less harmful. They say at least 95 percent less harmful. And that adult smokers that cannot quit, or are unwilling to quit, should switch to e-cigarettes. We need that in America. We need the federal government to take that position, we need the tobacco control community to take that position and we need physicians to take that position."
Brian Fojtik is a Senior Fellow with Reason Foundation.
REAL LIFE. REAL NEWS. REAL VOICES.
Help us tell more of the stories that matter from voices that too often remain unheard.
This post was published on the now-closed HuffPost Contributor platform. Contributors control their own work and posted freely to our site. If you need to flag this entry as abusive,
send us an email
.