Smith, chair of the House Committee on Science, Space, and Technology, was first elected to serve Texas' 21st Congressional District in 1986 and is the 14th-longest-serving member of the current U.S. House. The San Antonio native has a long and colorful history of dismissing the threat of climate change, recently going so far as to say that pumping the atmosphere full of carbon dioxide is "beneficial."
"It's great news for the climate," Derrick Crowe, a 37-year-old climate activist and progressive organizer who announced his candidacy in April, told HuffPost. "You have the climate change denier-in-chief in Congress retiring. That's going to mean that we can replace that with progressive values and make a huge difference."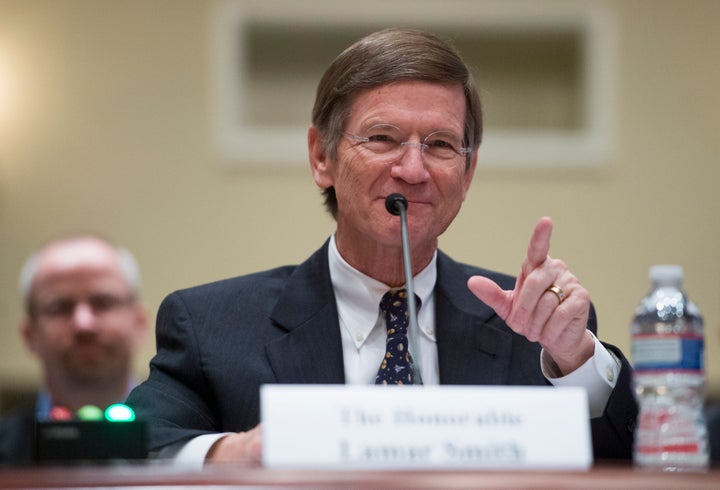 Joseph Kopser, an aerospace engineer and Army veteran from Austin, told HuffPost that when it comes to the fight to mitigate climate change, Smith's  departure will be "good for all Texans." He pointed to the devastating effects of Hurricane Harvey in Houston, which climatologists say were made worse by climate change, and the scanty peach crop this year in the state. 
Although Kopser welcomed the congressman's announcement — "We have accomplished our campaign's first goal to #RetireLamarSmith," he said in a written statement — he says it's important that people stay engaged, as Smith remains a powerful force in Washington. 
In a statement Thursday, Smith said that "there is still much to do. There is legislation to enact, dozens of hearings to hold and hundreds of votes to cast."
Smith's departure — he's the 20th Republican in the House to either resign this year or reject a bid for re-election in 2018 — sets the stage for what will likely prove to be a crowded and spirited primary.
Elliott McFadden, a progressive activist from Austin also running on the Democratic ticket, called on fellow Democrats to stay focused on winning Smith's seat, which he said "will be a critical part of gaining back control of the U.S. House next year."
"We cannot swap one out of touch, corporate backed politician for another," he said in a statement Thursday. "We need real representation in Central Texas."
Crowe, Kopser and McFadden all said they think Smith felt the pressure and opted to get out instead of losing the race. 
"He did see us coming," said Kopser, who outraised Smith in the third quarter and has more than $200,000 cash on hand. "I think at the end of the day he did the math." 
"Lamar Smith was an out of touch career politician who saw the writing on the wall, and threw in the towel in TX-21," McFadded said in a statement.
The district, which includes parts of Austin and San Antonio and stretches west into the Texas Hill Country, has been heavily gerrymandered to favor the GOP.
Crowe expects both the March 6 primary and Nov. 6 general election to be hard-fought. But Smith stepping down, he said, "shows that the pressure was real, that the shift was happening and that we're about to take Congress."
REAL LIFE. REAL NEWS. REAL VOICES.
Help us tell more of the stories that matter from voices that too often remain unheard.