Apparently, if you are a Democratic presidential candidate, there is no longer such a thing as being too strict about gun safety.
All three candidates were locked in a fierce battle to prove their gun control bona fides at the Democratic debate at Drake University in Iowa on Saturday night.
Former Secretary of State Hillary Clinton and former Maryland Gov. Martin O'Malley (D) are not letting Sen. Bernie Sanders (I-Vt) get away with his vote for a 2005 law to shield the gun and ammunition industry from civil liability. But O'Malley turned his fire on Clinton, too, and Sanders gave as good as he got, turning the exchange into an all-out slugfest.
Clinton called Sanders' vote in favor of the 2005 Protection of Lawful Commerce in Arms Act, when he was a House member, a "terrible mistake." The law shields the manufacturers, distributors and sellers of guns and ammunition from civil lawsuits seeking "damages, injunctive or other relief resulting from the misuse of their products by others."
CBS moderator John Dickerson asked Clinton whether it was fair to "tattoo" Sanders for one vote when she objected to Sanders attacking her for voting to authorize the Iraq War.
Clinton insisted that her Iraq War vote was different, because she has acknowledged that it was a mistake. 
"I said I made a mistake on Iraq. I would love to see Senator Sanders" do the same on the gun law, Clinton said. "Let's reverse the immunity!"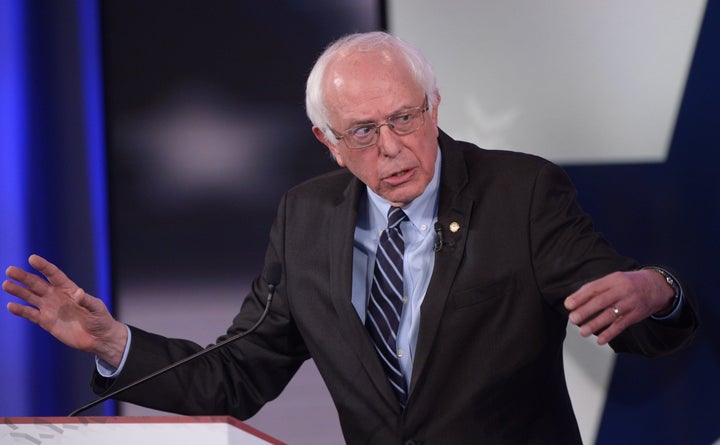 Sanders reiterated his willingness to reconsider portions of the law, but would not commit to its full repeal, even after being pressed about it repeatedly by Dickerson.
"I don't know that there's any disagreement here," Sanders said, highlighting his support for expanded background checks. 
Former O'Malley also criticized Sanders' vote, but then pivoted to attacking Clinton on the issue.
"You have been on three sides of this," O'Malley said. He claimed she had called for additional federal gun regulations ​as a Senate candidate in 2000​ and then was "portraying [herself] as Annie Oakley"​ as a presidential candidate in 2008,​ when it was more politically convenient.
Sanders managed to get in a swipe at O'Malley in response. 
"I think it is fair to say Baltimore is not now one of the safest cities in America," he said, taking a dig at O'Malley's mayoralty of the violence-plagued city.
He then repeated his argument that, as a senator from a state with lax gun laws, he is well positioned to bridge the divide between rural gun supporters and urban backers of gun safety laws.
Still, the exchange between the three candidates showed that gun policy -- and especially his vote to protect gun makers and sellers from much legal liability -- remains a vulnerability for Sanders.
O'Malley and Clinton had also teamed up on Sanders over gun control during the first Democratic debate in Las Vegas Oct. 13. O'Malley even invited Lonnie and Sandy Phillips, the parents of a victim of the Aurora, Colorado, movie theater shooting, to sit in the audience of the debate, and referenced them in a line of attack against Sanders. O'Malley noted that the Phillips' lawsuit against the sellers of the guns, ammunition and military gear used to kill their daughter was dismissed largely because of the 2005 liability law.
During that first debate, Sanders explained his vote for the law as a result of his consideration for small gun sellers, saying that he would be willing to restore liability for large gun manufacturers. Gun safety advocates applauded Sanders' openness to amending the law, but said it was not good enough.
In October, the Sanders campaign agreed to meet with the Phillips family about his gun policies at their request.
See the latest updates on the debate here.
See photos from the debate below:
PHOTO GALLERY
Scenes From Democratic Debate No. 2
Calling all HuffPost superfans!
Sign up for membership to become a founding member and help shape HuffPost's next chapter