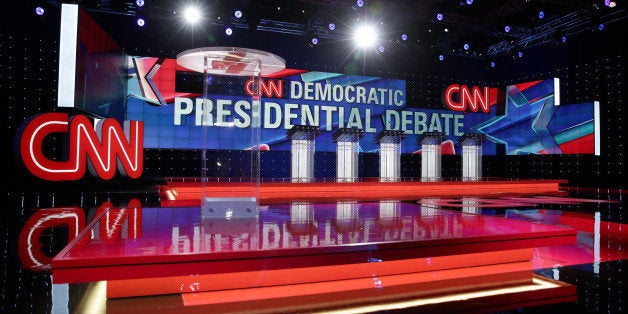 Today the Democratic presidential candidates will take the stage in Las Vegas, Nevada for the first Democratic presidential debate, an especially important one for Latinos in America, particularly in the Silver State.
The Latino community in Nevada is active, young and growing. According to the 2014 census 27.8 percent of the population in Nevada is Hispanic -- compared to 17.4 percent nationwide. And make no mistake, they're listening.
Latinos in Nevada and across America will be watching the debate tonight and waiting to hear the candidates' positions on the issues that are important to our community. Given Nevada's role as one of the early caucus states, and the only one with such a large Latino community, tonight's debate will be critical.
Latinos want to know what the candidates will do to create jobs and solve the student loan debt crisis. They want to hear about their different policy positions on immigration, and they want a guarantee that the next president will not continue to deport our families and ramp up enforcement.
Latinos want to hear what environmental policies the Democratic candidates would implement. Latinos are 60 percent more likely to end up in the hospital because of asthma, and our children are 40 percent more likely to die of asthma. The majority -- 85 percent -- of Latinos says they are seriously concerned about the effects of climate change -- especially on water and air quality.
There's a lot at stake for Latinos in America. In the previous debates our families were insulted and tagged as criminals. And even though not all candidates were as straightforward with their words as Donald Trump, many of their policy positions are not that dissimilar.
We expect the tone of the Democratic debate to be a very different one. Instead of being called criminals, we will be acknowledged as friends, family members, workers, and contributing members of our society. Rather than hearing insults we will hear substance about the most pressing issues for our loved ones. Not only is this the smart approach, it's the right approach.
Whether it's certain GOP presidential candidates' rhetoric or their policies -- building a fence, refusing to support an increase in the minimum wage, denying climate change science or attacking funds used for community health centers that Latinas depend on, the candidates on the Right have made it clear that they are just not that into us.
As you watch the first Democratic debate tonight, ask yourself, who will have your back? And whose ideas will actually move our community forward? The attacks against our community are unacceptable, and it is up to us to stand up and fight back with knowledge and civic and political participation. Use the hashtag #latinoslisten and tell us what you think about tonight's debate.
Calling all HuffPost superfans!
Sign up for membership to become a founding member and help shape HuffPost's next chapter