"People are starting to watch us, and they're waking up to what the possibility is," McMurray said in an interview aired Wednesday on SiriusXM Progress, noting that he had previously tried in vain to get the Democratic establishment focused on his race. "You talk about flip the House, well, listen ― if we take this seat, which is a stronghold seat, it will be a huge change for the entire country."
New York's 27th, a gerrymandered district that runs from Buffalo's southern suburbs to those outside Rochester ― with a large area of rural farmland between ― is the reddest in New York state. President Donald Trump won the district by 24 percentage points in 2016.
Collins, an investor and one of the wealthiest politicians in the House, was first elected to represent the district in 2012, and was re-elected in 2014. He became the first sitting member of Congress to support Trump's presidential campaign, in February 2016, and served on Trump's transition team.
After he was arrested, Collins suspended his campaign and GOP leaders began searching for a replacement candidate. But Collins changed his mind in September after realizing the difficulty of removing his name from the ballot under New York law.
Having an indicted opponent was clearly a boon for McMurray, who began seeing contributions pouring in, and Democrats welcomed Collins' decision.  Since his indictment, Collins has raised all of $80 from within the district, in four contributions. Still, the 27th is so conservative that Democratic leaders didn't think McMurray, now an elected supervisor in the town of Grand Island, just outside the district's boundary, had a shot until this week's polling.
McMurray, who grew up in the district, one of seven children raised by his widowed mother, was undaunted by the lack of party support, he said. He saw the energy on the ground as he campaigned, and the results of his own internal polling.
Within hours of the DCCC's announcement of support for McMurray, former Trump White House national security adviser Steve Bannon made plans to head to the district to stump for Collins. Bannon was invited by former Trump campaign aide Michael Caputo, who lives in the Buffalo suburb of East Aurora. 
"Bannon believes Republicans are at war in the midterms and knows that if we lose the House of Representatives to the Democrats, all the accomplishments of the Trump administration will come to a screeching halt," Caputo told the Buffalo News.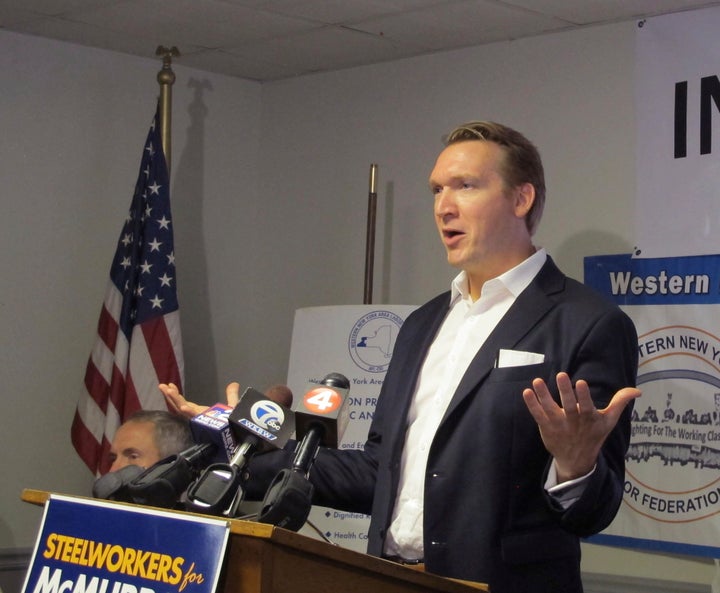 McMurray seemed unconcerned by Bannon's rush to the region, retweeting a Trump tweet from last year in which the president said, "When he was fired, he not only lost his job, he lost his mind."
Bannon failed in his efforts to rescue the Alabama Senate candidacy of Republican Roy Moore, who was accused of sexual assault by multiple women while they were teenagers, in December.
McMurray, who attended a local community college and worked his way up to become a Fullbright scholar, believes his roots in the region will propel him.
"I still am a middle-class guy. I cut my own lawn," he said. "If you look at my opponent, he's not from this region. He's a multi-multi-millionaire from birth. And he is likely the most corrupt man in Congress. And to have a guy like me, with my story and my background, about to beat maybe the richest, most corrupt man in Congress, it's truly an American story and how America is supposed to work."
REAL LIFE. REAL NEWS. REAL VOICES.
Help us tell more of the stories that matter from voices that too often remain unheard.
BEFORE YOU GO