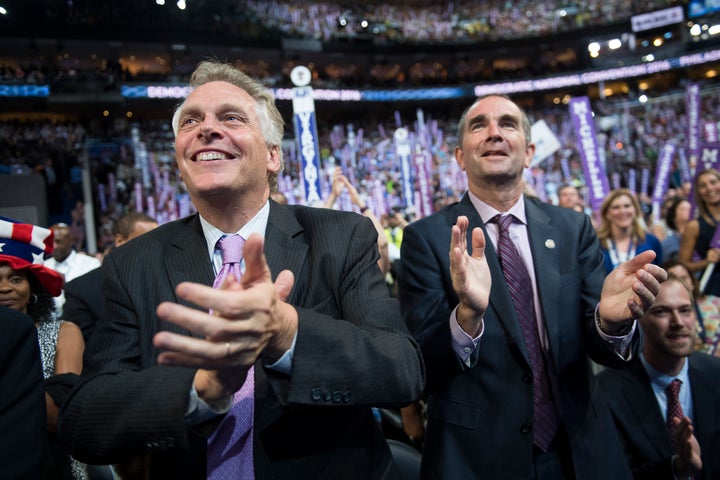 Ralph Northam, Virginia's lieutenant governor, was handpicked by Gov. Terry McAuliffe to run as his successor and was the likely nominee until former Rep. Tom Perriello, a populist-progressive from the Charlottesville area, jumped into the race.
Northam's admission comes at an inopportune time politically, as the race is increasingly becoming a contest over which candidate is better suited to resist the Trump administration. Perriello has made his opposition to President Donald Trump the cornerstone of his candidacy, combined with an economic populism that seeks to challenge Trump's ethnically charged version.
Northam's progressive credentials rely largely on his claim to have been steadfastly for abortion rights and gun control throughout his career. "You can look at my record, the progressive Democratic values that I have believed in and fought for, versus someone who's again kind of put his finger up in the air to see which way the wind is blowing," Northam said recently.
Indeed, politics itself wasn't always a priority. He jumped in by running for state Senate in 2007. To Northam's credit, he appears to be a rare honest man in politics: There was no need for him to disclose what were secret votes in presidential elections.
Northam's two votes for Bush ― which he told the Times he now considers "wrong" ― were not the first time his Democratic credentials were called into question. "At the time, I didn't pay much attention to politics," he said. "Knowing what I know now, I was wrong and would have voted differently." (His full statement is below.)
Perriello's bid was initially perceived in Richmond as quixotic, but early polls showed him pulling close with Northam, and a recent poll has the race deadlocked, with more than half of voters unsure or never having heard of either candidate.
Northam is seemingly cut from the cloth of a 1990s-era Virginia Democrat: The country doctor from the rural Eastern Shore has deep roots in the state and attended Virginia Military Institute. Perriello grew up in the Charlottesville area and later represented the region in Congress for an action-packed term that produced the Affordable Care Act, Wall Street reform and House climate change legislation, all of which Perriello voted for, despite the conservative lean of his district. He was beaten in the tea party wave of 2010, though he lost by far less than Democrats in similar districts who had more conservative voting records.
The Times story on Northam and Perriello also included an interview with Gov. McAuliffe, who said he "might" want to run for president one day. He said he was confident voters would back Northam, given the popularity of his own governorship.
Northam's full statement on his votes for Bush:
Ever since I first ran for public office, I have fought for my values: commonsense gun reforms, protecting our environment, defending women's access to reproductive health care, fighting for equal rights for the LGBT community, and economic opportunity for all Virginians.

At the time, I didn't pay much attention to politics. Knowing what I know now, I was wrong and would have voted differently. I became politically engaged after becoming fed up with insurance companies affecting my patients and learning my Republican senator said a child with disabilities was possessed by "demons," which deeply offended me as a father and a doctor.

So, I decided to run for office on the issues I cared about: fixing our healthcare system and cleaning up the Chesapeake Bay. I stood up for implementing commonsense gun reforms, ensuring the LGBT community was given equal rights, and defending women's access to reproductive health care.

If there is a lesson Democrats should take away from 2016, it's that voters sometimes vote against their values. Usually, they are doing it because they aren't aware that they actually share the same values as the Democratic party. As someone who made that realization when I became engaged, there is no better person to reach these people than me.
Popular in the Community