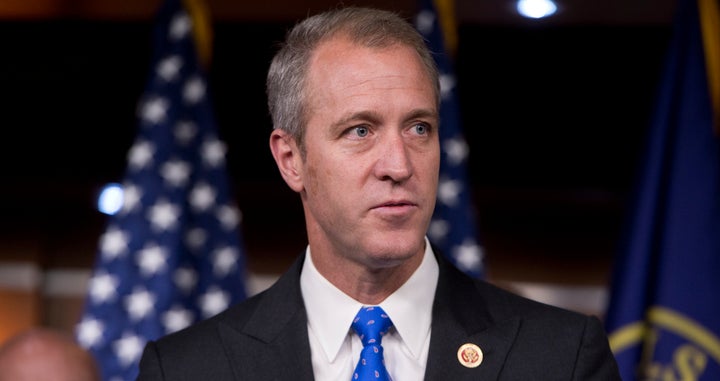 Zephyr Teachout filed a lawsuit on Thursday accusing Rep. Sean Patrick Maloney (D-N.Y.) of violating state campaign finance law by misusing over $1.4 million raised by his congressional campaign in a bid to become New York's attorney general.
With support from big banks, real estate developers and corporate law firms, Maloney has collected more than $3 million to run for re-election to Congress, where he represents a swing district that narrowly went for Donald Trump in 2016. But in June, Maloney jumped into the race to succeed disgraced New York Attorney General Eric Schneiderman ― while still running to keep his House seat. According to his New York state campaign finance disclosure form, Maloney moved $425,000 from his federal congressional campaign account into a the state campaign on Aug. 10, and $1 million more on Aug. 23.
According to the lawsuit, those cash infusions are a gross violation of the $21,100 contribution limit in the attorney general primary. Because Maloney's federal campaign did not register as a political committee with the state of New York, it has avoided state disclosure rules and state campaign contribution limits. Allowing Maloney's congressional campaign to funnel unlimited sums into the AG race would thus open up a new loophole for candidates seeking to circumvent state campaign finance rules.
"Political contributions do not become the personal funds of the candidate to be used simply as the candidate dictates," the lawsuit reads. "Federal campaign committees do not have the special privilege of making unlimited transfers to a political committee that is regulated under state law."
The law firm of Ali Najmi filed a separate, similar complaint against Maloney with the New York State Board of Elections on Aug. 28.
In a statement provided to HuffPost, Maloney spokeswoman Caitlin Girouard called the Teachout lawsuit "fake" and "meritless," but did not directly address the legality of the $1.4 million in transfers.
"Sean Patrick Maloney has run this campaign by the book, in a transparent manner, and in constant consultation with the Board of Elections and our attorneys to ensure compliance with all laws and regulations," Girouard said.
She pointed to a recent Albany Times Union report indicating that Teachout had initially failed to report two payments to consultants on her campaign finance disclosure forms. Girouard added that the suit was "mere theatre, designed to generate headlines for her benefit, denigrate others, and achieve nothing of lasting substance."
Teachout, a Fordham University law professor, has emerged as unlikely front-runner in the New York AG race after winning the endorsements of both The New York Times and the New York Daily News. The contest has taken on national significance as the Democratic Party seeks to reorganize itself in the aftermath of a devastating 2016 election. New York politics are notoriously corrupt ― two top aides to Gov. Andrew Cuomo (D) have been convicted on corruption charges this year ― and a resurgent Democratic Party left has rallied behind Teachout ― author of an academic book on anti-corruption law ― as a potential corrective to the current administrations in Albany and Washington, D.C. New York City Public Advocate Letitia James is also a contender, but Maloney's war chest has bolstered his name recognition among voters.
In August, a New York court approved Maloney's unusual dual run for the U.S. House and attorney general on the grounds that Maloney would drop out of the House race if he won the state AG primary. Democrats would have six weeks to name a replacement candidate, a situation which has Republicans eyeing his House seat as a rare pickup opportunity in a midterm election where Democrats clearly have the momentum.
As a member of Congress, Maloney has cultivated a moderate record. But he has distanced himself from the moderate label in the attorney general race as the Democratic Party's progressive wing has flexed its muscles in 2018, most vividly in the recent primary upset victory for Democratic Socialist Alexandria Ocasio-Cortez in New York. Maloney has repeatedly voted to deregulate big banks and supported a recent successful effort to unwind parts of President Barack Obama's 2010 financial reform law. He has also voted to increase Trump's military budget and expand the president's warrantless surveillance powers. In 2015, Maloney was one of just four House Democrats who voted to prohibit undocumented immigrants from receiving federal housing assistance.
According to the nonpartisan Center for Responsive Politics, top donors to Maloney's congressional campaign include employees of Wall Street heavyweights Goldman Sachs, New York Life Insurance and Bloomberg, along with two real estate developers ensnared in recent New York scandals.
Fetner Properties secured a sweetheart deal from the New York City Housing Authority last year, to build a 330-apartment high-rise, after Fetner donated heavily to the campaigns of New York Mayor Bill de Blasio. Fetner employees are the 10th-largest contributor to Maloney's congressional campaign, shelling out $13,490 in the 2018 campaign cycle.
Maloney has also received $27,000 from employees of Simon Property Group, which paid $945,000 to settle an antitrust suit from Schneiderman's office last year.
This story has been updated with comment from a Maloney spokeswoman.
Popular in the Community