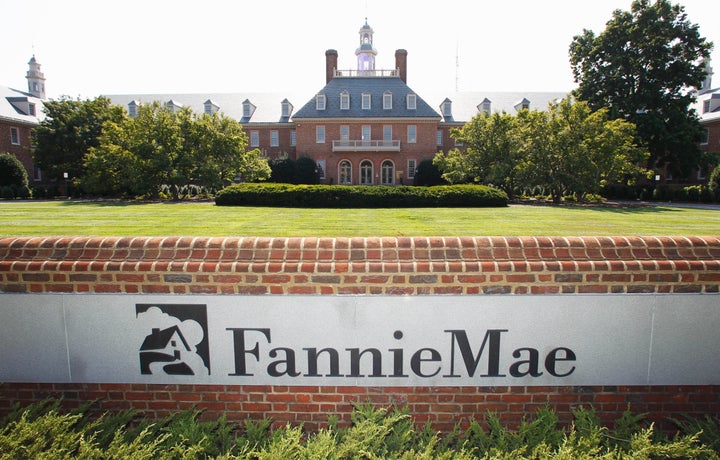 Fannie Mae executives are refusing to forgive part of homeowners' mortgage debt because they are "philosophically opposed" to the idea, according to an account of a former Fannie Mae employee cited in a letter sent Wednesday by members of the House Oversight Committee.
The head of the Federal Housing Finance Agency, which oversees Fannie Mae and Freddie Mac, previously has said that concerns about losing taxpayer money had kept the two mortgage giants from reducing the principal on struggling borrowers' loans. Fannie Mae and Freddie Mac have cost taxpayers about $169 billion since their government takeover in 2008.
Congressmen Elijah Cummings (D-Md.) and John Tierney (D-Mass.), members of the House's Committee on Oversight and Government Reform, wrote the FHFA's acting director, Edward DeMarco, on Wednesday saying he had omitted critical details in a Jan. 20 letter that claimed a desire to minimize taxpayer losses was why his agency was reluctant to press Fannie Mae and Freddie Mac to offer reductions in principal to underwater homeowners.
According to the Cummings-Tierney letter, a former Fannie Mae employee approached the House Oversight Committee to reveal that Fannie Mae had planned a pilot program to offer principal reductions but that Fannie Mae senior executives had nixed it in mid-2010 since they were "philosophically opposed to writing down principal balances," as that ex-employee put it. Although the Federal Housing Finance Agency was aware of the pilot program, DeMarco failed to mention it in his Jan. 20 letter, Cummings and Tierney wrote. This account is similar to what a former Fannie Mae staffer told The Huffington Post last fall.
"It is time for you either to seize this opportunity" to offer principal reductions to shore up the housing market "or to step aside," Cummings and Tierney wrote DeMarco.
Their letter and its account of why Fannie Mae canceled a program to offer principal reductions comes just as state attorneys general near a proposed settlement deal with five of the nation's largest banks. The terms of that agreement would enable a large number of principal reductions for eligible underwater borrowers. About 1 in 5 U.S. homeowners owe more on their mortgages than their homes are worth.
Dozens of Fannie Mae officials were involved in creating a pilot program for principal reductions, along with a major mortgage servicing company, according to the former employee's account cited by Cummings and Tierney. Government officials, including FHFA representatives, had approved the program. A third-party consulting company had contributed analysis. The program was designed to minimize losses to taxpayers.
But in mid-2010, after six months of development, just two weeks prior to the pilot program's launch, senior Fannie Mae executives canceled it for ideological reasons, according to the Cummings-Tierney letter. Cummings and Tierney demanded documents from the FHFA about the program.
Fannie Mae spokesman Andrew Wilson declined to comment for this story, and the Federal Housing Finance Agency could not be reached for comment.
Last fall a former Fannie Mae staffer told The Huffington Post a very similar story. According to this staffer, who still receives benefits from Fannie Mae and did not want to be named, Fannie Mae was close to launching a pilot program with a major bank in the summer of 2010 that would have reduced the principal of struggling borrowers' mortgages. Fannie Mae received approval for the program in late 2009. But two weeks before Fannie Mae was to launch the program in July 2010, senior leadership scrapped it. Senior executives feared that homeowners who could afford their mortgage payments would default, on purpose, to arrive at a better deal. "It's a very philosophically dogmatic point of view," the former Fannie Mae staffer told HuffPost. "Not only within Fannie Mae but more broadly in the mortgage industry ... You don't forgive principal."
The ex-Fannie Mae staffer further told HuffPost that the proposed program would have tested three different strategies: (1) reducing the principals of some mortgages to 90 percent of a home's current value, (2) decreasing the principal to 105 percent of the home's value, and (3) using other refinancing strategies, such as lowering the interest rate. Under the first two scenarios, the owners would have had to agree to grant Fannie Mae a 30 percent share of the home's equity in exchange for the principal reduction. Fannie Mae planned to analyze the results of all three arrangements to decide whether to launch a broader principal reduction program.
With the first strategy, if a homeowner had purchased a home for $200,000, only to see its value plunge to $100,000, the principal would have been reduced to just $90,000. The owner would agree to give up 30 percent of the home's equity.
The exchange of home equity for a principal reduction would have addressed the problem of moral hazard (the concern that borrowers would default on purpose), according to the former staffer.
But senior executives nixed the program as they were more concerned about moral hazard than minimizing losses for taxpayers, the ex-staffer told HuffPost.
By not arranging for principal reductions, Fannie Mae and Freddie Mac are prolonging the housing crisis, economists say. Ultimately, these homes will fall into foreclosure, and banks will wind up selling them for far less. "We're just stretching out the foreclosure crisis rather than really dealing with it," said Alan White, a law professor at Valparaiso University specializing in housing. "If we don't do principal write-downs through modifications, we'll end up doing massive principal write-downs through massive foreclosures."
Even just 500,000 to 1 million principal reductions would be a "game changer," ushering in a speedier housing market recovery, according to Mark Zandi, chief economist of Moody's Analytics.
"The more loans you take out of the foreclosure pipeline, the greater the odds that you will get house prices moving north instead of south," Zandi said. "Once that happens, the whole dynamic here will shift."
Calling all HuffPost superfans!
Sign up for membership to become a founding member and help shape HuffPost's next chapter
BEFORE YOU GO