DULLES, Va. ― Nearly 24 hours after a federal judge ordered U.S. Customs and Border Protection officers at Washington Dulles International Airport to grant attorneys access to green card holders detained as a result of President Donald Trump's executive order, customs officials continued to deny them access.
But the obstruction went event further. Customs officials refused to speak with several members of Congress who arrived at Dulles to demand that CBP comply with the court order.
Airport police officers cordoned off the area where CBP was questioning detained travelers and were preventing anybody from entering. Washington-area Democratic Reps. Gerry Connolly (Va.), Don Beyer (Va.) and Jamie Raskin (Md.) demanded that airport police officers allow them to at least speak to customs officials, but the cops claimed they could do so only if CBP allowed them to.
"I am Gerald Connolly, I'm a member of Congress, I represent right up to this airport and we're asking for access to the people you're detaining," Connolly said.
"And what I'm telling you now is I have a major going back to discuss this with CBP. We're gonna ask them if you can come back," said John Damskey, deputy chief of police for the Metropolitan Washington Airports Authority. "If they say yes, absolutely fine, I'll take you back there myself. If they say no, we're gonna ask them to come out and talk to you. It's up to them."
Connolly argued that even as an airport police officer, Damskey was legally bound to allow them to speak to CBP to ensure the authorities' compliance with the court order.
"Your job is to enforce the law," Connolly said, his voice rising with irritation. "We have a federal judge who has ruled that anybody being detained is entitled to legal representation. Have they been denied that right or are they in fact getting legal representation?"
"What do you see your responsibility as in terms of enforcing a legitimate federal court order?" Connolly persisted.
"I want you to know that the Dulles police have actually been very helpful with the legal team," a lawyer told him off camera.
"And I want them to know that I'm going to be a pain in the ass," Connolly shot back.
After the standoff with the Dulles cop, Connolly was handed a phone. On the other line was CBP's congressional liaison office. Connolly tried to get a straight answer from them but got nowhere.
At one point in the conversation, a frustrated Connolly exclaimed that the official knew nothing since they were calling from a Washington office and he was actually on the scene at Dulles.
It was clear that the three congressmen, joined later by Rep. John Delaney (D-Md.), were not getting answers from anyone. At one point, Raskin, talking to a throng of reporters and volunteer immigration lawyers, asked: "Is this America?"
In the last 24 hours, Raskin said he's received five or six emails from constituents who are concerned about their status or a family member's status. "The rule of law is on a tightrope in America right now," he said.
"The Republicans have to decide if they want to walk the plank with this guy," he added.
"The official word is no one is being detained," Beyer said.
But given the length of time many travelers are being held for questions, it is hard not to see much of the treatment as a form of detention, he noted.
Beyer also ventured that customs officials were not speaking to them, because "they don't want to come on camera and answer to members of Congress."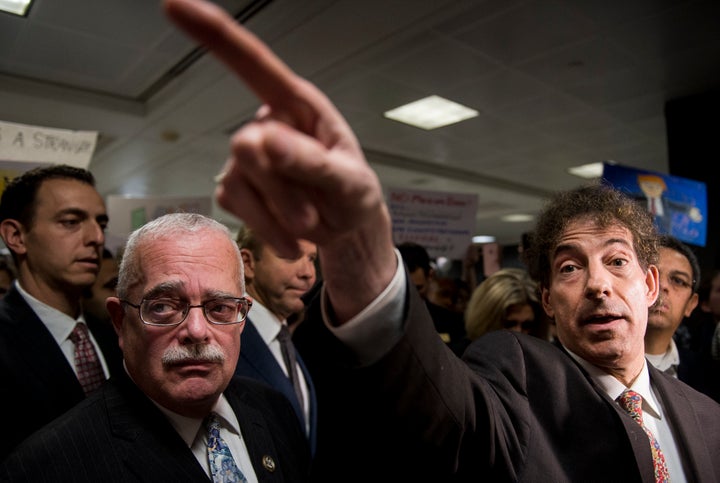 The virtually unprecedented sight of members of the legislative branch of U.S. government trying with little success to enforce orders from the judicial branch against the will of the executive branch has already prompted some to suggest that Trump's executive order is sparking a constitutional crisis.
Shortly before midnight on Saturday, Sen. Cory Booker (D-N.J.) faced similar resistance when he sought answers from CBP about detained travelers' access to attorneys. Customs officials required him to communicate with them by exchanging notes, rather than speaking to him in person, The Daily Beast reported.
Meanwhile, the blanket ban on travel and immigration from Iran, Iraq, Libya, Somalia, Sudan, Syria and Yemen continues to cause hardship for many foreign nationals with long-standing approval to enter the country.
Saif Rahman, 38, said he was one of 16 people held by customs on Sunday. He said eight looked to be African men. One was an elderly woman in a wheelchair despairing that she needed to reach her daughter. Rahman said he had flown in from Istanbul with a stop in Frankfurt. He thought most of the people he saw being detained were from his flight. There were customs officials waiting at the door to take people as they got off his plane.
In one case, Rahman said, he saw a customs official looking through a detainee's phone. They were inspecting their social media accounts. That seemed unusual.
Rahman, a father of three who lives in Falls Church, had immigrated to the U.S. from Iraq as a young boy. During the Iraq War, he went back to his home country to help with the new government, he said.
In his work, Rahman had met both President George W. Bush and President Barack Obama. "It doesn't seem to make any difference," he said.
After meeting his family at baggage claim, Rahman said, he wanted to stay in the airport in case people needed a translator.
Already the ban on entry from certain Muslim-majority countries appears to be having a spillover effect. There were stories of travelers from non-blacklisted nations being unable to reach the U.S. or facing unusually tough screening upon arrival.
Beyer met and had his picture taken with a family who had come to protest. Their cousin, they said, is in a diabetic coma at Howard University Hospital. The man's mother was not allowed to board a flight to D.C. from Qatar, said his cousin, Limia Ellebab, 44.
Another man was being detained as he got off a flight from Nigeria. He was part of a group taking part in a two-week training at the Department of Agriculture, explained Kabir Laden Chika, who was part of the group and was on the man's flight.
Sign up for the HuffPost Must Reads newsletter. Each Sunday, we will bring you the best original reporting, long form writing and breaking news from The Huffington Post and around the web, plus behind-the-scenes looks at how it's all made. Click here to sign up!
Support HuffPost
The Stakes Have Never Been Higher
Before You Go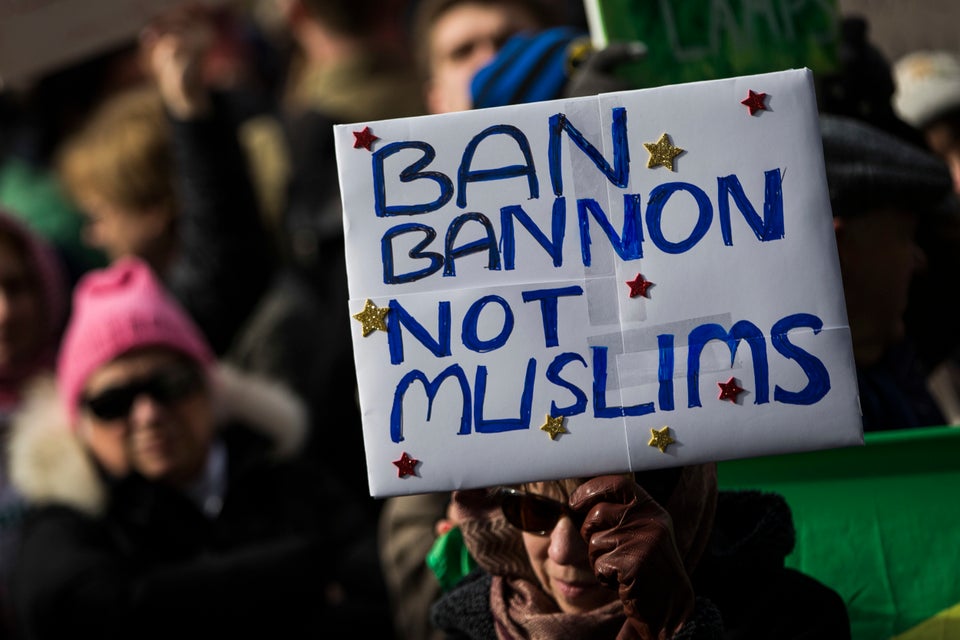 Nationwide Protests Against Trump's Executive Order
Popular in the Community