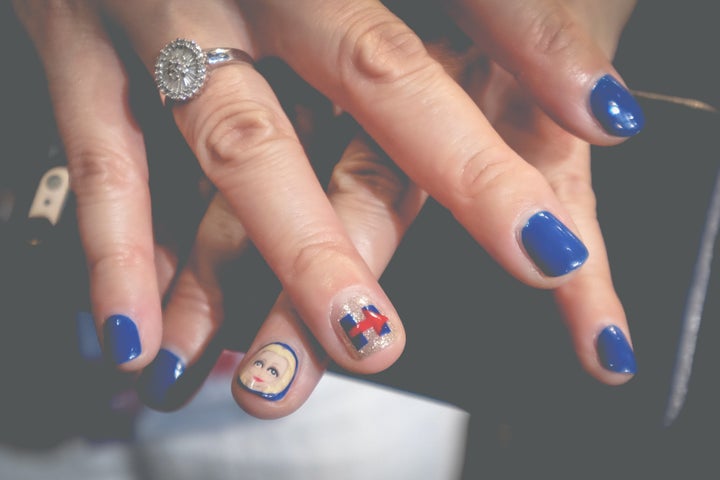 PHILADELPHIA ― The moment that most neatly encapsulated this year's Democratic National Convention occurred Tuesday evening at the Facebook pavilion in the Wells Fargo Arena, directly across from three massive tents that had been erected to house the media.
Inside, delegates, lawmakers and an untold number of "operatives" nibbled on passed dishes, huddled over phones at charging stations, flagged down bartenders for free glasses of cheap sauvignon blanc and waited in line for complimentary makeovers courtesy of co-host Cosmopolitan.
Outside was altogether different: dozens of Bernie Sanders diehards had gathered just outside the press tents ― with dozens more inside ― to stage a sit-in in opposition to the day's roll call vote codifying Hillary Clinton's nomination. It was a confusing mixture of Selma and Bonnaroo, but without the former's solemn purpose and the latter's sense of fun. One attendee was frowning and sporting a "Cat in the Hat" stovepipe hat festooned with Sanders pins; another had gagged himself with a "BERNIE" necktie; a third had sworn silence to signify that her movement had been muzzled (she wasn't taking questions). The massive press scrum all but obscured them from view ― the media will typically oblige you if you decide to make news, no matter how trivial ― and one attendee asked whether Sanders himself had deigned to visit.
However, inside the Facebook/Cosmo event, the revelers didn't budge. The air conditioning provided blessed relief from the stifling heat that hung over Philadelphia all week and the charging stations let attendees upload their selfies from the convention floor. As always, a better job could arise from the next round of small talk. And this was the Democratic National Convention, mind you: a not-insignificant number of the revelers likely spent enough time at liberal arts colleges to learn how to ignore acts of civil disobedience while getting drunk.
This was, in short, this year's Democratic Convention: a mostly standard Democratic gathering marked by moments of discord from the party's left flank ― which is to say, a mostly standard Democratic gathering. It was an admittedly more raucous one than usual, likely the most dissonant since Senator Ted Kennedy's failed attempt to snatch the nomination from Jimmy Carter in 1980. And the occasional disruption from the Bernie or Bust crowd certainly heralded a galvanized constituency that Clinton and the party will have to contend with.
But the Democratic establishment got its nominee, and far more attendees and delegates seemed to want to move on from the primary than didn't. On the convention floor, most of these delegates seemed content to chant "Hillary! Hillary!" whenever Sanders supporters sought to interrupt the proceedings rather than engage too directly with them. 
Most of the attendees were too busy schmoozing, having fun and generally soaking in the convention to particularly care about the protesters.
When one Clinton-supporting delegate with a photograph of the candidate neatly perched atop a tiara on her head began to yell, "Bernie, go home!" other delegates sought to calm her down. When the Huffington Post approached the lady in the Hillary Hat for an interview, another delegate warned, "you're going to spill our dirty secrets!" 
"Certainly there were some, you know, minor incidents between the Sanders delegates and the Clinton delegates," said Floyd McKissick, a Democratic state senator from North Carolina, that day. "I do believe that after the vote has been taken tonight and they've been able to vent and get that out of their system, those same delegates, thirty days from now, 95 percent of them will be behind Secretary Clinton."
Phil Giorno, a veteran and delegate from Florida, gave money to both Clinton and Sanders but ultimately decided to support Clinton for her foreign policy.
"I don't have a problem with it," Giorno said of the protesters. "Some of their issues I support, too. I don't have a problem bringing them into the process."
Contrast this with the Republican National Convention in Cleveland, which was defined by an unease with Donald Trump's candidacy and the protests surrounding it, to say nothing of the bombast of the party's unconventional nominee (best expressed by the words "OVER THE TOP" that flashed on a giant screen over the stage when Trump officially secure the nomination). Republican Party types aren't accustomed to disarray at friendly events, and when hostility to Ted Cruz's speech grew so fierce that his wife, Heidi, had to be escorted out by security, people were genuinely rattled.
The anger directed at the Democrats on stage was much more peaceable, and nothing most of the attendees hadn't seen before ― whether they were White House staffers accosted by protesters in Lafayette Park north of the White House, or Hill staffers who, early in their careers, spent time as staff assistants dealing with protesters coming to congressional offices unannounced. No less quotidian was the anti-abortion protester outside a Planned Parenthood event Tuesday night cheerfully urging attendees to "wash the blood from your hands when you leave!"
Truth be told, most of the attendees were too busy schmoozing, having fun and generally soaking in the convention to particularly care about the protesters: they were scrambling to get tickets to the Diplo concert, making the most of taco day at the Twitter pavilion, shedding a tear at Khizr Khan's moving address to the convention and wondering whether the neatly coiffed person who just walked by was, indeed, Lance Bass.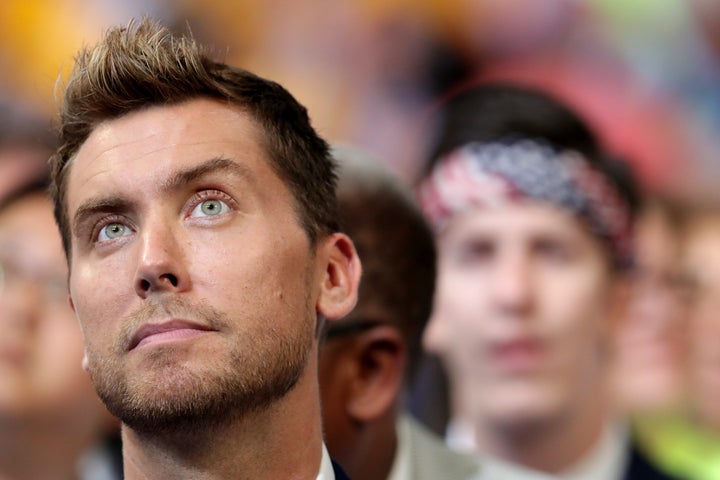 By Thursday evening, after the convention had officially wrapped up and convention attendees were dispersing to the final afterparties, the protests ― even the chants that cropped up during Clinton's acceptance speech ― were mostly out of people's minds.
At the "Democratic Unity" party hosted by Unity Convention 2016, a joint fundraising committee authorized in part by Democratic super PAC Priorities USA, thousands of revelers packed into the Electric Factory on North 7th street to watch Snoop Dogg perform. It was a singularly Democratic event: celebrities, a shared loathing for Donald Trump, a lot of guys named Zach in backpacks getting drunk and a not insignificant amount of corporate money. Everything seemed normal.
As Snoop Dogg took the stage, his famously gangly frame swaying back and forth to the music, the band launched into an infectious backbeat and began to chant "FUCK DONALD TRUMP!" The crowd quickly joined in.
Everything had come together quite nicely.
Calling all HuffPost superfans!
Sign up for membership to become a founding member and help shape HuffPost's next chapter