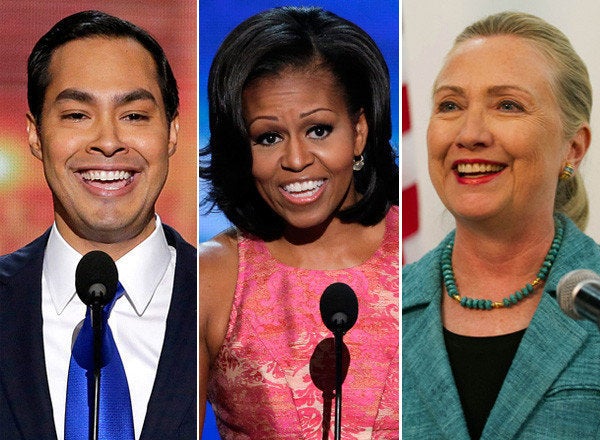 CHARLOTTE, N.C. -- The November election is still two months away, and President Barack Obama's reelection is anything but certain. Yet Democrats are already eyeing 2016 and have a candidate in mind: Hillary Clinton.
"If Hillary would please run -- I would work like crazy for her," said Nancy Chiswick, 67, of State College, Pa. at the Democratic National Convention.
Former California Gov. Gray Davis, who at first declined to answer the question, eventually replied, "Hillary would make a great president."
Of course, the 2016 election is still far away, and it's not even clear if Clinton wants to run. Yet at this stage, the former first lady is the clear favorite amongst the base.
Of the 74 we talked to, 42 said they wanted to see the secretary of state in the Oval Office. Ten people said they fancied San Antonio Mayor Julian Castro, who gave the keynote speech at the convention, and six picked first lady Michelle Obama.
"She'd make a damn good president," said John Gibson, 53, of Tunnel Hill, Ga., regarding the first lady. "She makes a damn good mom, I know that. Lady's got a hellacious speaking manner, just like him [President Obama]."
Philadelphia Sheriff Jewell Williams, 55, gave a vote to Castro's twin brother, Joaquin, a Texas state legislator running for Congress. As he was telling The Huffington Post about his choice, Joaquin Castro happened to walk by, and Williams ran over to inform him of his support.
Convention-goers also were relatively unified in what they would do if Romney beat Obama in November: cry, pray and consider moving out of the country.
Sixteen said -- albeit jokingly -- that they would think about leaving the United States, naming Canada, Italy, Costa Rica, Spain and Brazil as countries they would flee to. Ten people said they would simply cry, and another 10 said they would get down on their knees and start praying for the country.
"If I had wallpaper to strip, I would do that as a therapeutic thing," said Rep. Jan Schakowsky (D-Ill.).
Others couldn't even think about this possibility.
"That would be not worth waking up [for]," said Rep. Sheila Jackson Lee (D-Texas). "I don't pretend to even dream about seeing that. I'm going to wake up and see the reelection of Barack Obama."
"I'm an athlete, and from the earliest days, they told us never to be focused on a loss; you focus on a victory, you imagine a victory, you feel a victory, you claim a victory and that's what I'm doing with Obama," added Newark Mayor Cory Booker (D). "I'm not even going to answer that question because my mind can't go there."
Mellisa Williams, 44, of Charlotte, N.C., worried what would happen on the issue of women's rights: "As a woman, probably take my vagina out 'cause he's already got it."
Jewell Williams worried about what would happen to federal programs that many members of his family depend upon.
"I would probably pull my family together ... and actually start to organize a real plan for the next four years on how we're going to survive," said Williams. "It's going to be very difficult. I'm going to have to find ways to help them because I believe the social programs are going to be cut."
The Huffington Post also asked attendees what they would like to change about the Democratic Party. Like Republicans in Tampa who were asked this question, many Democrats said they're happy with the party as is.
"It functions really well. It's like a dysfunctional family, but it functions," said Sharon Mast of Bellevue, Wash.
Two people said their biggest gripe was the party's refusal to fully embrace marriage equality, but that issue has now been embraced by both Obama and the party platform. Two more said they would like to see more done on climate change, which has barely been mentioned in the 2012 elections.
Fifteen people, however, said they would like the Democratic Party to stand up for its ideals more and not back down to Republicans.
"They ought to come out and let people know they're Democrats. The other side [is doing] so; don't let them intimidate us," said Barbara Schultz, 74, of Alabama.
Finally, attendees were asked to give one word to sum up Romney. "Twit" received the most replies from rhyming-minded attendees; other popular replies included "rich," "deceitful," "dishonest" and "fake."
Maryland Gov. Martin O'Malley (D), however, invoked Ann Romney's favorite pastime and replied simply: "dressage."
Paul Blumenthal, Jason Cherkis, Elise Foley and Sam Stein contributed.
Before You Go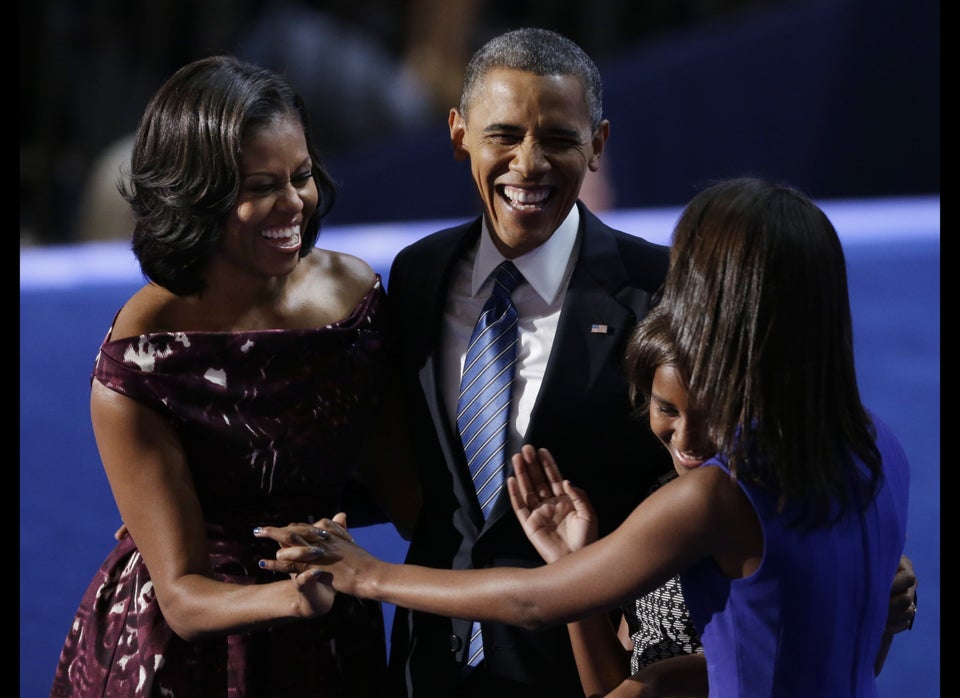 Obama Rocks Democratic Convention
Popular in the Community