DES MOINES, Iowa -- A day after the first Democratic debate aired on CNN, five Drake University students gathered around a table in a student lounge on campus to reflect. 
The students, who were selected by the university to participate in a focus group, agreed that former Secretary of State Hillary Clinton had the strongest debate performance because she looked and sounded presidential. Yet they had many other observations gleaned from spending their college years in Des Moines -- the center of the political process every four years. The students have attended campaign events for nearly every candidate running in 2016 and have met the debate candidates personally. 
"[Clinton] came off more personable than she normally does in her persona, and that was something that I really lacked from her before," said senior Sarah Fulton.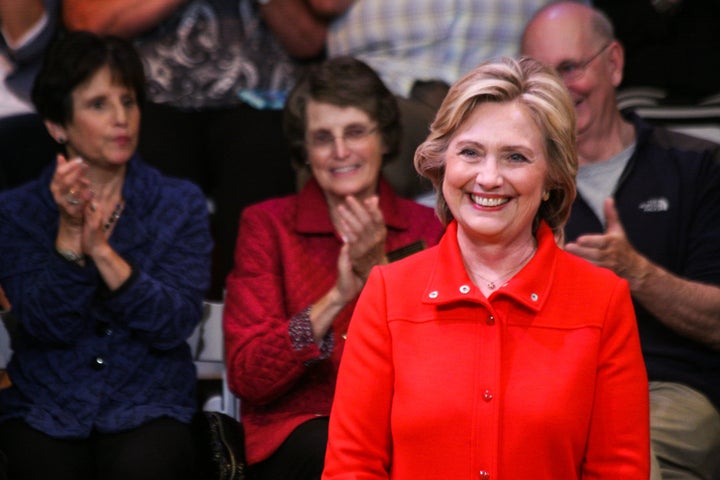 Senior Kevin Maisto agreed that Clinton had a "powerhouse" performance, but also said he was impressed with Sen. Bernie Sanders (I-Vt.), who was forceful and memorable. He said Sanders could have used some more debate preparation.
"I wish he could have been a little more sharp with some of his statements," Maisto said. He also explained his disappointment in former Maryland Governor Martin O'Malley.
"I kind of wanted him to take away that fringe candidate role and really use this to lead him further in the polls. I don't think his performance proved that."
Senior Bri Steirer disagreed, saying she was impressed with O'Malley, especially because this was his first performance on a national stage.
"I think he really separated himself from the other candidates," said Steirer, who is president of the Drake Democrats. 
All five students agreed that while O'Malley's performance wasn't strong enough to win the debate, there still is a path forward for him in Iowa, where he has spent the majority of his campaign time and money. Since O'Malley announced his candidacy at the end of May, he has made 13 visits to Iowa and 69 appearances around the state. That's more than any other candidate vying for the Democratic nomination.
"The people he has here are willing to go out and knock on doors, they adore him so much," Fulton said. "I would say just give him a little more time."
"No one does Iowa like Martin O'Malley," Steirer said. She described seeing him speak at the Des Moines Register's soapbox at the Iowa State Fair. "The tucked-in shirt with the jeans, even the brow wipe. He had it down to a science. The man does Iowa better than anyone I've ever seen. I think he is just a spark waiting to catch into a wildfire because if you can do down-home real estate politicking like Martin O'Malley, that's a special skill and not one that could be taught."
The students had contrasting views on the most talked-about moment of the evening: the back-and-forth when Sanders declared he was sick of hearing about Clinton's "damn" email controversy instead of criticizing her for it.
Junior Caitlin Eames, who made it clear that she does not support Sanders' policies, praised him for delivering this message.
"I think Bernie doesn't really care if it was the right political strategic move or not. I think that's how he feels and he's not afraid to express that," she said. "His supporters will probably be encouraged by that."  
Fuller said that since Republicans are continuously attacking Clinton over the email controversy, the statement was a way for Sanders to unite the Democratic party.
But Steirer had a completely different view of the exchange, given that during the debate Sanders was speaking to a very particular group of people: Democratic party elites and activists.
"There is a whole other half or more of America who actually cares about what is in those emails and has genuine concern for what is in those emails," she said. "For him to say that the American people are sick of hearing about it is sort of generalizing an overarching opinion."
Clinton and Sanders had the lion's share of speaking time in the debate, with Clinton speaking for 30 minutes, 26 seconds and Sanders speaking for 26 minutes, 42 seconds. Some in this focus group thought the speaking time was not balanced.
"[Debate viewers] got to see their names and see their faces, but I don't think that they got to see them talk as much as what would have been preferable," Fulton said. "If you look at Lincoln Chafee, he spoke just under nine minutes whereas Hillary Clinton spoke over 30 minutes."
Steirer disagreed, saying the speaking time had to do with number of attacks launched at Clinton that required her to respond, though she agreed there should be a platform where the public could hear more from each candidate.
Logan Kentner, a sophomore and president of the Drake Republicans, noted the advantage the Democratic party has with only five candidates on the debate stage.
"The Republican party had 11 on stage at the last debate. Some of the bottom tier candidates had only a couple minutes to speak total whereas the bottom tier Democratic candidate right now is getting nine minutes," he said.
These men and women at Drake, a private coeducational university in Des Moines, aren't your average college students. They are actively following the race leading up to the Iowa caucus, attending campaign events and gaining a personal knowledge of the candidates. 
A Drake student even had a question featured in the debate, and the university campus will host the second Democratic debate, on Nov. 14.
"It kind of goes to my head a little bit, going to school in Des Moines," said Steirer. "The candidates are just so accessible so they'll be there to shake your hand, they will be there to listen to your issues."
Eames agreed. "A number of candidates who I've had the opportunity to get to see in person, once I've seen them in person and shook their hand, my perception of them completely changed," she said.
Maisto said meeting the candidates before seeing them in action during the debate helped him gain a better understanding of their personality.
"Knowing what they are saying on the trail matches up" is important, Maisto said. He made an example of Sanders, whose debate reflected what he has said campaigning, "so you know that he's authentic." 
But overall, the debate did not alter the students' opinions of the candidates, they said. Each candidate's performance catered to what their supporters wanted to see or hear.
"I think what happened up on stage, if anyone were to look at it ahead of time, no one would be surprised," Maisto said. "The fringe candidates will mostly remain the fringe candidates. Hillary Clinton was confident, poised, prepared and she was definitely front-runner status and she kind of solidified that. Bernie ignited his base and talked about the issues he wanted to talk about, which he's been doing on the campaign trail. When you look at it, there weren't any major moments that differentiated from what we've already been talking about, what's already been reported and what's already been taking place on the campaign trail."
CORRECTION: This story previously misstated that the students in the focus group were selected by Drake University to attend a debate watch party. While the university organized the focus group, the watch party was organized by student groups and was open to anyone on campus.
PHOTO GALLERY
Hillary Clinton
Calling all HuffPost superfans!
Sign up for membership to become a founding member and help shape HuffPost's next chapter