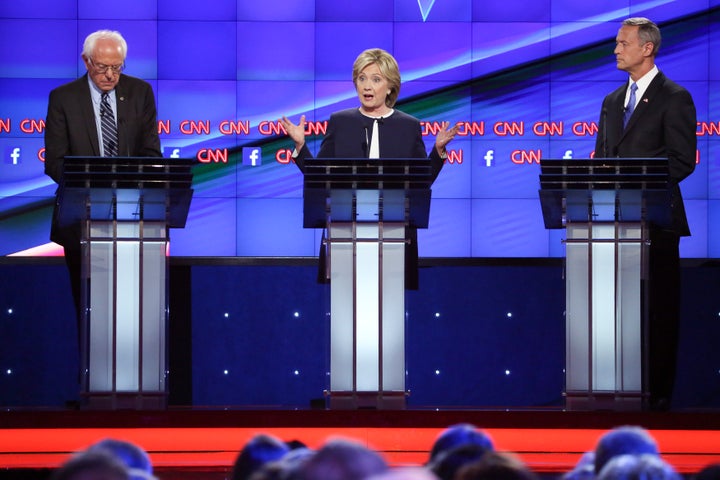 Candidates, as we gather tonight in this very august theater, just outside and across the country, picketers are gathering as well. They're demanding an immediate hike in the minimum wage to $15 an hour. Just a few hours ago, New York Governor Andrew Cuomo proposed doing the same for all state workers, the first governor to do so.
For the "Fight for $15" movement, it was a big moment -- their ongoing activism had landed them, if not on the debate stage, then in the primetime spotlight, with Cavuto bringing the issue of working-class economics to the fore before the evening's opening pomp had fully burnt off and pressing the candidates on whether they were "sympathetic to the protesters' cause." 
As it turned out, this assemblage was not amenable to the idea of raising the minimum wage, preferring instead to enunciate their common fears over the potential for job losses. This is not an unreasonable premise, economically speaking, but because the GOP candidates were so uniform in their responses, a wider discussion on the trade-offs between wage increases and employment never took off.
But during Saturday's Democratic debate, that could be a different story. On this week's "So That Happened," reporters Arthur Delaney and Jessica Schulberg help discuss this hot-button issue ahead of the Democratic candidates' second meeting. (Discussion begins at 45:18 in the recording below.)
As you might expect, the remaining Democratic candidates -- former Secretary of State Hillary Clinton, former Maryland Gov. Martin O'Malley and Sen. Bernie Sanders (I-Vt.) -- all favor an increase in the minimum wage. But as to the extent to which they'd provide a boost in take-home pay, there is just enough divergence to make the discussion more interesting, and the stakes much higher.
O'Malley, too, has come out in favor of a $15 minimum, touting his successful effort as the governor of Maryland to raise the state minimum wage from $7.25 to $10.10 an hour.
The irony, of course, is that successfully making this argument might take considerably more ambition and effort than just enunciating support for the protest movement.
The minimum wage is just one key issue for Democrats that has bloomed with new salience in the days ahead of the debate. This week, the Senate once again threw barriers in the way of closing the Guantanamo Bay internment camp -- one of President Barack Obama's oldest unfulfilled campaign promises. This means there's a good chance that the three Democrats on the stage Saturday night might have this problem passed on to them.
This podcast was produced, edited and engineered by Adriana Usero and Peter James Callahan, with assistance from Christine Conetta.
To listen to this podcast later, download our show on iTunes. While you're there, please subscribe, rate and review our show. You can check out other HuffPost podcasts here.
REAL LIFE. REAL NEWS. REAL VOICES.
Help us tell more of the stories that matter from voices that too often remain unheard.