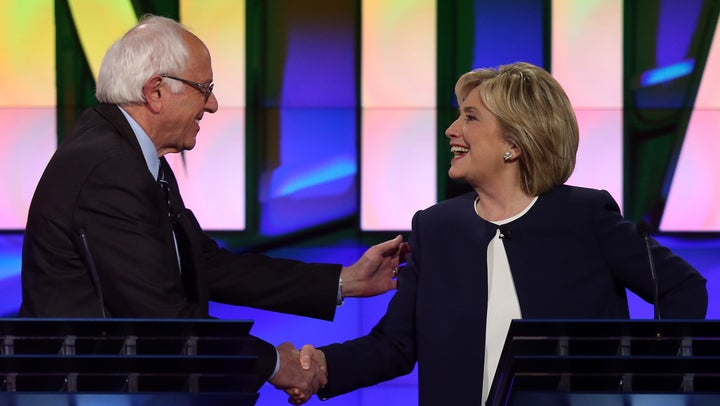 WASHINGTON-- President Barack Obama's landmark health care reform law -- one of the most contentious political issues of the past six years -- received all but no attention during the Democratic debate Tuesday tonight. But considering that all five Democrats on the stage were supporters of the Affordable Care Act, perhaps it's not surprising that CNN opted to raise issues more likely to provoke confrontation.
In his closing remarks, Sen. Bernie Sanders (I-Vt.) reiterated his support for universal health care coverage, something Obamacare doesn't achieve, despite having led to a major reduction in the uninsured since 2013. "We should not be the only major country that does not guarantee health care as a right," Sanders said.
Earlier in the debate, former Secretary of State Hillary Clinton mostly evaded a question about Sanders' advocacy for single-payer health care, merely saying, "We agree on the goal. We just disagree on the means." Sanders has long proposed allowing everyone to enroll in Medicare, the health care program for retirees and people with disabilities. Clinton, by contrast, favors strengthening the structures created by the Affordable Care Act.
That was about as fiery as it got for an issue that's become so partisan it seems scarcely worth discussing during a primary debate. Obamacare also barely came up when the Republican candidates gathered for their second primary debate last month.
Among the Democratic candidates, support for Obamacare is universal. Sanders and former Virginia Sen. Jim Webb (Va.) voted for the Affordable Care Act, while Clinton served in Obama's cabinet and helped push for the bill behind the scenes in 2009 and 2010. Martin O'Malley took an active role in implementing the law while serving as governor of Maryland, and former Rhode Island Gov. Lincoln Chafee is on record as backing the law.
Overall, the Democratic contenders' position on Obamacare mirrors that of their party base. According to a Henry J. Kaiser Family Foundation poll conducted last month, nearly three-fourths of Democrats want to leave Obamacare in place or expand it.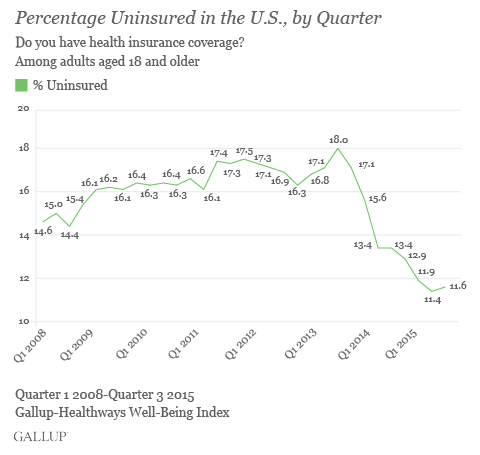 But if one of these Democratic candidates were to become president, he or she likely would face opposition from Republicans that's just as strong as the support on the left. Republican presidential hopefuls like former Florida Gov. Jeb Bush are rolling out plans to undo the ACA, the GOP-led Congress is advancing yet another repeal bill and the same Kaiser Family Foundation survey shows that 74 percent of Republicans want Obamacare eliminated or scaled back.
However, the debate did reveal one area of disagreement among the candidates when it comes to health care.
O'Malley supports allowing undocumented immigrants full access to Affordable Care Act benefits. But Clinton stopped short, saying that while she favored making it legal for undocumented immigrants to use Obamacare's insurance exchanges to buy coverage with their own money, she would not offer this group subsidies to reduce the cost unless they came as part of a comprehensive immigration reform bill. Clinton did say that she supports state governments covering undocumented immigrants, which California will begin doing for children next year. Webb said he "wouldn't have a problem" with opening Obamacare to undocumented immigrants.
The final time health care surfaced
Tuesday
night was when host Anderson Cooper asked the candidates to list who they were most proud to have as enemies. Sanders named the prescription drug industry and Wall Street. Clinton also cited the pharmaceutical industry and health insurance companies, alongside the National Rifle Association, the Republican Party and the Islamic Republic of Iran.
This story has been updated to include additional detail about whom Sanders and Clinton identified as their political enemies.
For the latest updates on tonight's debate, visit our liveblog.
Popular in the Community