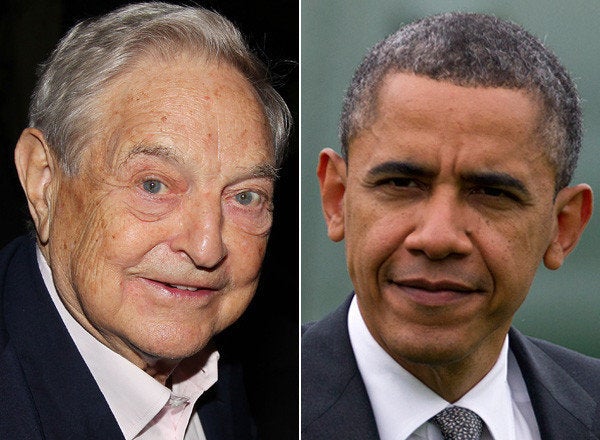 WASHINGTON -- Key players in the progressive universe have reached the conclusion that the 2012 elections can be won only with a gamble. Rather than match conservative groups dollar-for-dollar in television ad campaigns, they will invest their more limited resources in building up a grassroots infrastructure designed to get out the vote.
The latest commitment to the idea that Democrats must do more with less came Monday night, when one of the progressive community's foremost donors made his first foray into the 2012 race.
Billionaire financier George Soros announced that he would be making two separate $1 million donations to outside government groups. While the sum hardly constitutes chump change, the underlying purpose of the giving was more newsworthy. After having sat patiently on the campaign sideline, Soros finally decided to invest. But not with the Obama campaign itself or the president's allied super PAC. Rather, he gave to America Votes and American Bridge 21st Century, organizations that do on-the-ground coordination and opposition research respectively.
Explaining the donations, longtime Soros adviser Michael Vachon said they were driven by Soros' belief that Democrats had two comparative advantages over the GOP: organizing acumen and long-term infrastructure.
"Culturally, the left doesn't do Swift Boat," Vachon said, in reference to the trickster, ultimately effective ad campaign run against Sen. John Kerry (D-Mass.) in the 2004 presidential campaign. "It's not what we do well. If we did do it well, George W. Bush would not have been re-elected because he was a supremely swift-boat-able candidate. We don't do it well. We do humor well."
While it would be unwise to simply leave the president's super PAC's unfunded, Vachon added, there also needed to be a recognition that progressive money would be drowned out by conservative. Karl Rove's American Crossroads is expected to spend $300 million alone. Mitt Romney's allied super PAC, Restore Our Future, has spent $44 million already. Faced with those figures, Soros concluded a wiser investment strategy was needed.
"If you look at 2010 Senate races, in close races where progressive outside groups spent nothing, such as Pennsylvania and Illinois, we lost; where we spent but didn't come close to matching, Colorado and Washington, we won," Vachon said. "We don't have to match dollar for dollar, but we do need to be competitive."
Aides with knowledge of discussions between top liberal donors say that they expect this mindset to be echoed when those donors convene in Miami this week for the Democracy Alliance network event. Soros, according to one of those aides, will not "shake the tin cup" and directly petition others to open their wallets. But the expectation is that his contribution will serve as an example for others to follow. The New York Times, which initially reported the Soros donations, said that liberal donors were expected to offer up to $100 million.
For Democrats who were worried that big-moneyed donors might sit out the election altogether, the money is a relief. But in the immediate aftermath of the Times report, the prevailing sense was that $100 million would not be enough. During the 2004 election, the group America Coming Together raised nearly $200 million (a healthy chunk of which came from Soros) for voter mobilization efforts. The work had its successes, save, of course, the election outcome itself.
In addition to those concerns, officials in the developing world of Democratic-oriented super PACs immediately sounded the alarm that candidates would be left vulnerable if the airwave battles went underappreciated and underfunded.
"Look at what happened in 2010," said Andy Stone, the communications director for the House Majority PAC. "Democrats were competitive until a slew of outside money came in. That is the reason that House Majority PAC exists. We are the stopgap. We exist to prevent that from happening again so that we can compete against the outside money that Karl Rove, Sheldon Adelson and the Koch brothers are directing ... It is important to be on TV in addition to the ground game."
The groups Soros is funding so far don't dispute that notion. They just don't do TV ads. America Votes, which has received donations from Soros in the past, has a nine-year track record of coordinating campaigns between environmental, civil rights, abortion rights and other progressive groups.
"We need to play to our strength, which is that we have a number of progressive, effective organizations that have a long-standing connections to voters and experience working at the grassroots," Greg Speed, America Votes' executive director, said in an interview. "You don't concede the airwaves and the role of progressive super PACs is important and relevant. But we are also not going to match the other side dollar for dollar and grassroots organizing represents a competitive advantage and is frankly about building long-term credibility with voters."
American Bridge 21st Century has an even more defined purpose. Conceived of by Media Matters founder David Brock, the group has spent this cycle building a treasure chest of opposition research, digging through record and newspaper archives and deploying videographers to follow Republican candidates. An admirer and supporter of Brock's efforts to monitor conservative media, Soros was intrigued by the prospect of making candidate-tracking a similar fixture on the progressive landscape.
"Thanks to investments by progressive leaders like Mr. Soros we have been able to build a cutting edge organization that we will continue to build upon in order to keep providing effective and efficient services to the progressive movement," Brock said.
Officials at American Bridge said that Soros' donation would bring the group somewhere between 50 and 65 percent of the total they had budgeted for the 2012 election. With six months left to go, that's relatively solid footing.
But while organizing may be a cheaper alternative to television advertising, it does end up costing money, too. Soros' involvement certainly helps those two specific groups, as does the money to come from the Democracy Alliance meeting. But not everyone expects to find a benefactor around the corner.
Eddie Vale, a spokesman for Workers' Voice, the AFL-CIO super PAC, declined to say whether the group would receive Democracy Alliance or Soros donations. But, he added, they would continue to place voter-to-voter contact as a top priority this fall.
"We aren't going to let Romney & Rove know our internal fundraising strategies," Vale said in an email, "but these efforts to focus on the grassroots instead of a tit-for-tat TV ad war are the right call and what we will be doing at Workers' Voice."
CORRECTION: An earlier version of this article stated that Greg Speed is America Votes' executive editor. Speed is the executive director.
REAL LIFE. REAL NEWS. REAL VOICES.
Help us tell more of the stories that matter from voices that too often remain unheard.
BEFORE YOU GO