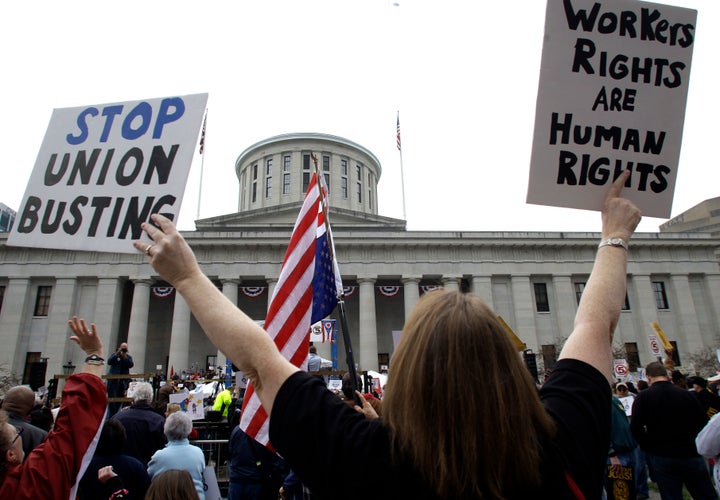 WASHINGTON -- Banking on a backlash to the anti-union campaigns spearheaded by Republican governors, the Democratic Governors Association announced on Thursday that it was making a $150,000 contribution to the union-led "We Are Ohio" coalition.
The money is designed to support efforts to repeal Gov. John Kasich's controversial Senate Bill 5, which limits collective bargaining for state public employees and is facing a referendum vote in less than two weeks.
"Governor Martin O'Malley and his colleagues in the DGA have always appreciated the contributions that the men and women of organized labor have made to our nation," the letter, written by DGA executive director Colm O'Comartun and addressed to the AFL-CIO and Change to Win unions, reads. "To that end, we recognize that the repeal of SB 5 in Ohio is ground zero in the fight to protect the rights of workers. Republican Governor John Kasich and his allies in Mitt Romney and Rick Perry may have waged war against organized labor, but rest assured that we stand firmly with you in this fight."
"That is why the DGA is sending a contribution of $150,000 to 'We Are Ohio' today," writes O'Comartun. "While we don't often get involved in campaigns that are not directly related to gubernatorial elections, the stakes in Ohio are too high for us to sit on the sidelines. It is a fight that we must win to safeguard workers' rights and to stand up to overreaching Republican governors like John Kasich."
That the DGA rarely involves itself in specific ballot initiatives (they've done so just twice in the past six years) makes its decision to embrace the S.B. 5 repeal efforts all the more significant and symbolic. The politics are certainly inviting: a chance to win over occasionally skeptical progressives while piling on an already unpopular Republican governor.
Already, the referendum, known as Issue 2, has produced a heated and expensive campaign. This past week, it made its first entrance into presidential politics, when Mitt Romney declined to take a position on the anti-collective bargaining measure, only to endorse it the next day. It was hardly coincidental that Romney's name was mentioned in the DGA statement; though the White House may have muddled that message when Press Secretary Jay Carney declined to take a position on S.B. 5's repeal during Thursday's briefing.
For unions, the repeal effort has become another in a series of high-stakes, state-based campaigns. On Wednesday, the group ProgressOhio put out a memo urging activists and supporters not to get complacent despite recent favorable polling on Issue 2. An October 19 poll by Public Policy Polling had S.B. 5 heading for repeal by a 56-to-36 percent margin. But the inherently difficult-to-follow language of the ballot initiative -- a no vote on Issue 2 means a yes vote on repealing S.B. 5 -- has already caused confusion with voters and continues to concern union officials.
"While we have reason to feel good about where things currently stand considering how far we've come, none of us should get a false sense of security from recent public polling, as they are incredibly lofty and unlikely to resemble the final margin. Make no mistake, this race will tighten between now and Election Day," ProgressOhio's memo reads.
Our side did a wonderful job of driving up negatives on "S.B. 5 before" we were certified as "Issue 2." However a massive amount of voter confusion remains on what a "yes" or "no" vote on "Issue 2" means. It's a safe bet, if the actual "Issue 2" language were polled that the margin would have been substantially narrower. The lesson here is that while we would be ecstatic with a 20 or 25 point victory on November 8th there are simply too many unknowns to believe these numbers are credible or even remotely possible.
With the Nov. 8 vote approaching, union officials say they expect more attention and money to flow into the state from Kasich allies. And while labor has already made a commitment to funnel in resources of its own, the DGA's contribution will undoubtedly help.
An official with the association tells The Huffington Post that the DGA's involvement in Ohio won't end with cutting a check. With Kasich's favorability ratings among the worst in the nation, and with the state likely to play its routinely crucial role in the presidential race, there are few more critical locations to invest resources.
"This is first move of many on our part to help win Ohio next year and then win it back in the next gubernatorial election," said the official. "Weakening Kasich helps us, and it helps the president."
UPDATE: 3:05 p.m. -- White House spokesperson Amy Brundage emailed to clarify that the president is, in fact, supportive of efforts to overturn S.B. 5, shortly after Carney declined to take a position at Thursday's press briefing.
"The President doesn't support the ballot initiative in Ohio that would strip away fundamental collective bargaining rights," Brundage said.
Popular in the Community