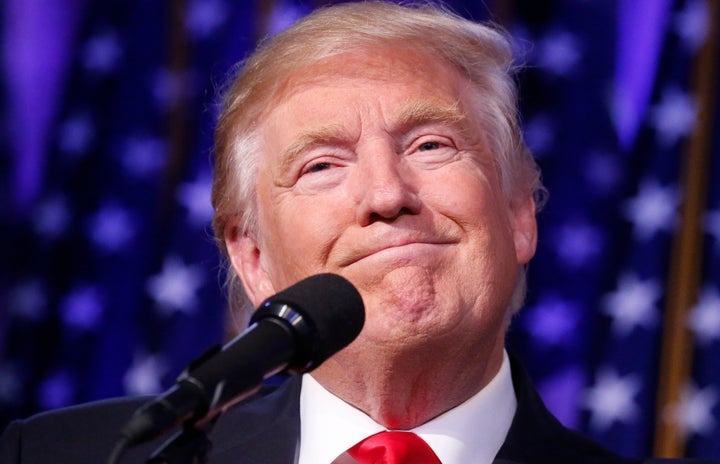 WASHINGTON ― With all three branches of the federal government soon to be controlled by Republicans, don't expect any progressive laws to pass next year. But the GOP dominance in the nation's capital doesn't mean that there won't be any progressive movement ― for that, Democrats should look to the states. 
"The states are where the action is," Washington Gov. Jay Inslee (D) told The Huffington Post. "This is a place where we can make progress. This is where we can defend our basic values. ... [We want to] be a beacon of hope to the extent there is a darkness coming out of Washington, D.C."
Republicans dominate in the states, too, holding 33 gubernatorial seats. But in those other areas that are blue, or at least purple, Democratic governors say they'll stand up on key issues like immigration, climate change, health care, religious freedom, education and civil rights, no matter what President-elect Donald Trump does. 
"If the president acts in a way that is not supported by the constitution of the United States, then we'll do that which we feel is necessary ― whether that's a challenge in court or a challenge in the political process," said Connecticut Gov. Dan Malloy, chair of the Democratic Governors Association. 
Oregon Gov. Kate Brown (D) scoffed at the idea of Trump becoming president in an October interview with HuffPost. In the crazy, offhand chance that he did win, she vowed to "continue to fight like hell" to move Oregon forward in a way that opens the door to all.
"One of the wonderful things about being at the state level, at the state and local level, we are the place where innovating policymaking is happening," she said. "My thinking is, we continue to be aggressive around a progressive agenda that helps families."
But what about pushing back on Trump, a man who seems to embody everything that Brown and other Democratic leaders oppose? She could at least demand he release his long-form birth certificate. She liked that idea.
"Oh, we might have a little fun," Brown said. "OK, yes."
California state Senate President Pro Tem Kevin de León said during a visit to Washington, D.C., that they weren't looking for a fight. "But we will defend our progressive gains," he added. "Anything that undermines or threatens our economic prosperity ... will be met with resistance."
Inslee and Malloy, along with Colorado Gov. John Hickenlooper (D) and Pennsylvania Gov. Tom Wolf (D) all told HuffPost they would not participate in Trump's vow to round up and deport undocumented immigrants.
"The mayors of our larger communities have come right out and said, 'Our police force is not going to be involved in rounding up, arresting and detaining members of our community who haven't broken any laws,'" Hickenlooper said. 
I do think that the economic messages that the Democrats put forward were not well-received.

Connecticut Gov. Dan Malloy (D)
Governors say they've also been concerned about a rise in reports of discrimination and hate crimes since the election. Hickenlooper said his son, who is in ninth grade, told him about a palpable level of fear fellow students from different backgrounds have about what may happen to them under a Trump administration. 
"We've really tried to reach out and reassure people that their homes and their families are not at risk," he said. 
Cuomo has set up a special police unit to fight what he calls an "explosion" in post-election hate crimes, along with a hotline to report incidents. He is also pushing to expand the state's human rights law to protect all students who face discrimination. In Pennsylvania, Wolf issued directives to help schools deal with, and report, incidents of racism and intolerance in schools. 
But it's Trump's promise to repeal Obamacare that has many governors most worried. All four of the governors who spoke with HuffPost have expanded Medicaid coverage in their states under the law, meaning low-income beneficiaries could be left in the cold unless Republicans come up with a comparable alternative.
"I have almost half a million families in my state today who have health coverage through the Medicaid expansion," said Inslee, who called repeal "one of the greatest threats" to Washington. "And this was a bipartisan success in my state. Democrats and Republicans both saw the wisdom of expanding Medicaid."
Inslee said he's already urged his state's GOP members of Congress to think fully about the consequences of repeal before making it happen.
"This is a little bit like the dog that caught the care here," he said. "The Republicans have been saying, 'Oh, this is no problem, we're going to take care of it.' ... But now they've caught the car, and they have to figure out what to do with it."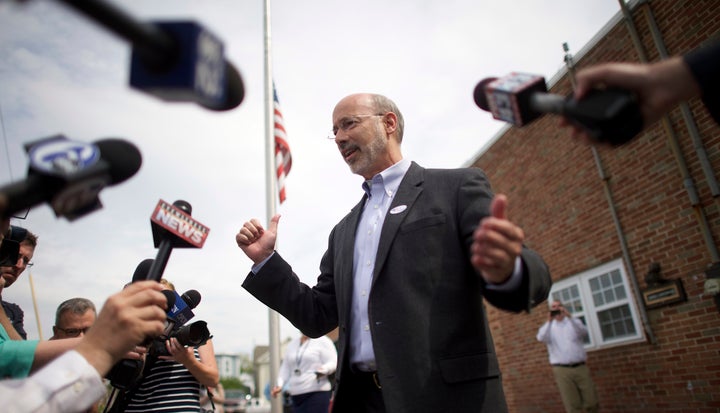 Moving forward, governors hope that the Democratic Party will pay more attention to what they're doing in the states, tying economic proposals to actual impacts and results that people can see.
Wolf represents a state that both Trump and Sen. Pat Toomey (R-Pa.) won this year. Like many others in the Democratic Party post-election, he counseled the party to have a laser-like focus on the issues of the middle class ― and to make sure the public knows what Democrats are doing. He pointed, as an example, to his plan to invest $300 million in the Port of Philadelphia ― a move that would create about 2,000 jobs.
"We Democrats need to make sure that we get credit for doing this and focusing on this in a way that folks who vote recognize that when they feel frustration or anxiety or concern about the future, that the party that actually addresses their concerns is the Democratic Party," he said. 
Credit is something that Trump has had no problem claiming already, touting a deal that his team put together that stops Carrier from sending some jobs to Mexico. President Barack Obama however, has been less successful at this sort of showmanship. His stimulus package had far more economic benefits for communities all around the country, but many beneficiaries still have no idea that it was Obama's initiative that brought them the money.
"I do think that the economic messages that the Democrats put forward were not well-received," Malloy said. "I think we have to understand what that is ― part of that is people's anger. ... There were people who would applaud the line of doing away with Obamacare and not understand that that would have a direct impact on their own personal bottom line. Clearly, we did not do a good enough job of speaking about the benefits of changes to health care that have come about."
There's been a significant amount of soul-searching in the Democratic Party about why many working-class white voters went to Trump, even though they may have traditionally voted Democratic. Rep. Tim Ryan (D-Ohio), for example, challenged Nancy Pelosi (D-Calif.) for her job as House minority leader, arguing that he represents the type of area and voters that need more focus.
But de León said he's worried that the Democrats ― who did, after all, win the popular vote in the presidential election ― may focus too much on one small group of people.
"It's about all working families, not siloing ― not taking one subset of America and saying, 'Let's shower all of our attention on this subset, and then all of our problems will be done," he said. "We'll be back in power.' ... It's advocating by addition, not by subtraction." 
Wolf said he thinks it's possible to do both ― reach those voters who found Trump appealing by also emphasizing fairness and inclusion. As a business owner for most of his life, he made sure to have a diverse workforce, he said.
"I tried to build that in not because I had some ideological affinity for that," Wolf added. "I did, but also it actually made practical sense. You don't cut yourself off from a big chunk of the substantial workforce simply because you don't want people of a certain color or gender working for you."
When asked whether Democrats should follow the model of progressives like Sens. Bernie Sanders (I-Vt.) and Elizabeth Warren (D-Mass.), who tend to focus more on economic issues than race, de León disagreed.  
"I'm a person of color," he said. "I'm the youngest child of a single immigrant mother. I'm not from Vermont, and I'm not from Massachusetts. I respect those individuals, I don't know them personally, but it is an issue of race and income. But that's coming from a person of color."
Jennifer Bendery contributed reporting.
Want more updates from Amanda Terkel? Sign up for her newsletter, Piping Hot Truth, here.
BEFORE YOU GO
PHOTO GALLERY
Kids Across America Send Letters To Donald Trump