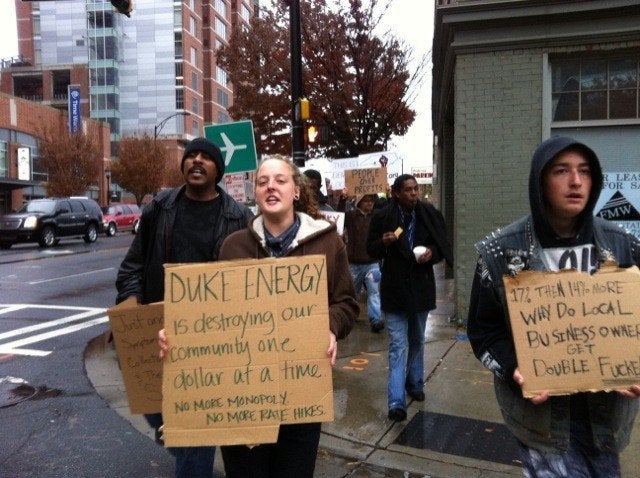 CHARLOTTE, N.C. -- When the Democratic National Committee picked Charlotte to host its September 2012 convention, city leaders saw it as a boost to the local service economy. Hotels would be filled, restaurants would be booked, and party spaces would be rented. Up until a few months ago, officials only had to worry about the would-be traffic congestion on Trade Street as lobbyists shuffled to the next cocktail party. But now, they have to be concerned about feistier visitors known as Occupy Wall Street.
If Charlotte officials fear having another Chicago '68 on their hands, they're hoping to take one essential weapon out of the hands of activists: their tents. On Oct. 27, the Charlotte city manager released a draft ordinance that makes camping on public property a "public nuisance" and would prohibit "noxious substances," padlocks and other camping equipment that city officials fear could impede traffic and create public safety issues.
The Charlotte City Council has not yet voted on the ordinance, and some argue its language is vague and may violate First Amendment rights. "If the ordinance is passed, it is possible that its constitutionality will be challenged," wrote Isaac Sturgill, director of the Charlotte School of Law chapter of the National Lawyers Guild, in an editorial that will run in the Charlotte alternative weekly Creative Loafing on Dec. 13. "There is also the potential for increased confrontation between protesters and police."

Occupy Charlotte formed on Oct. 1 with a march on Bank of America's headquarters, though the encampment at the Old City Hall on Trade Street downtown didn't begin until Oct. 8. Two months in, the occupation has established a sprawling campus that contained roughly 50 tents at its height. Despite its location directly across the street from Charlotte police headquarters, relations between cops and protesters have been respectful. Police have arrested twelve activists -- the majority stemming from a Rainforest Action Network protest on Nov. 15 after demonstrators hung an anti-coal banner from Bank of America's flagpoles and blocked an entrance.
The protests may be a dress rehearsal for Occupy Charlotte leading up to the Democratic National Convention. An estimated 50,000 people will visit the city during the DNC, transforming the moderately-sized banking hub into the center of the universe -- or at least the nexus of the 24-hour cable news cycle -- for the week.
This is not lost on Occupy Charlotte and other Occupy groups in the state. Luis Rodriguez, 33, an organizer with Occupy Charlotte, said he's talked to several members of occupations in Asheville and Raleigh, as well as a group 90 miles away in Columbia, S.C. "Everybody I talked to said the DNC is ground zero for everything," he explained to The Huffington Post. "Everybody wants to be involved. We're estimating several thousands of people coming especially from the Occupy community."
What the Occupy groups are actually coming for has yet to be determined. Rodriguez says they have not begun planning for specific actions. There is talk of hosting an alternative convention. "It's just an idea floating around," he said, adding "we're going to be protesting the DNC itself" and if necessary hitting the lobbyists' parties.
Rodriguez has more urgent concerns, however. "What we're trying to do is keep hold of the lawn so that we'll still be around for the DNC," he said.
Scottie Wingfield, who has attended nearly all of the group's General Assembly meetings, said, "To my knowledge, the DNC hasn't been an official discussion topic. That said, we are cognizant that we are protectors of a precious public space which will be very important to many more people than those who currently occupy it." So Occupy Charlotte has created a community relations working group charged with communicating with the city on the ordinance and any other issues that might arise.
In the greater Occupy world, there's uncertainty verging on ambivalence toward the idea of protesting either the DNC in Charlotte or the Republican National Convention taking place in Tampa. Some activists admitted that they did not know when the DNC was taking place. While they stressed it might be important to show opposition, they are more focused on the idea of creating alternatives to the political system, or even just dismissing it entirely as irrelevant.
"The movement is about getting material needs met," explained Barucha Peller, 28, an
Occupy Oakland organizer. "The convention is one thing, but meanwhile we're doing direct action against the one percent. We're taking on the needs of the working class."
While Charlotte's main streets are lined with glass-and-concrete totems to the one percent -- the city is known as the Wall Street of the South -- Peller's sentiments suggest that protesting outside a giant dome may not be worth the plane ticket.
"I suspect there will be a lot of protests," explained Kevin Zeese, an activist with Occupy DC, but added, "we see our focus as building an independent movement that would challenge both parties."
Zeese says the Tea Party lost momentum and power when it got into elections and pushing candidates. If one of their elected candidates sold out, they're not strong enough to do much about it. He explained that the Occupy movement is years from engaging in electoral politics. "My guess is this is a multi-year movement to shift power," he said. "That's going to take a 10-year effort."
The general strike in Oakland, the recent nationwide actions to occupy foreclosed or abandoned homes, and the continued calls to embrace credit unions as alternatives to big banks offer the clearest manifesto yet of the movement's goals. Occupiers don't want to tweak the system but a create new one. Among Occupiers, striking a balance is an on-going debate.
"I think there is a question: Are we reformist or are we revolutionary?" said Tammy Shapiro, 29, an activist with Occupy Wall Street in New York City. "I think we have both. I think most people understand that corporations are connected to politics. I think there's a difference of opinion about where to move forward."
Rodriguez points to the January vote on the proposed ordinance as a concern. He said the city would be making a mistake to evict them. They've posed no serious threat to city police. Why not keep around the activists who have built up relationships with local leaders? "You have no idea who's coming," he offered. "We can temper any more combative or violent agitators that come in."
Officials with the Democratic National Convention signaled they aren't taking any extra steps to prepare for the presence of Occupy protesters, who have vowed to stay in Charlotte all the way through the convention in early September.
"We recognize the importance of the freedoms protected under the First Amendment and we are confident that the city of Charlotte and our security partners will put a plan in place that ensures that all groups that wish to have their voice heard can do so in a safe and peaceful manner," said Kristie Greco, communications director for the Democratic National Convention Committee.
For his part, Charlotte Mayor Anthony Foxx has insisted the ordinance is not aimed at the Occupiers.
"Unlike many cities that have well-developed regulations governing protest activity, our local regulations contain gaps that need to be filled," Mayor Anthony Foxx said on Nov. 14, adding that an overhaul of the city's ordinances had been underway even before Occupy Charlotte began and that the changes aren't aimed at any one group.
However, an Oct. 27 memo to the mayor and city council from Police Chief Rodney Monroe -- whose department is drafting the ordinances -- and the city's appointed manager, Curt Walton, stated, "The recent issues related to camping on city property have further amplified the need to review whether the city wants to regulate this activity during the DNC."
City Councilman Warren Cooksey (R) expects the ordinances to pass in late January. "Once those ordinances go into effect, those overnight stays will end," he said.
Ken Davies, a member of Occupy Charlotte's team of pro bono attorneys, said he's ready to challenge the ordinance should it be enacted.

Occupy Greensboro's John Wright said his group doesn't have any DNC plans yet either. He's working on a database of contact information for Occupiers across the country and said "we've seen an increase in communication." Case in point, on Dec. 5, representatives from several North Carolina Occupations met in Huntersville, a town just north of Charlotte, to discuss their social media strategy.
Occupy Asheville's Martin Ramsey said of the DNC, "We are aware of it and we are going to do something." He's just not sure yet what that will be. Ramsey said he's also watching Charlotte's ordinance issue closely: "This type of lawfare is to be expected." Between the state's anti-union stance and playing home to Bank of America's headquarters, Ramsey expects the DNC here will be "a powder keg." The city, he said, "has got a big target on it."
Jennifer Bendery contributed to this report.
Before You Go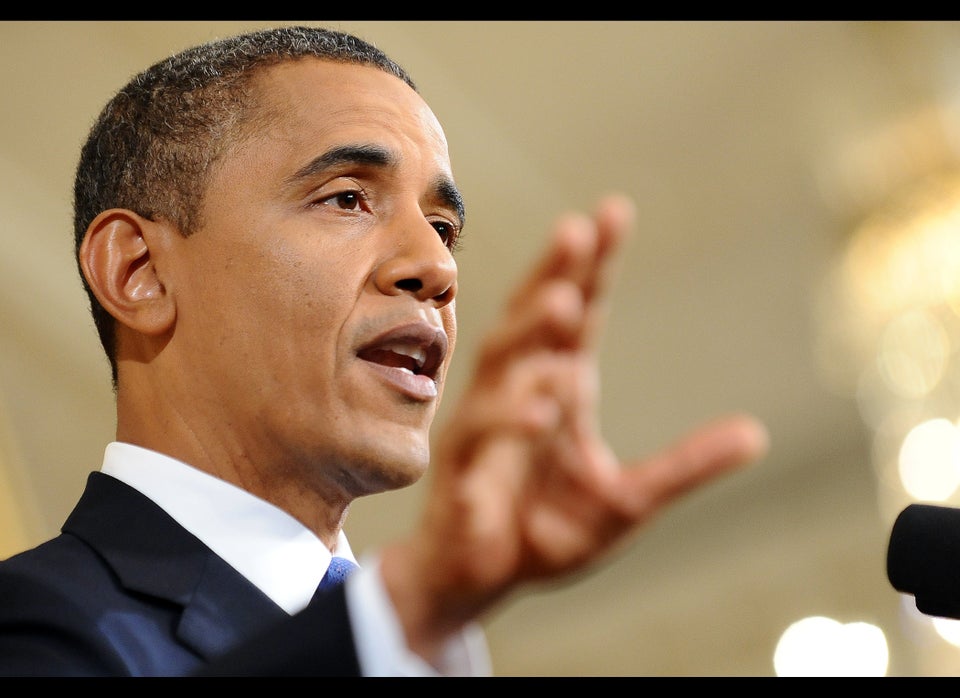 Politicians React To Occupy Protests
Popular in the Community